So this morning I started to do a shop clean-up since I didn't have any projects to work on. I also wanted a chance to use my new Dust Collection system and used the floor sweep accessory that I purchased, and it worked awesome.
I took a few updated pictures of how the shop looks now, the last time I took workshop pictures was over a year ago and the appearance of the shop has changed alot since then, with upgrades in tools and work surfaces.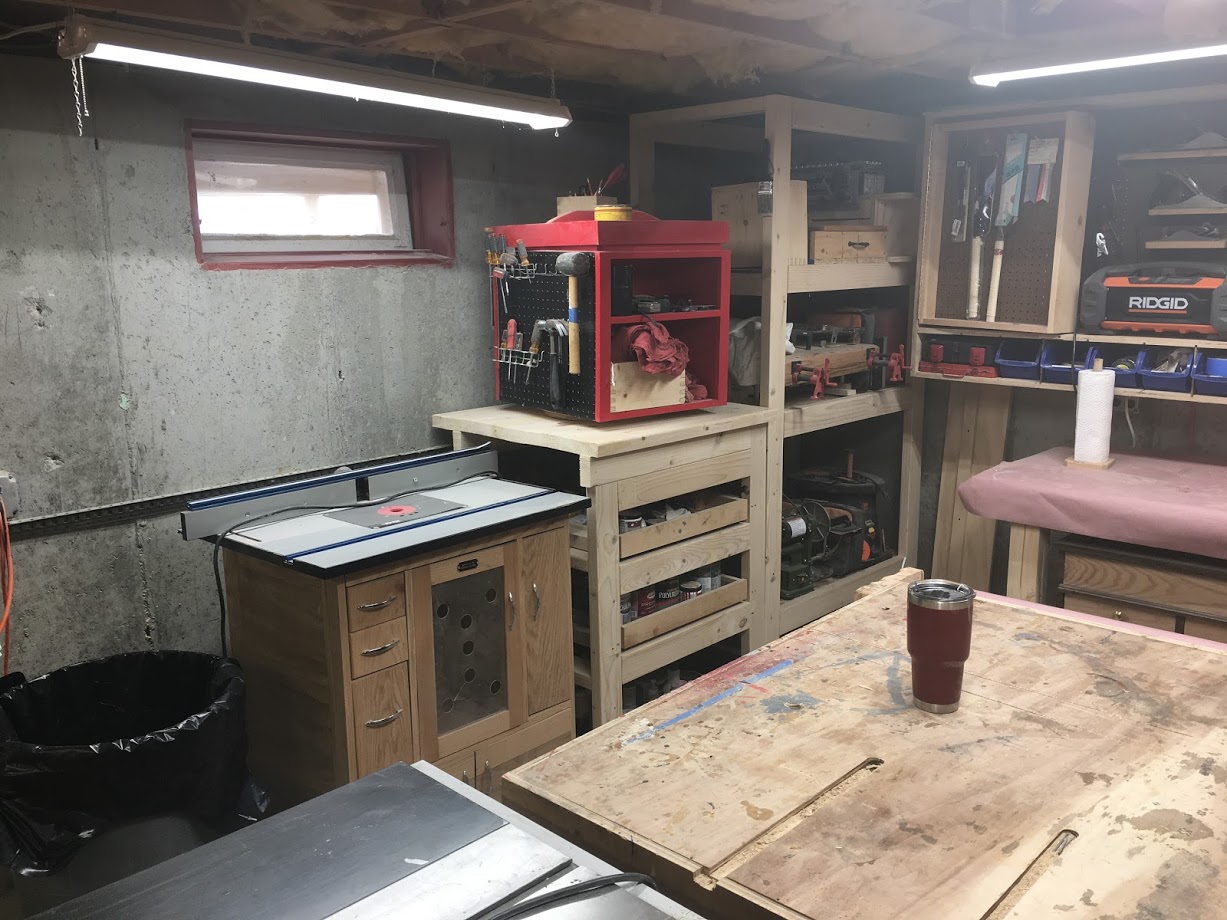 In this section I drastically changed a lot , I used to have a long workbench attached where the router table is now but because the bench was so high since I wanted to store the router table underneath it was unusable so I got rid of it, I basically chopped it off from the right side that has all my drawer storage and the shelving unit.
Below is a before and after picture
ROUTER TABLE
My router table is probably one of the most used tools in my shop, I use for basically 85% of my projects from making joinery cuts to making my own moldings, I used to have a shop made router table and fence but I recently upgraded to the Kreg Table & Fence and man what a difference a good tool makes.
MY CLAMP WALL
So because my workshop is on the basement I have walls off nothing but concrete walls so before I could figure out what storage method to use for the actual clamps I needed to build a basic panel and mount it to the the wall, and that's when I found a Ramset basic model ( you hit it with a hammer)my brother in law uses and it's great I mounted a 60"sq panel consisting of 3/4" ply and some Masonite all mounted to the wall using 2×4s and screws and the Ramset fasteners …
I made the panel larger than I need but I expect my clamp collection to expand and I might also hang a few other things on it to ..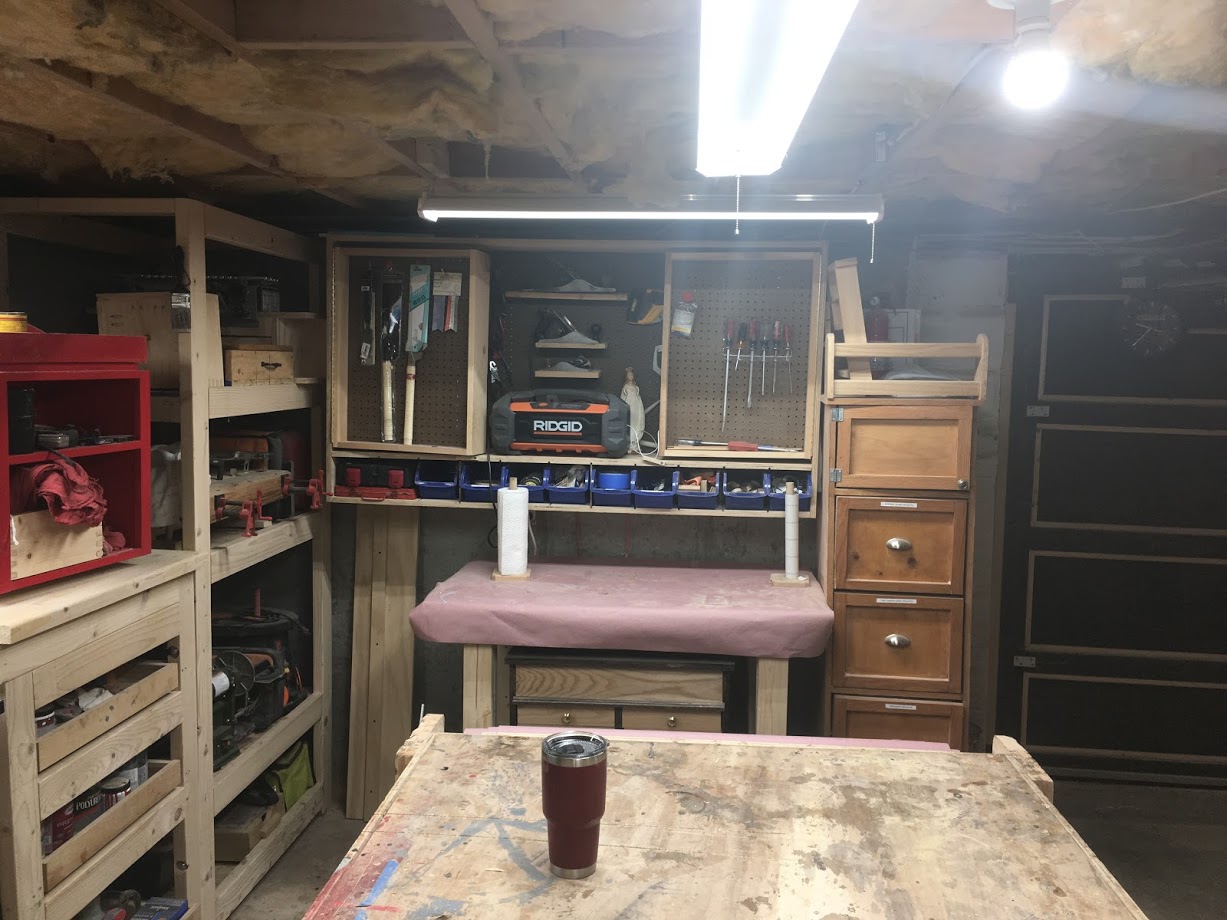 WALL MOUNTED PEGBOARD CABINET
I really love this unit as it stores most of my hand tools, its basically 6 foot wide pegboard with 2 doors that open and close and also has pegboard, this was one of the first things that I made for the shop and has served me well ,I still want to keep it but I might move it to another wall, because I want to make a nice hand tool cabinet for all my chisels, planes and in general expensive tools that I have purchased over the years. If you need more information please click on this link to get the plans
HAND TOOLBOX
Below the hand tool wall storage listed above I did make a hand tool small tool box and to be honest I dont like it and I am probably going to get rid of it when I make my nice solid wood hand tool wall cabinet in the future, its where I keep all my chisels and mallets and measurement tools, dovetail guides etc etc.. I like the construction of the box but the finish came out horrible. I used to have it on top of the bench that I dismantled and it currently sitting on a small table that I have.
FILLING CABINET
I also made a filing cabinet out of plywood and solid oak. I never ever seemed to have a place to put all the paperwork that I create for all the projects that I make, I was constantly making plans for all kinds of projects so back in 2017 I decided to make this 4 drawer filing cabinet and I am so glad I did, especially in the future if I want to look back on what I did I have my files to remind me lol.
WORKSHOP DOOR
My workshop didn't have a door in place and I racked my head for a good 6 months back in 2017 trying to come up with a workable solution, I tried everything from shower curtains on them adjustable poles, I even made cover out of tarp and put zips in them to allow me access to the shop but none of them really worked, so I decided to finally make a door using plywood and construction grade lumber, but my problem was that like most basements I had a ton of plumbing and pipe running all over the shop and of course it was going through my doorway, so I had to make a door and retro-fit it, meaning I needed to take the top right corner out of a door so that is how I fabricated it.
This side of the shop a;so has a lot of wall storage this is another section of the shop that I commonly use and it has the following storage solutions:
Wall mounted router accessories cabinet

Screw Storage

Pneumatic Nail Gun storage
Although most of these storage solution still work and when I made them I thought i did a decent job constructing them, but since my skills have improved I want to remake all this wall mounted fixtures and make nicer looking versions of them.
ROUTER ACCESSORIES CABINET
Back in 2016 I made this accessories cabinet for all my router stuff and its also a very useful shop addition, it contains storage for all my routers and most of their various jugs and accessories, the doors open up to a ton of router bit storage that I am still adding to. It also contains 2 medium sized box that I can keep a lot of stuff in as well like my non-slip mats for clamp free router work, and it is attached to the wall using a french cleat system. This is the only partial wall in my shop that has french cleat storage and buy do make the most of it.
NAIL GUN STORAGE
Also on this wall I made another french cleat storage solution for all my pneumatic nailers, I got this project idea from DIY Tyler's YouTube Channel and its linked below.
The design of the unit is very simple and the best thing about it is the 2 drawers that keeps all the nails and brads in one place.
FRENCH CLEAT SQUARE ORGANIZER
So I went to my bucket list of shop projects and picked one that I wanted to do, I have amassed a few assorted squares since picking up wood working and its one of them tools that never really had a home so a couple of months ago I found this project Jay Bates website @ JaysCustomCreations.com and it addressed this issue that I was having, I really liked at the simplicity of the project and it actually works really well, I will include a link to the build article
This project only got completed today so its also on my blog page as well. I will include a link to the blog article as well below.
So my workshop is basically in the shape of an L and as you turn a corner you are almost at the back of the shop except I have a jut-out that has some built in cabinets both wall and floor, these do offer a tremendous amount of storage on the wall.. I keep things like all my woodworking reading materials, I also keep some storage items such as little nuts and bolts and bits and pieces that all home workshop have.
After I inherited my father in laws paint-shop I decided to make my own shaker style cabinet doors on all the cabinets but through the years these are the only ones that have survived because I took the rest of the cabinet down during various remodels I have done over the last 5 years.
While still on West side of the shop this area is also by back wall, and to be honest it is one of the areas of the shop that needs the most work because of basically its where every piece of shop furniture ends up when I need to create space elsewhere in the shop.
When I first got this shop it originally had a very old built in style bench with cabinets under them it also had a decent sized pegboard on top of it and I decided to keep because I currently use that for all of my jigs.
I currently keep the following tools back there and I have included pictures and links to each of them.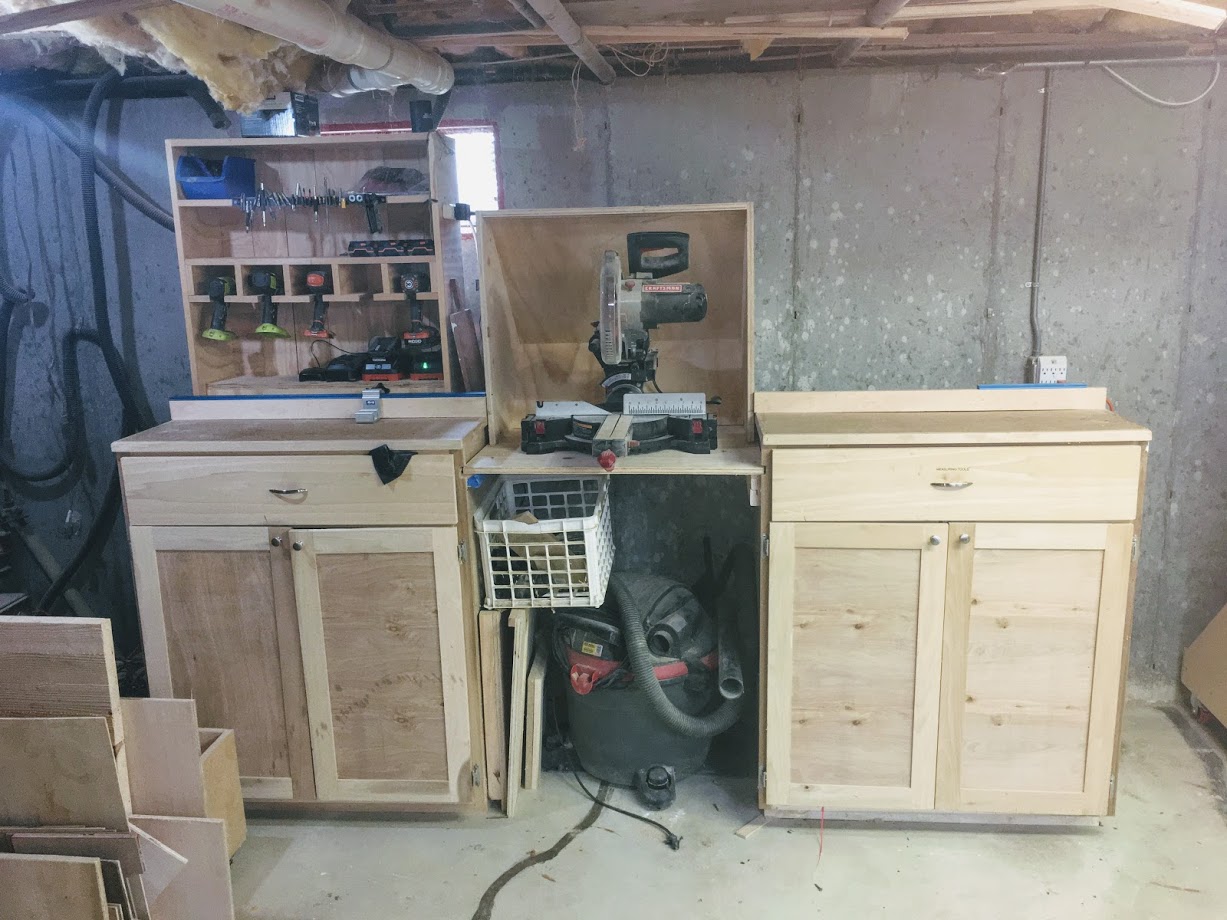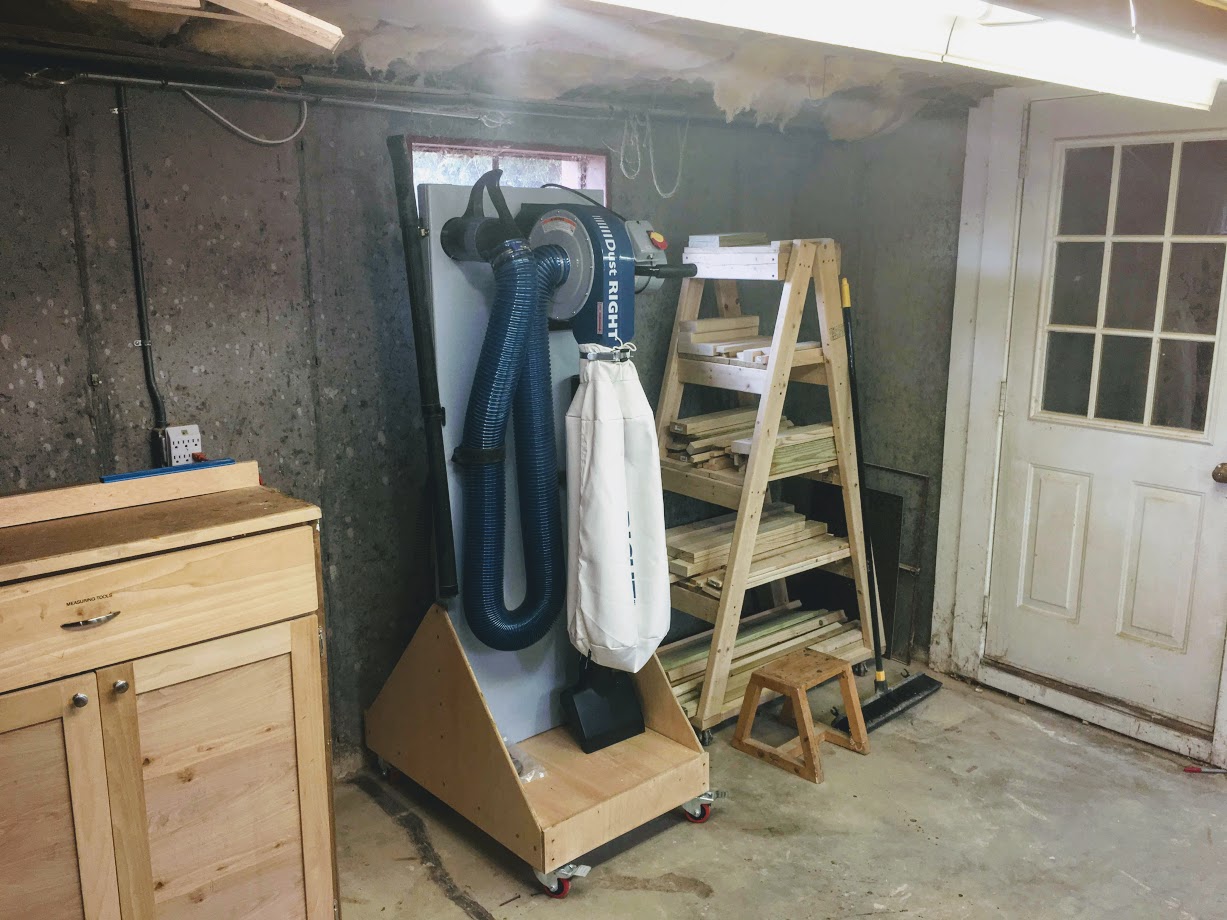 The south wall of the shop has the following shop furniture contained in it, the South wall is pretty large so I needed to take 2 pictures so as that I could display everything in it.
I just recently added a new dust collector to the shop but more on that in a minutes, it also contains the following:
Dedicated Miter Saw Station

Cordless Tool Charging Station

Dust Collector Cart

More Wood storage
This is one of the first pieces of shop furniture that I made for the shop and to date probably one of the biggest, I use this everyday I am in the shop as it a major step in my woodworking routine, I often need to cross cut wood to its final dimensions and when it is not sheet goods it gets done here, I use my table saw for cross cutting wider panel. To be honest this workstation has served me well over the last few years but I want to upgrade this and the miter saw as well, maybe 2019 will be the year I do it. I also added a dust hood to control the dust that this thing generates.
So this is my charging station that I also made a few years ago and its looking it, but still works great, I recently moved it from the right side of the miter station to the left as I needed to make room for my dust collection hose to connect to it, Its basic plywood construction with butt joints and glue and I have a power strip on the right side that everything charges from.
In January I purchased a dust collection system from Rockler and its called the Dust Right, I was going to mount this on a wall but unfortunately I didn't have a suitable location that easily accessed all my tools, my solution to this was yet again another cart, I currently am giving this plans away so as that you can build it yourself, I included a link below. I also made a detailed blog of the build and you can access these pages below.
I made this lumber storage unit to fix my issues with wood absolutely everywhere in my shop so I actually found plans on line for this project and I have to say that it worked great but takes up far too much room on this wall, I think it might be time to change this system perhaps putting something on the wall that is mounted and off the valuable floor space that it takes up.
I included link below to the Rogue Engineer who developed the plans, if my shop was bigger this would work.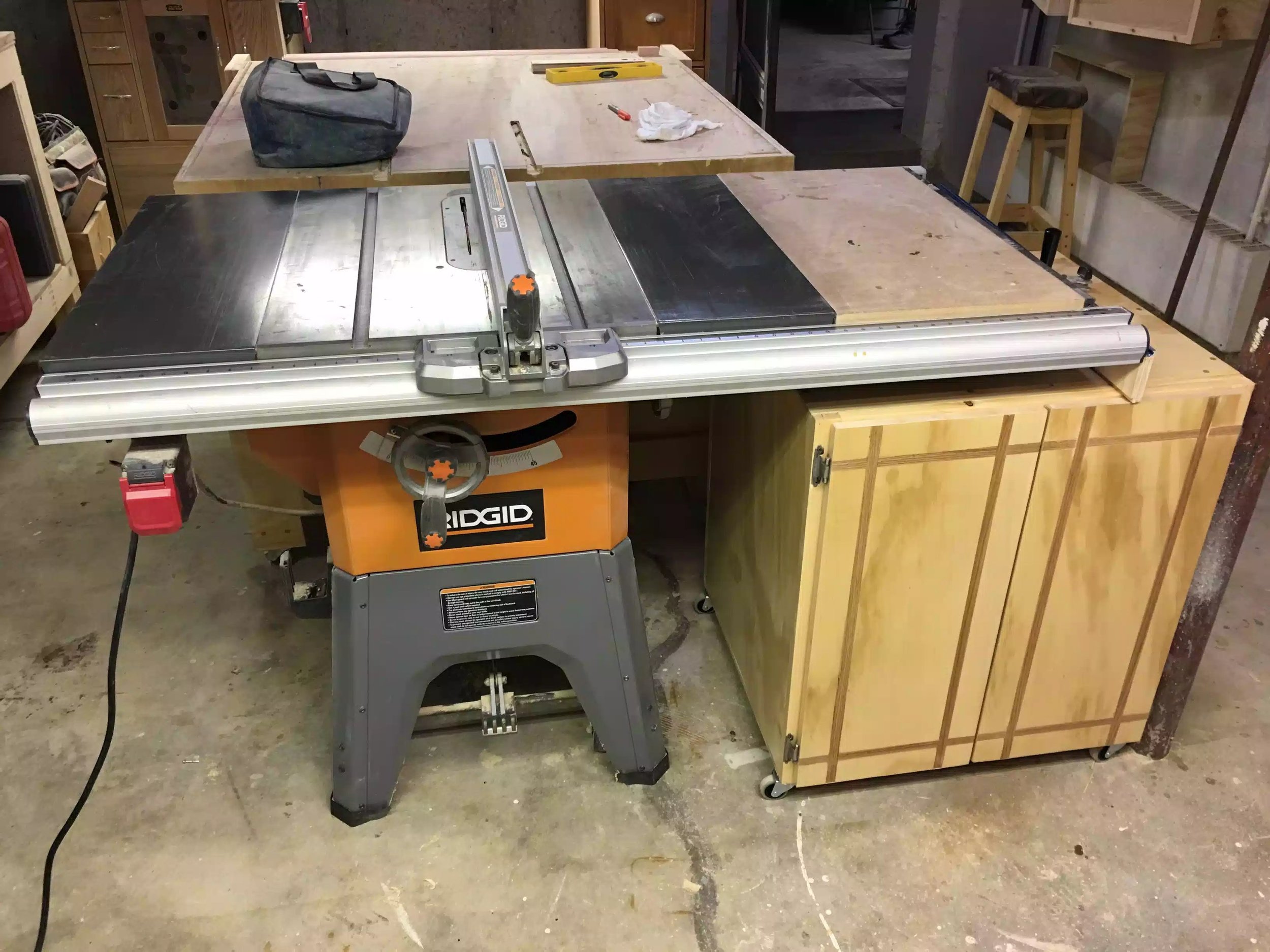 If I was to pick the most used part of my shop, the part of the shop is essential to any operation done in it, I would pick the center because it houses my Ridgid table saw and out feed table. Any cutting operation or assembly process all occurs here. I also added a table-saw accessories cart as well, I have included all available links to these projects below. I am actually in the process of designing a new out-feed table which might possibly have a torsion box top, whats funny is that as I am preparing this shop tour I have quite a lot of shop projects to complete this year so maybe I have bitten off more than I can chew for 2019, or perhaps all my projects will be workshop projects this year, and that is fine with me.
I made this cart back in 2017 to solve the multitude of accessories that I have built up over the last few years, I used to store all my table-saw blades in a drawer in the out feed table but going there to get a blade every time I needed one got old so I decided to make this, I really like how it came out and it saves me a ton of time whenever I need to get something for the saw, feather boards, push sticks, dado stack blades, the list goes on and on.
I found inspiration for this table from " The Wood Whisperer" I made some modifications such as a lot more storage with the use of a shelf for my crosscut sled ( finally has a home up from under my workbench), I also put 3 self made drawers . I have 1 large drawer for a dedicated saw blade storage I only have 3 blades and a dado set but I plan on getting more as time progresses. The other 2 drawers are smaller in size and I will use them for TS accessories ( push sticks, feather boards)
If you would like to see more pictures and information click the button below, like I said earlier this table has served me very well and it looks it, its very beaten up and I am thinking of remaking another table but this time I think I will make the top a torsion assembly.
Well that is all I have as far as the shop tour is concerned, I wanted to originally make a video but I didn't do that for a few reasons, since I am from Dublin, Ireland my accent is terrible when I make any kind of video, the lighting in the shop is not very conducive to making a video and anyway in a pictorial shop tour I am able to link all the shop furniture to additional information that I have on specific pieces. I didn't always have a website or blog page so some of the project pages are links to my online workshop page that I have at www.lumberjocks.com this is where I started documenting my work and this page (link below) details roughly 90% of all my projects, so definitely head over to the shop and take a look.If you are a woodworker and want a community to belong to I cannot think of a better one.
Anyway I hope you enjoyed this length blog post and feel free to comment on absolutely anything about Eds Custom Woodcraft's.
Take Care