UPGRADED OUTFEED & ASSEMBLEY TABLE
(03/2019)
I have just finished a new project for the workshop, I am replacing my current outfeed/assembly table with another that has a few features that my current one doesn't have I will go into that in a little while. Since I am now working full time this project is likely to take a while to complete and will probably only get some quality shop time at home during the weekends and possibly a few nights as well.
PROJECT SUMMARY
Project Sequence

Outfeed / Assembly Table features

Inspiration & Plans

Materials

Cabinet Carcass Section

Torsion Box Section

Cabinet Drawers & Doors
PROJECT SEQUENCE
I am tackling this huge project in a series of sequences which will be
Build the carcass frame (Phase 1)

Build The Torsion Box Top (Phase 2)

Build & Install Drawers & Doors (Phase 3)
Outfeed / Assembly Table Features
4' x 6' long torsion box top (basically a torsion box can be described as a table top with a honey comb insides that provides the structure needed for a very flat and non movable surface. Below you can see the structure of the torsion box on one of my plan pages that I created.(I will make the plans available after the project is built just in case I have to tweak them here and there)
It will also be portable as I will be adding a total of 8 casters which will be mounted to the cabinet ends of the base

The base cabinet will have 8 drawers (4 on each side) and 4 cabinet 2 on each side.

Overall there will be huge amounts of easily accessible storage to fit tools that I currently don't have room for especially a dedicate cabinet for my air compressor
INSPIRATION & PLANS
Inspiration for this table came from Marc Spagnulo (AKA The Wood Whisperer) I came across some YouTube videos that go into great detail for the build, he also has a rough set of plans available that I will post links too below. I needed to tweak the dimensions for the table to suit my table-saw height.
Basically his design broke the project into two sections which were
The Cabinet Build

The Torsion Box Build
PROJECT BLOG
I did document the entire project build on my blog and you can see most of the build here, with loads of pictures and tons of written instructions on how I completed this build, I did create plans but I need to get them ready and I will make them available soon.
TABLESAW ACCESORIES CART
(11/2017)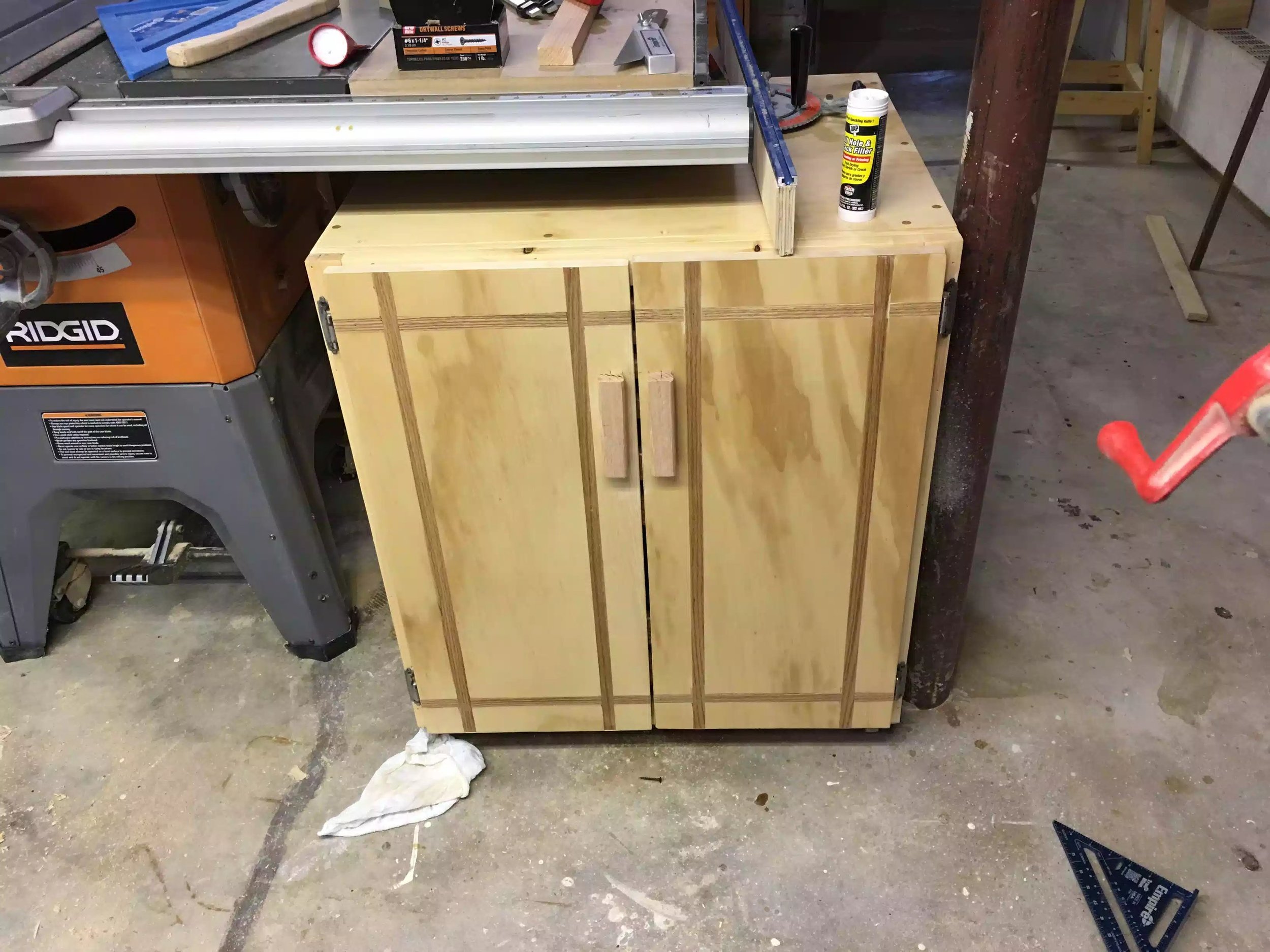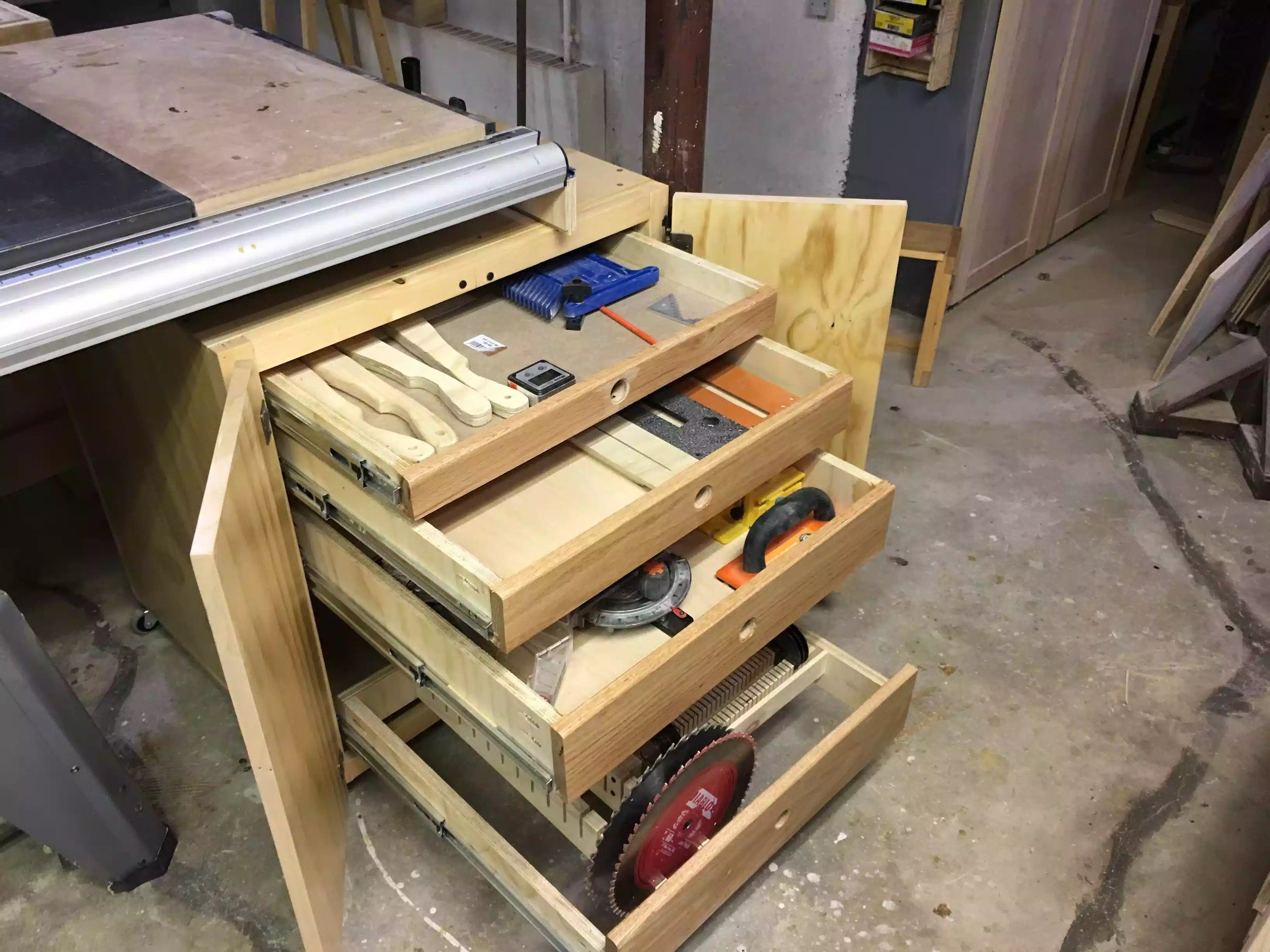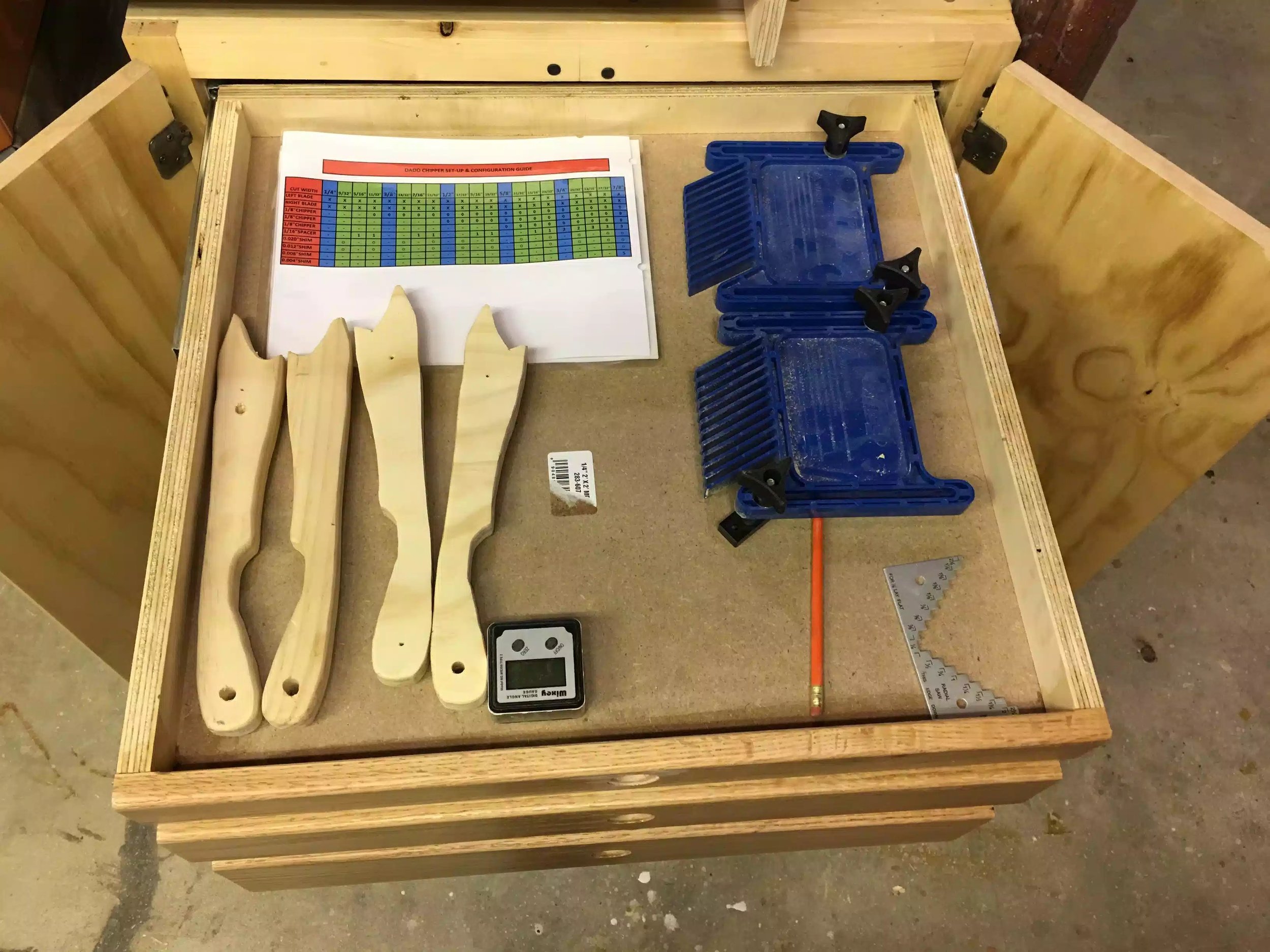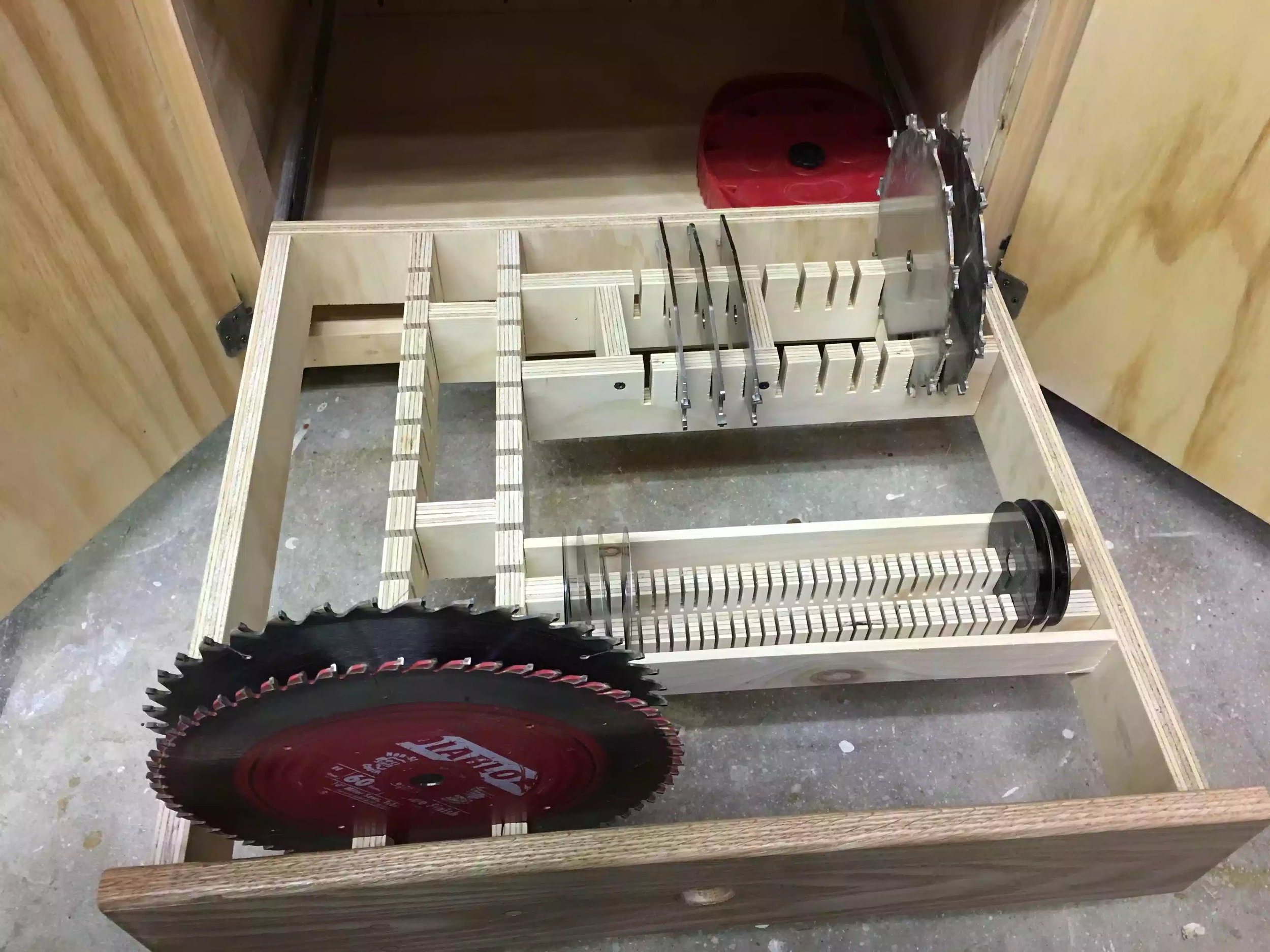 Hi Guys,
In case you haven't noticed I have been working on my workshop to-do list for a while and next on my list was a Table saw Accessories cart, something that I can place directly under the right side of my table saw so as that I didn't have to keep walking out of my way every time I needed to use an accessory for the saw, i.e. Dado stack, push stick or a million other tools I use with this machine.
So I started looking online and I found this excellent plan that they wanted $9.95 for on Woodstore.net, I wasn't paying that since I had to change the dimensions of the cart. But if your interested in purchasing the plans I included a link above.
My error was that instead of actually measuring the right side of the table saw I used my owners manual and got the right side dimensions from there, not taking into consideration the Bevel handle on my table saw sticks out 7", oh well lesson learned.
Materials:
2 Sheets of 3/4" plywood

1/2 sheet of 1/2" plywood

4 22" Full extension drawer slides

3 lengths of 1×2 pine

9' of oak I used scrap pieces I had lying around
Build:
1. I'm not going into too much detail because its basically a cabinet on wheels with 4 drawers. I wanted to stagger the drawers so as that there was a good bit of height in between each drawer to fit some tall items in the drawers. The cabinet has a face from made from the 1×2 I purchased
2. I used biscuits and pocket holes to build the basic cabinet, and used iron on edging to cut the visible plywood edges
3. The drawers aren't anything fancy and each drawer front has a different dimension 2", 3", 4"and 5" oak fronts, the drawer assemblies again are with pocket holes.
4. The doors were originally meant to be just plywood panels with iron on edging to pretty up the plywood edges but I wanted it to have a more appealing look, after all it did cost me a pretty penny. So I decided to put 3/4" oak inlays into the panel, staying 2" from outside edge, and it looks pretty good, I have never done any inlay work before and its not perfect but again another learning experience.
5. Casters: I purchased 2" casters because I didn't think the unit would be that heavy but I will need to attach bigger casters down the road as it ways a ton with all the drawers and tools inside.
6. Blade storage came out awesome and It wasn't even my idea I came across a YouTube video made by "I build It" while researching this project and came across it and it works awesome, I have included a YouTube video link in case you want to try it… its basically a bottomless drawer on full extension drawer slides with kerf cuts cut into a million different pieces, it took a while but totally worth it
6. Door pulls: I decided to make my own. It couldn't be easier. I used some 1×2 oak, ripped a 10 degree bevel on each side, round the edges with a 1/8" router bit on the router table, sanded it and attached it to the door panels with (2) 1 1/4" screws.
7. Last but not least I put 3 coats of Polyacrylic and sanded with 220 grit between each coat and it came out great, I am glad this came out ok because I was getting to the point to spending all this money building projects only for the finish to come out subpar..
Last but not least you would like to purchase the plans from Wood.net I have put it in a link below, I didn't because I needed to tweak th plans to my tablesaw.
tablesaw outfeed
& assembly table
(04/2016)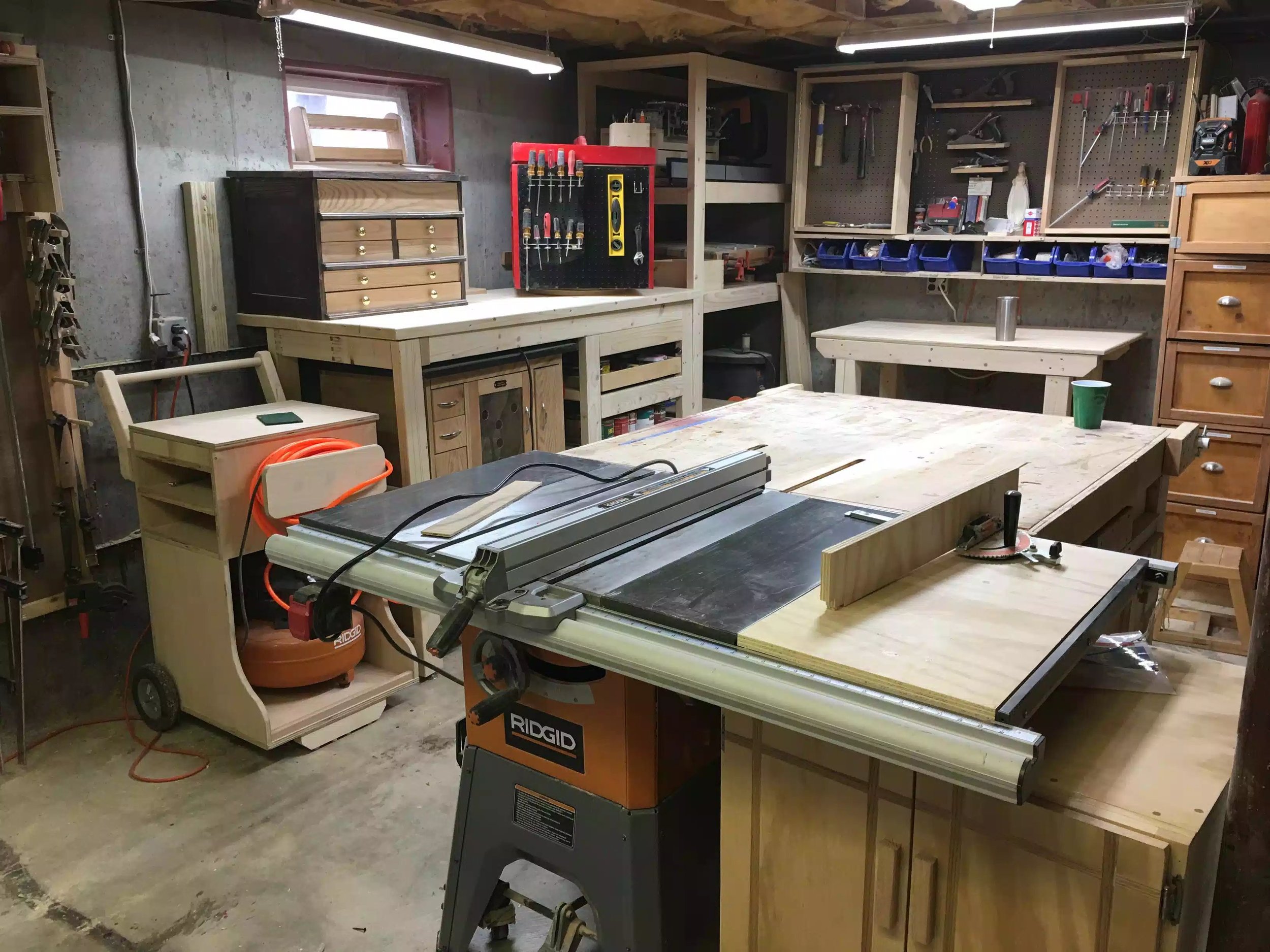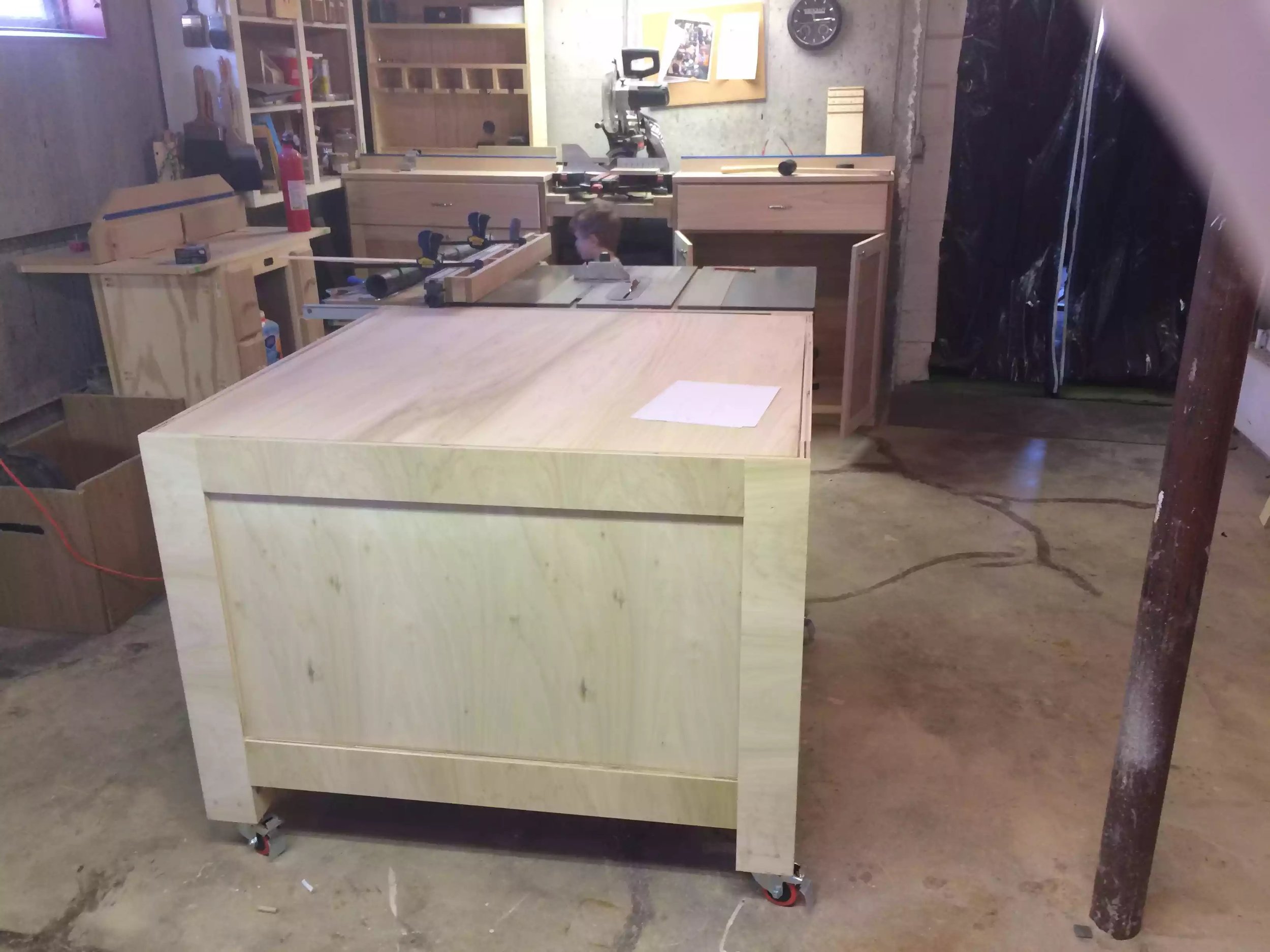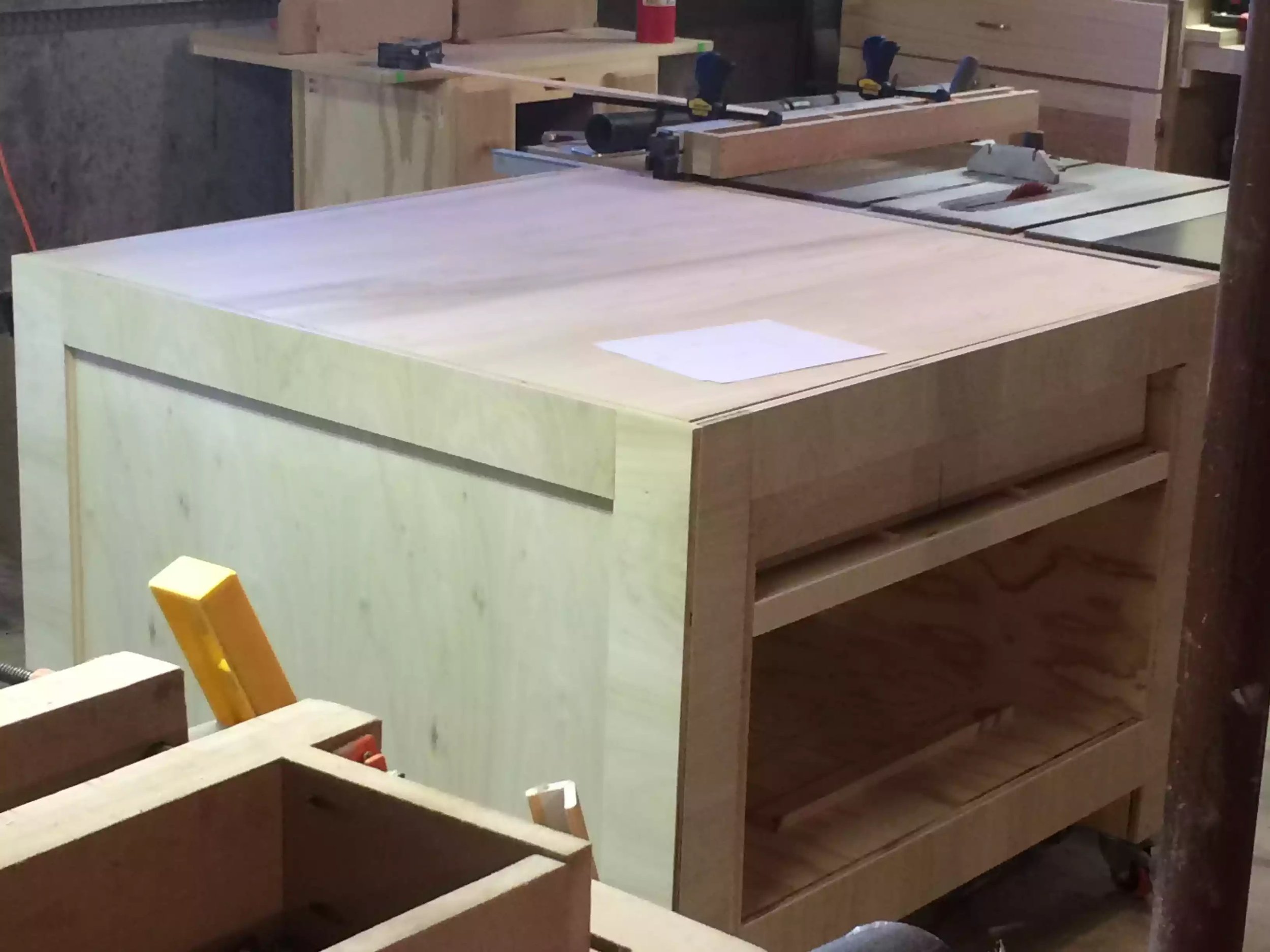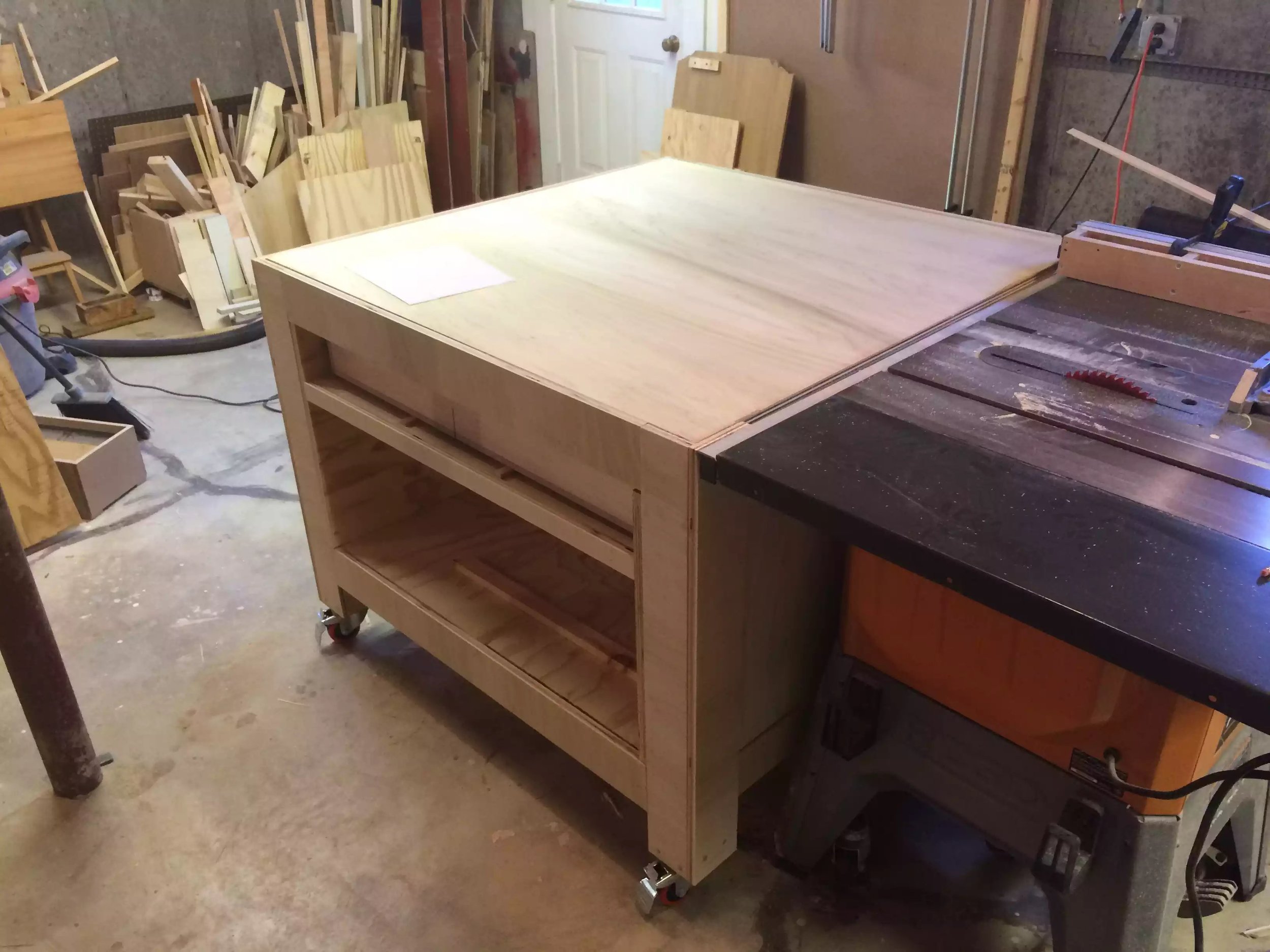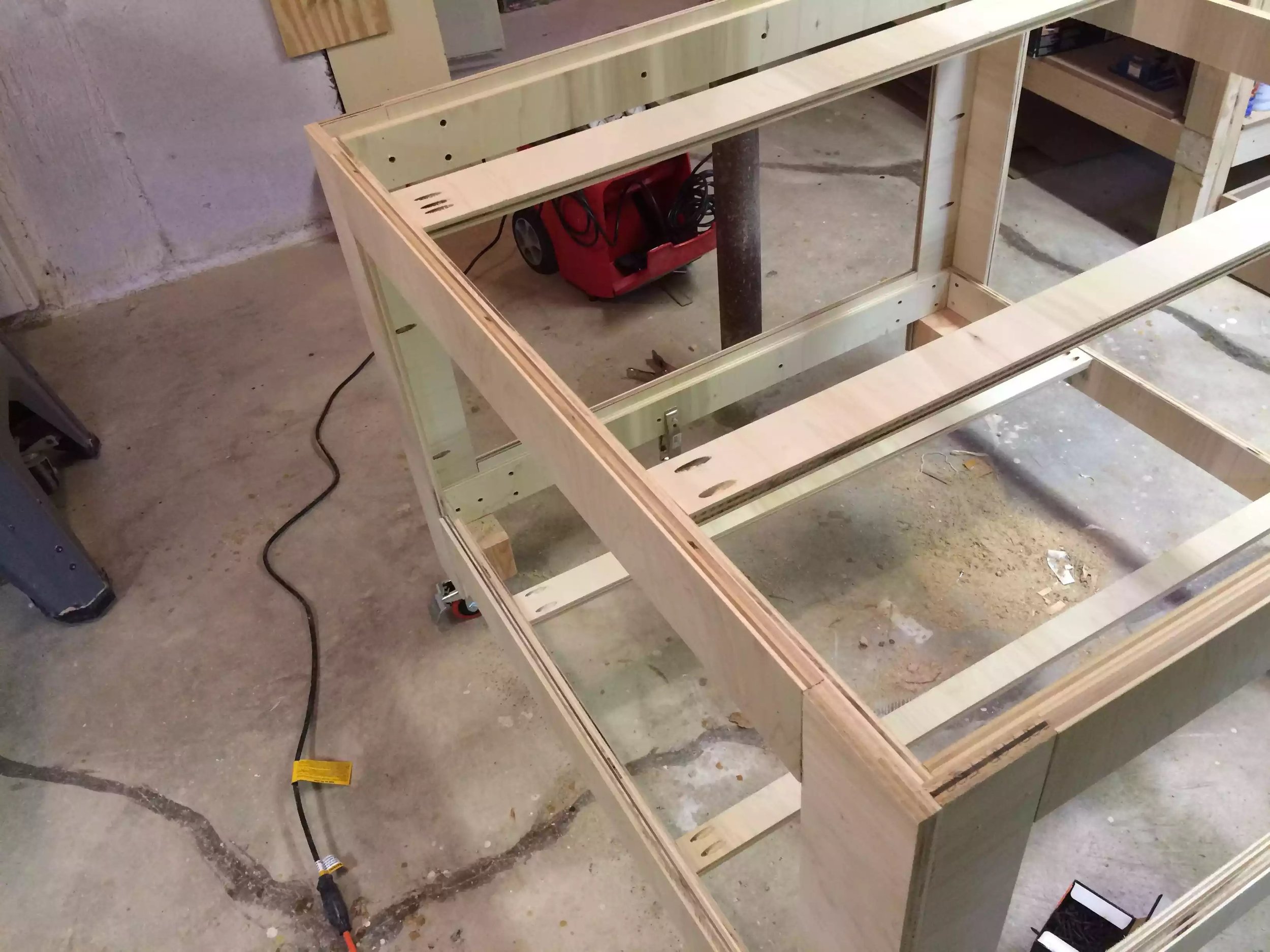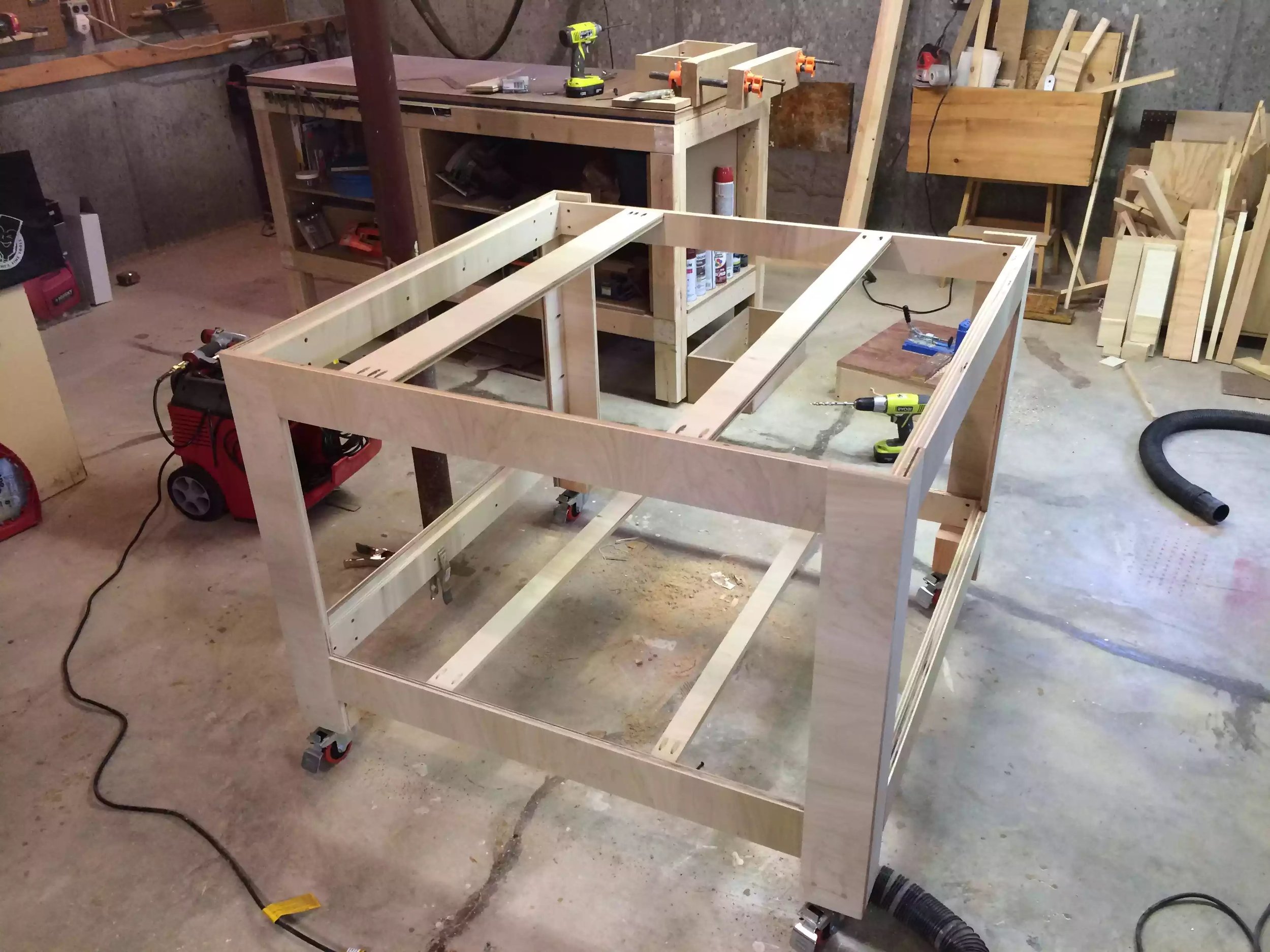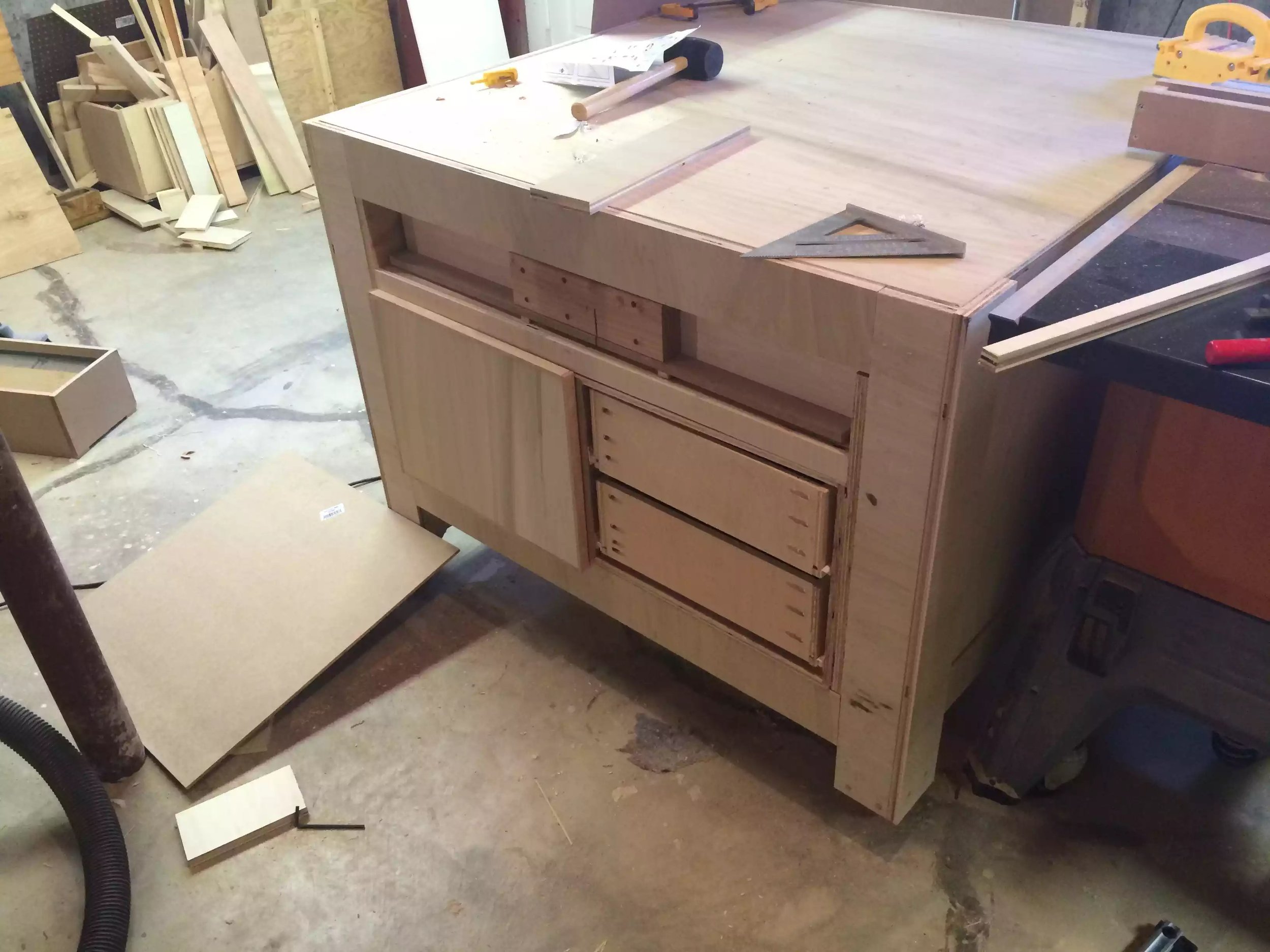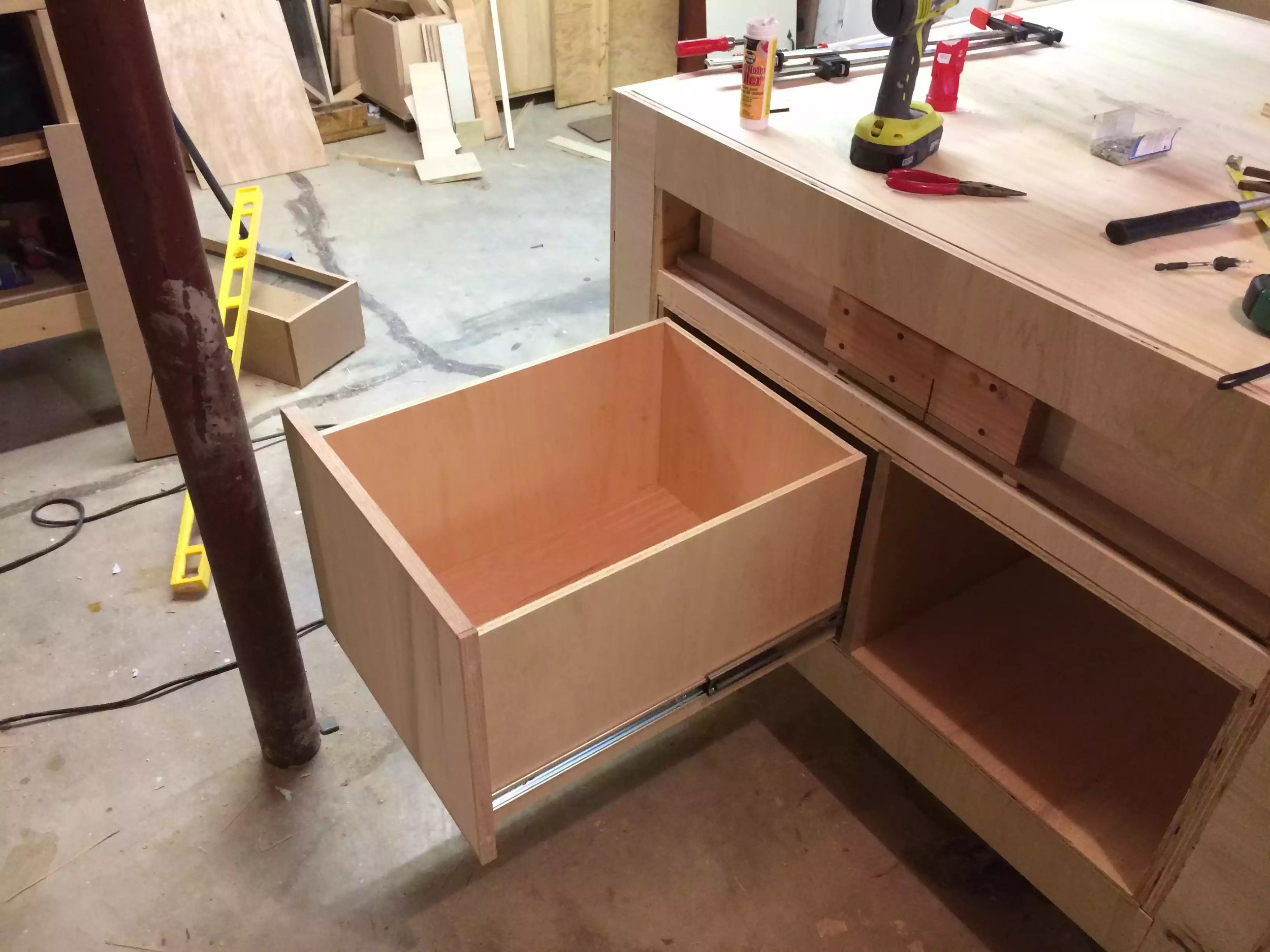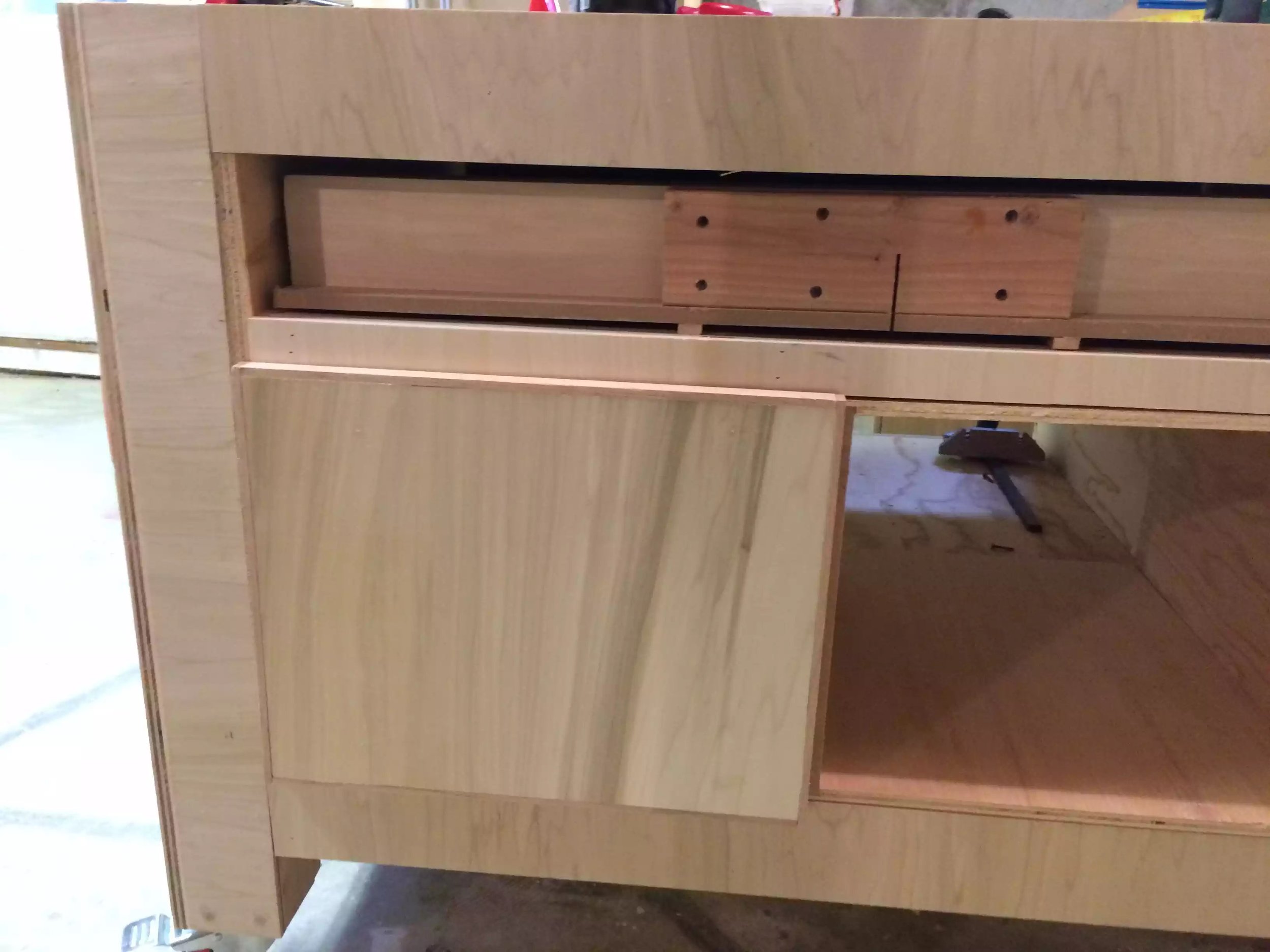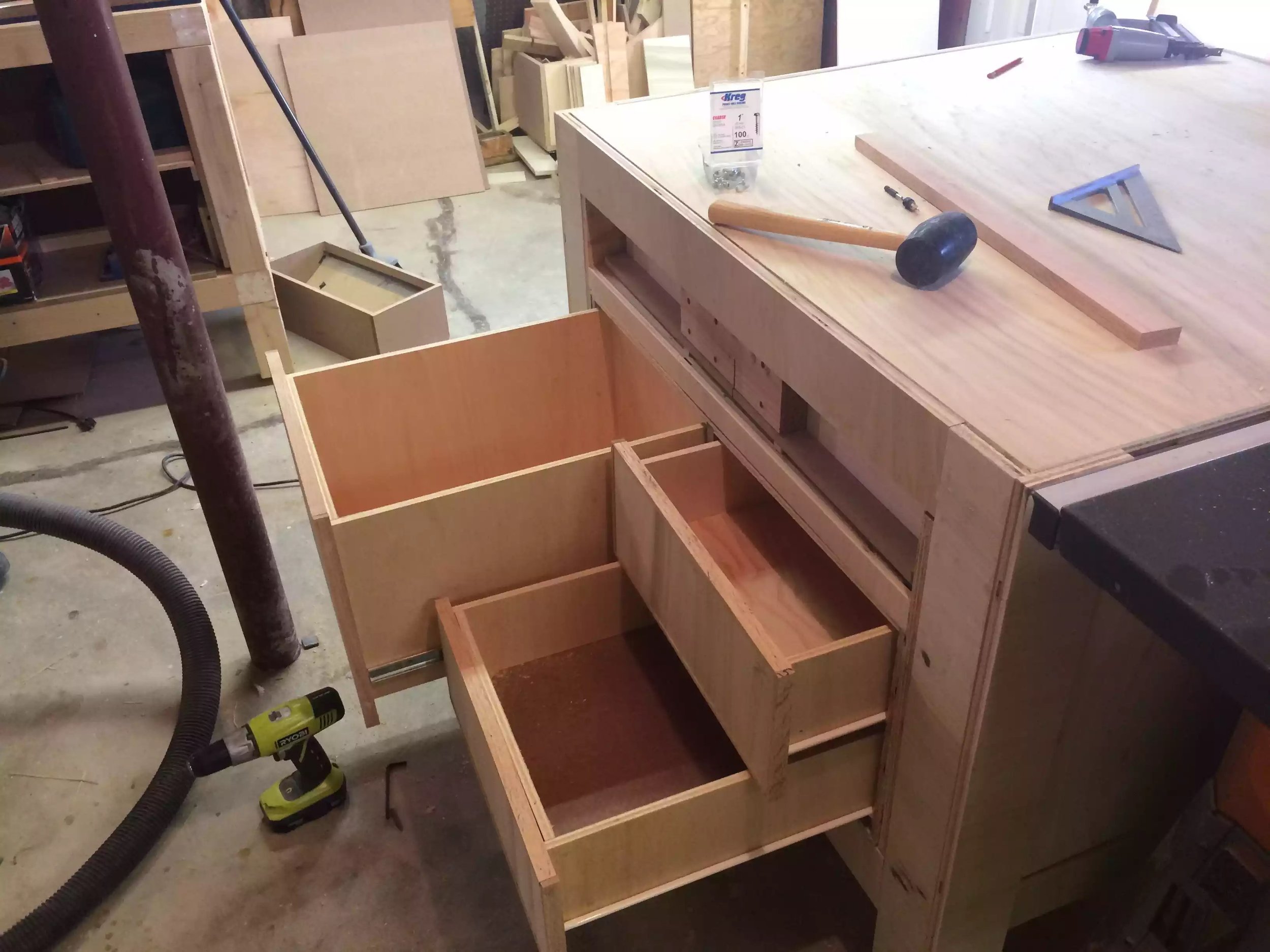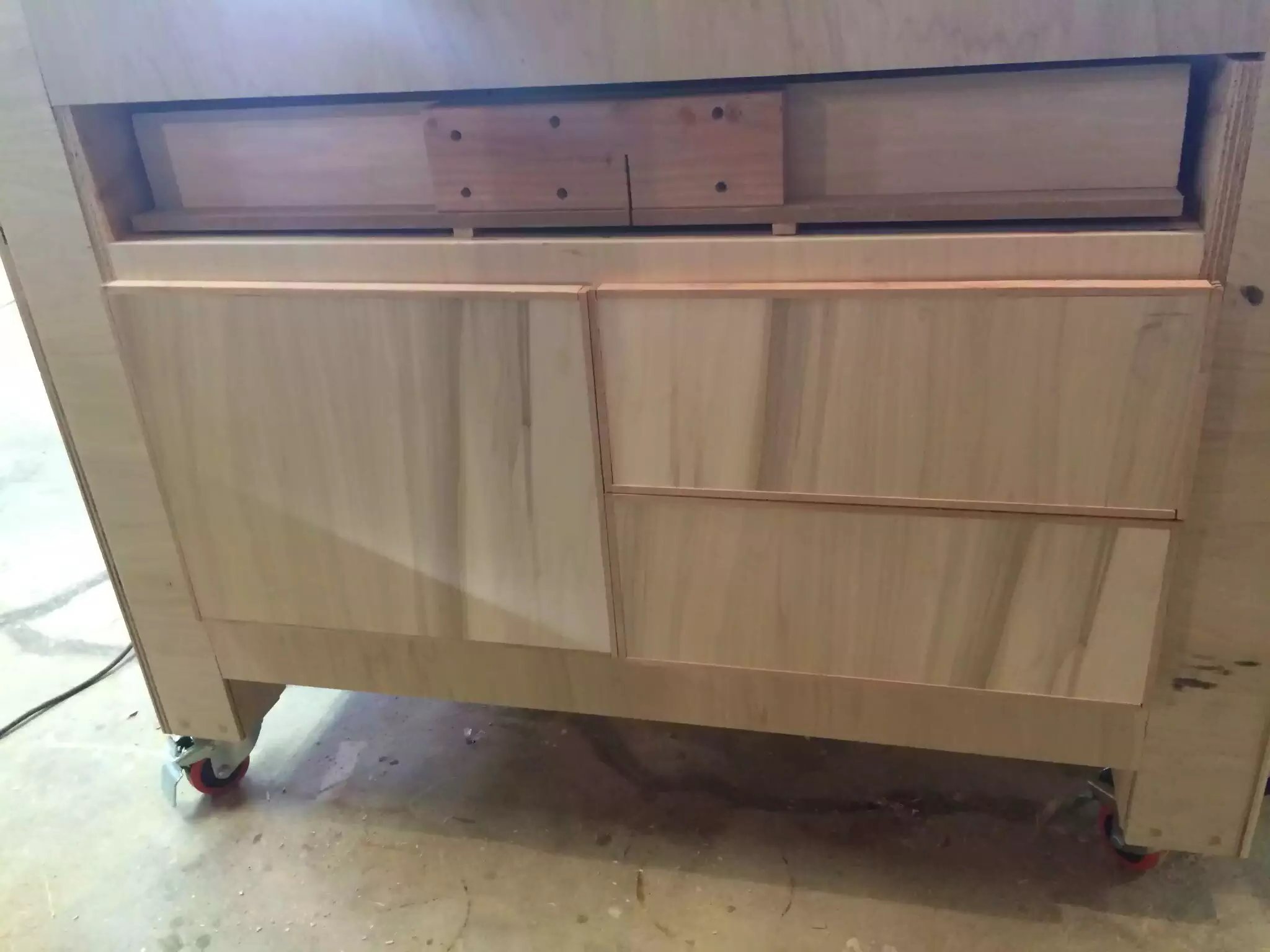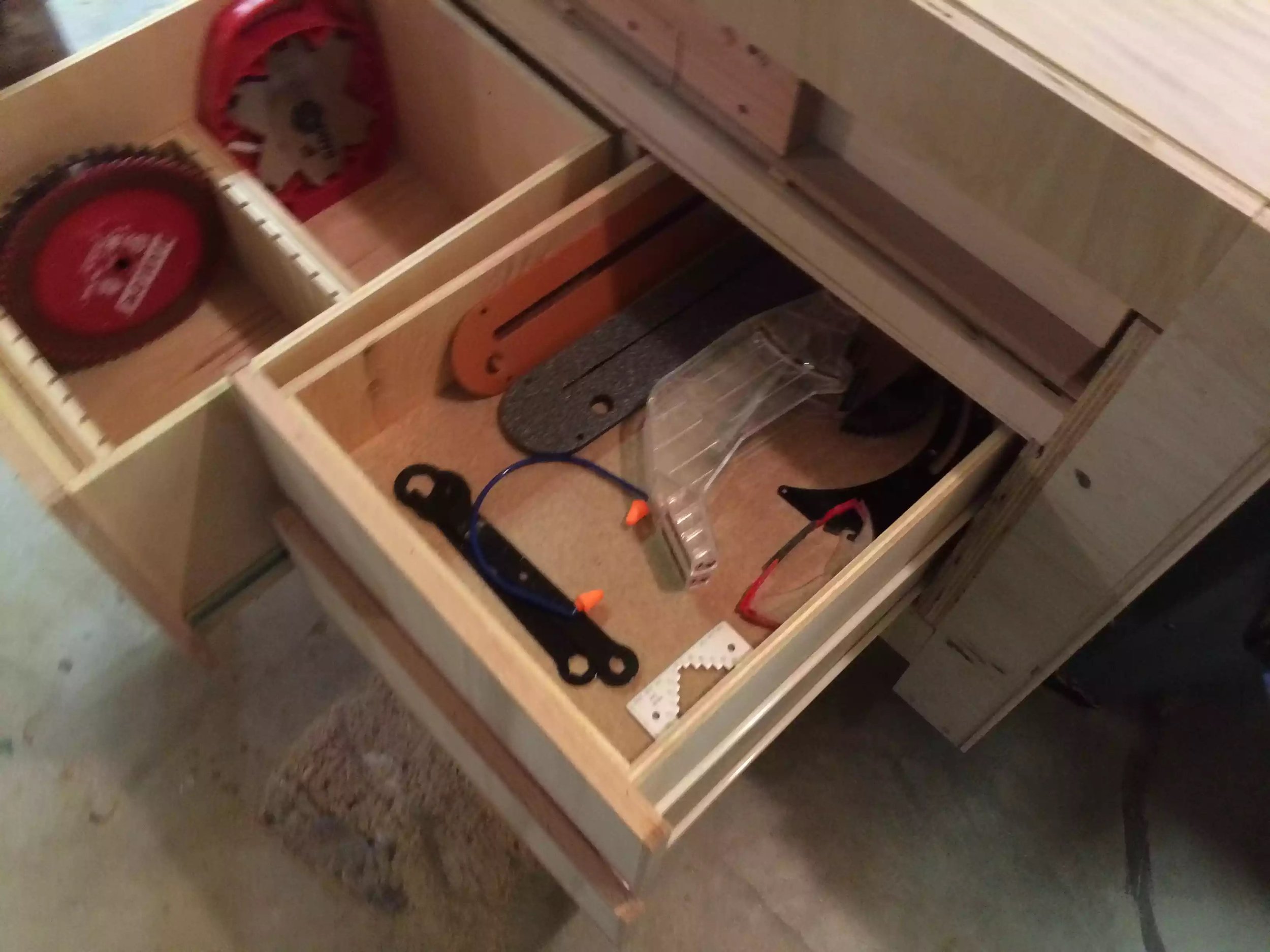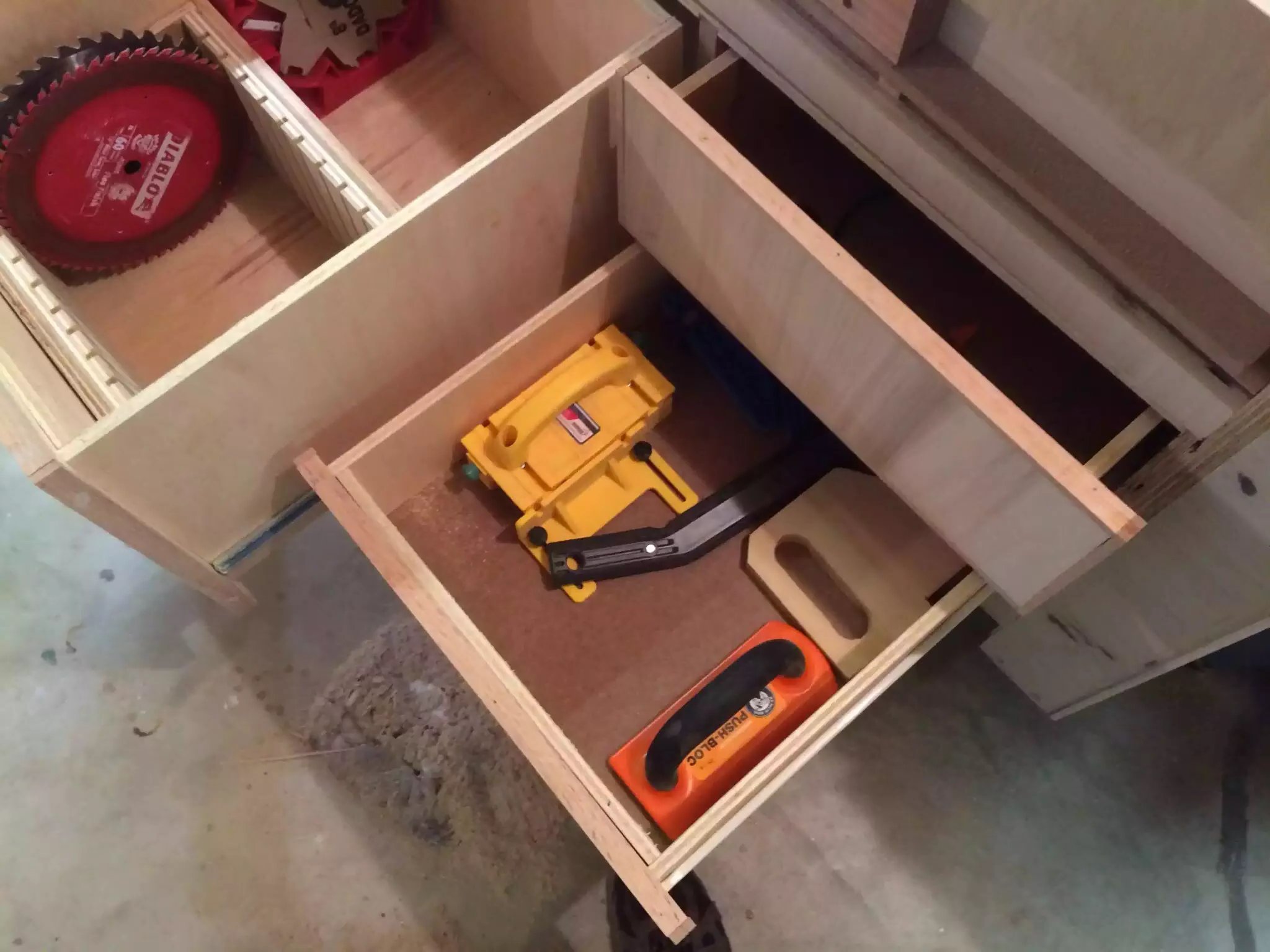 I found inspiration for this table from " The Wood Whisperer" I made some modifications such as a lot more storage with the use of a shelf for my crosscut sled ( finally has a home up from under my workbench), I also put 3 self made drawers . I have 1 large drawer for a dedicated saw blade storage I only have 3 blades and a dado set but I plan on getting more as time progresses. The other 2 drawers are smaller in size and I will use them for TS accessories ( push sticks, feather boards)
The entire table is made from 3/4" poplar plywood , it measures 48" sq and is about 36 3/4" high.
The legs are just an L form secured with glue and pocket screws. The stretchers are also glue and screwed into each leg.
Here you can see the crosscut sled in its new home
Blade Storage Drawer, it's just 1/2" plywood sides with 3/4" inner pieces with 1/4" groves cut into them to receive the blades
Smaller drawers for TS accessories
The drawer false fronts are made with 3/4" poplar plywood with solid oak wood edge banding
This project took me an age to make, but its still getting heavy use in the shop today, I do need to replace the top as it has gotten extremely beaten up as an assembly table, I am also looking into possible making a Paulk style outfeed table, but I haven't decided yet.
Thanks for looking