MODUALR NAIL GUN STORAGE
(10/2017)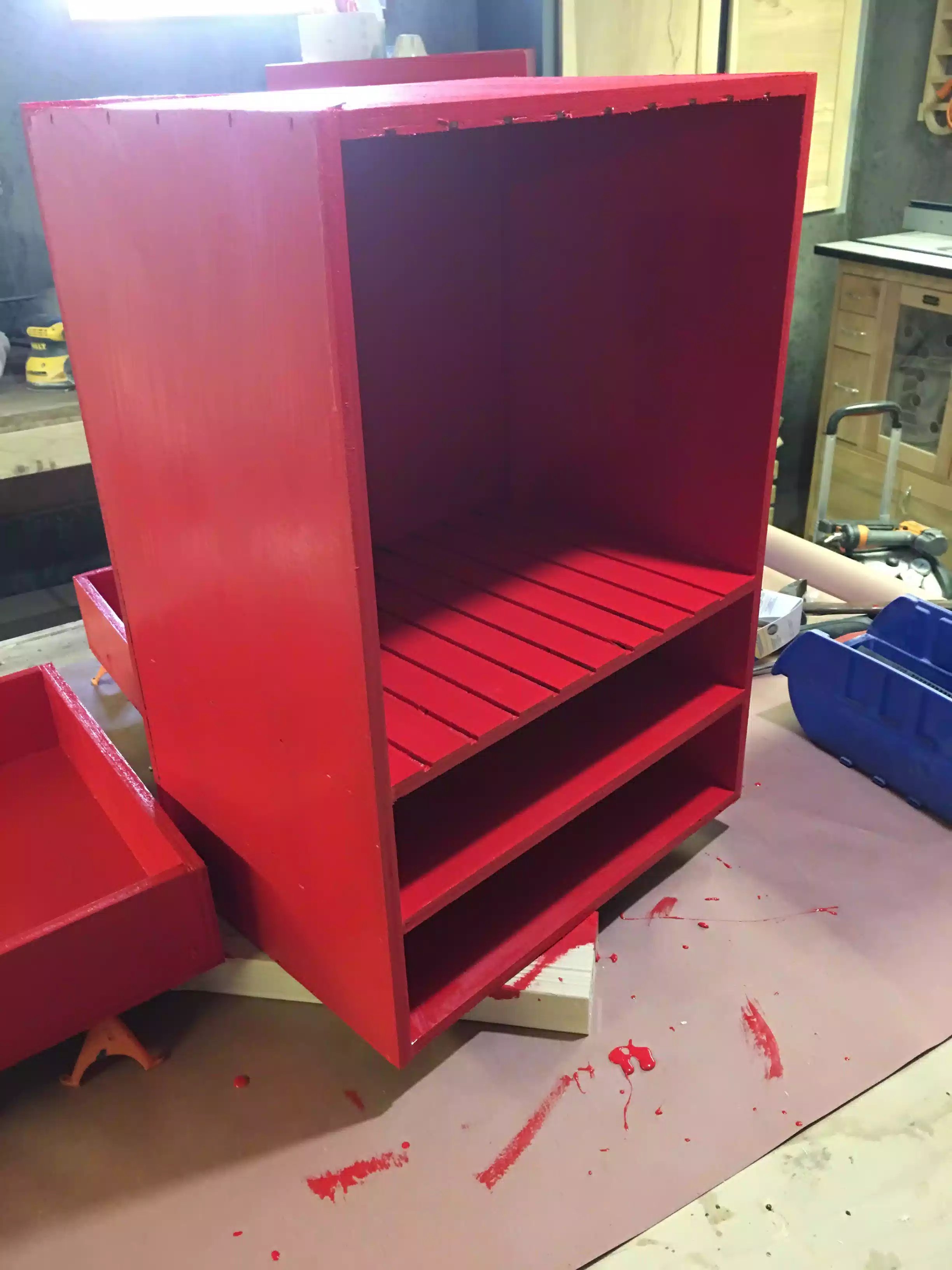 Special thanks go out to DIY TYLER for this project I came across it in his YouTube channel and plans can be downloaded from here
This is a great scrap wood project …
The unit can probably hold up to 5 nail guns if standard size and it also has to drawer nothing fancy just glue and Brad nails
1 drawer holds nails
And the other staples .. I built some dividers out of scrap 1/4" MDF and just cut groves out so as that they can slide into each other finally got my label maker to distinguish the various Gauges and Brad length and to be honest it came out great
What I don't like is the Brad and glue joinery because I only used 1/2" plywood and obviously not Very skilled at shooting into thin plywood like I blew a coupled of brads and missed the mating piece
But practice makes perfect
Anyway hope you like
AIR COMPRESSOR CART
(12/2017)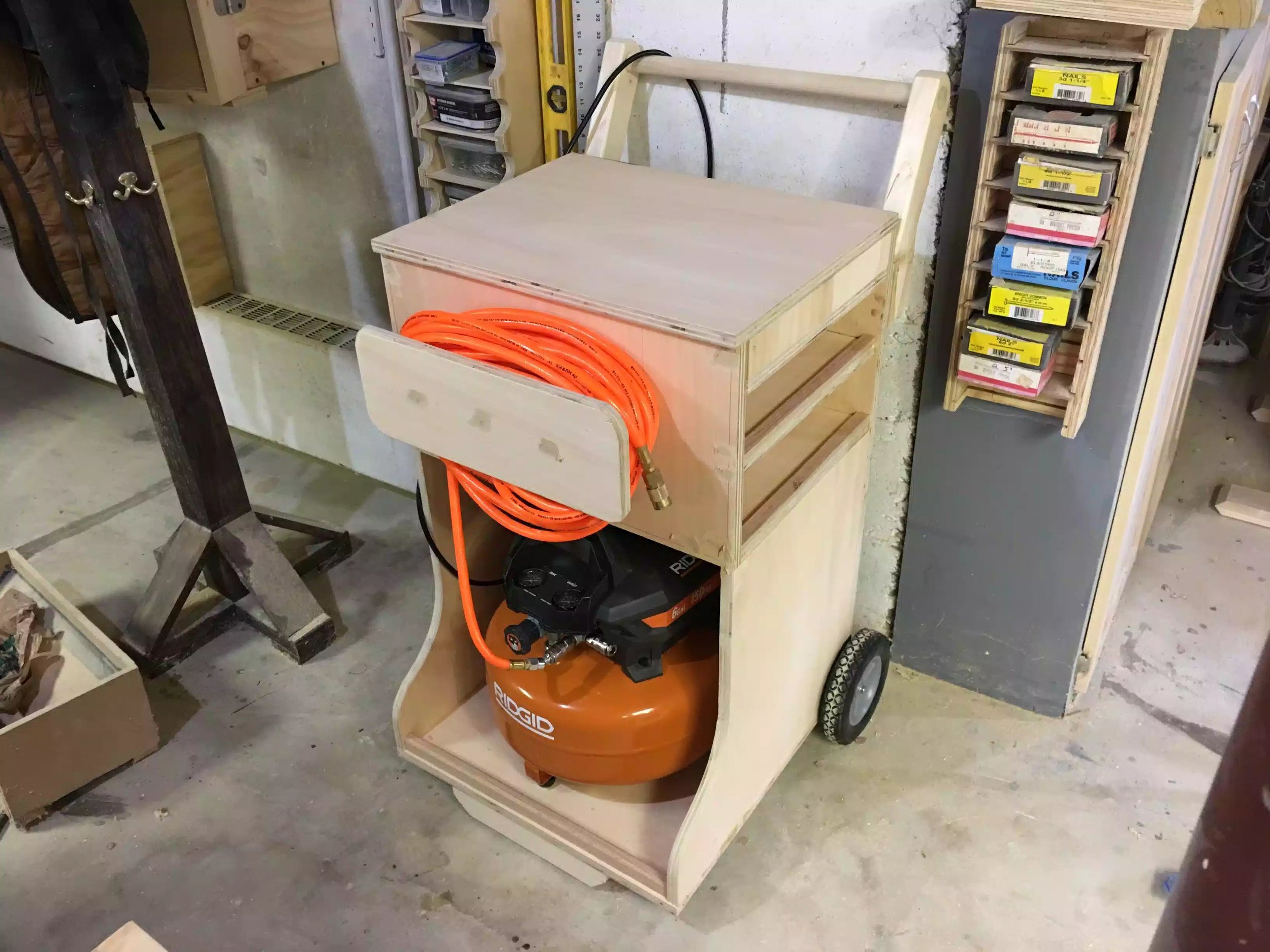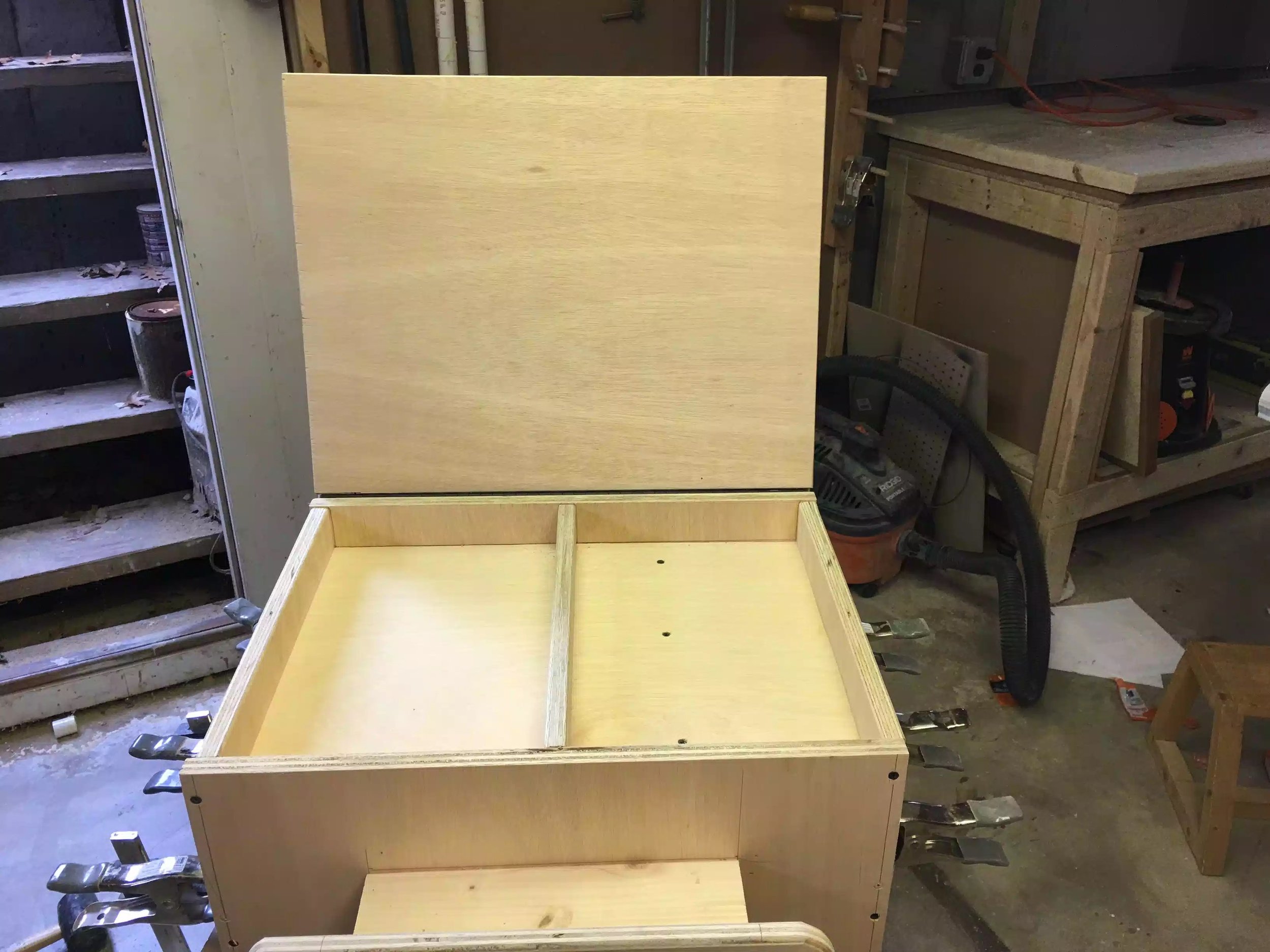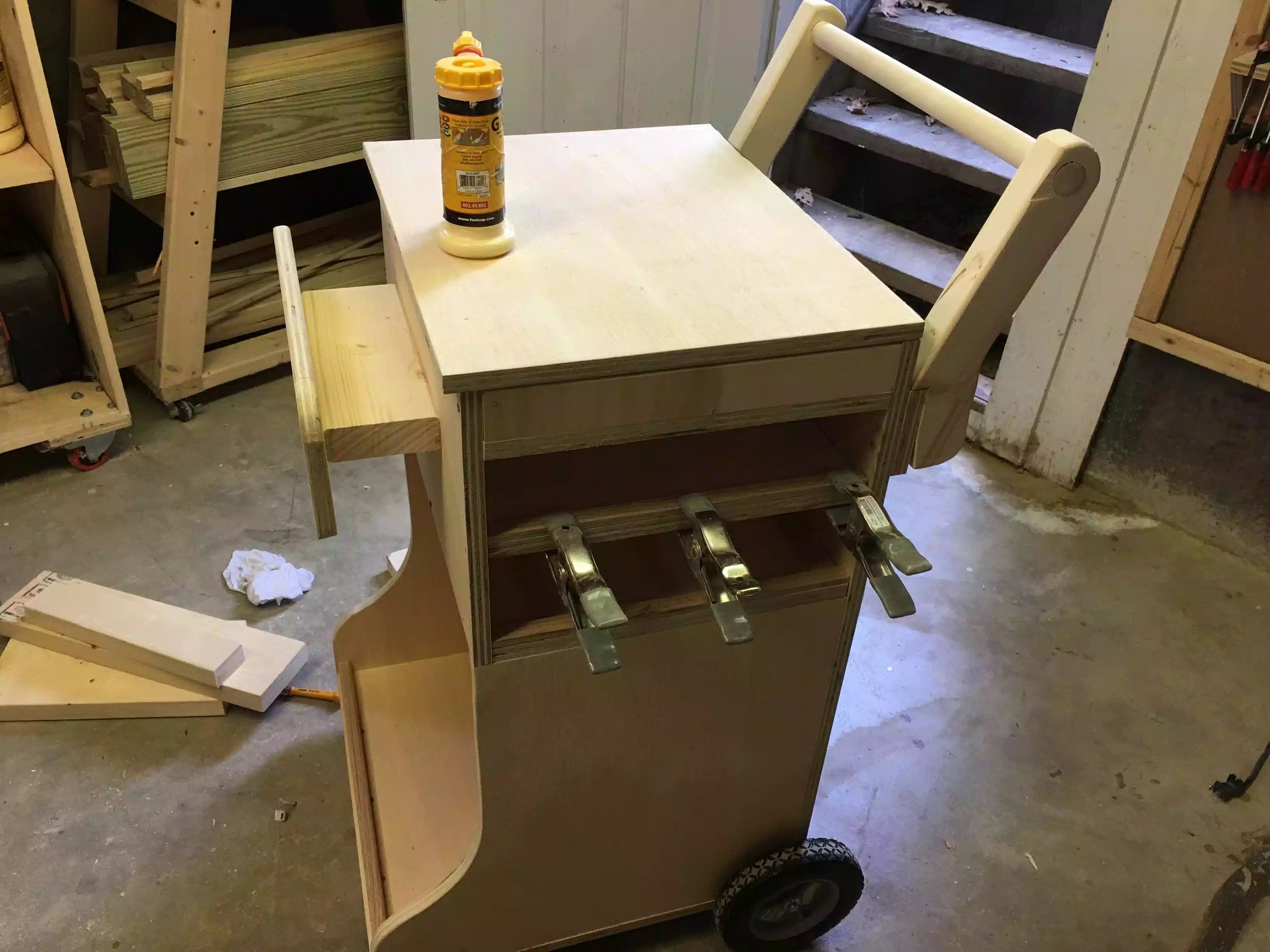 I decided to upgrade my air compressor and got a deal on Black Friday for this Ridgid 6 Gallon 150PSI pancake compressor, what I didn't take into account was that unlike my older air compressor was that it hadn't got wheels… so off I went to research the different carts that people were making and luckily I found this compressor cart that someone posted here and that they got the plans from WOOD.NET and fellow Lumberjock David Craig , I purchased the plans and made it.
Materials List:
1 full sheet of 3/4" plywood
1 piece of 2×8x8
2 wheels 1.75×8" (got them at the trusty Harbor Freight)
Box of 1 1/4" woodscrews
Box of 2' wood screws
1/2" Steel Rod (this was the axle)
and usual sandpaper, glue elbow grease.
I have to admit I don't usually purchase plans for any of my builds and usually make them my self but Sketchup was not working (that's a whole other story) anyway I got the supplies and have to say its awesome, I was thinking that it might be overkill since I made a home for all my nailer's and nails but to be honest its awesome when you need to make the whole unit move to a jobsite or the car and you have a place for all those tools when using the nailers or the endless pneumatic accessories. any i am not tripping over the 50' air hose anymore as it now has a home. One other thing the plans came with full size templates for the handle bar supports and that came in really handy.
I was thinking about painting it but decided against it.
sandpaper storage built-in
(05/2016)
I was very tired of looking for sandpaper for various projects & machines and they seemed to be everywhere they shouldnt be.
So I found this idea on Pinterest and I tweeted the dimensions so as that it would fit in a misused wall cabinet that I have, I'll try and repurpose these 2 double wall cabinets that I have for better utilitization.
Anyway back to the unit, it's made of 1/2" MDF ( not my choice material but I was using scraps and need to clear out and make room for new material, the outer box is MDF but the divider pieces would be. Mix of 1/2" MDF and 3/4" plywood… Again what I had on hand.
The dimensions are about 12" high by 20" wide x 11" deep.
I set the organizer so as that it would accommodate all forms of sandpaper, full sheets, orbital sander discs, and belt sander belts.
The entire unit is made of a series of dados and rabbits and all the as paper rests on 1/4" plywood sheets that can be pulled out of the unit for easy access.
I know it's not pretty but it's extremely functional and I got a lot of experience using my dado stack..
Thanks for looking and if you need a organization idea for sandpaper feel free to use this one.
MAGAZINE STORAGE BOXES
(01/2016)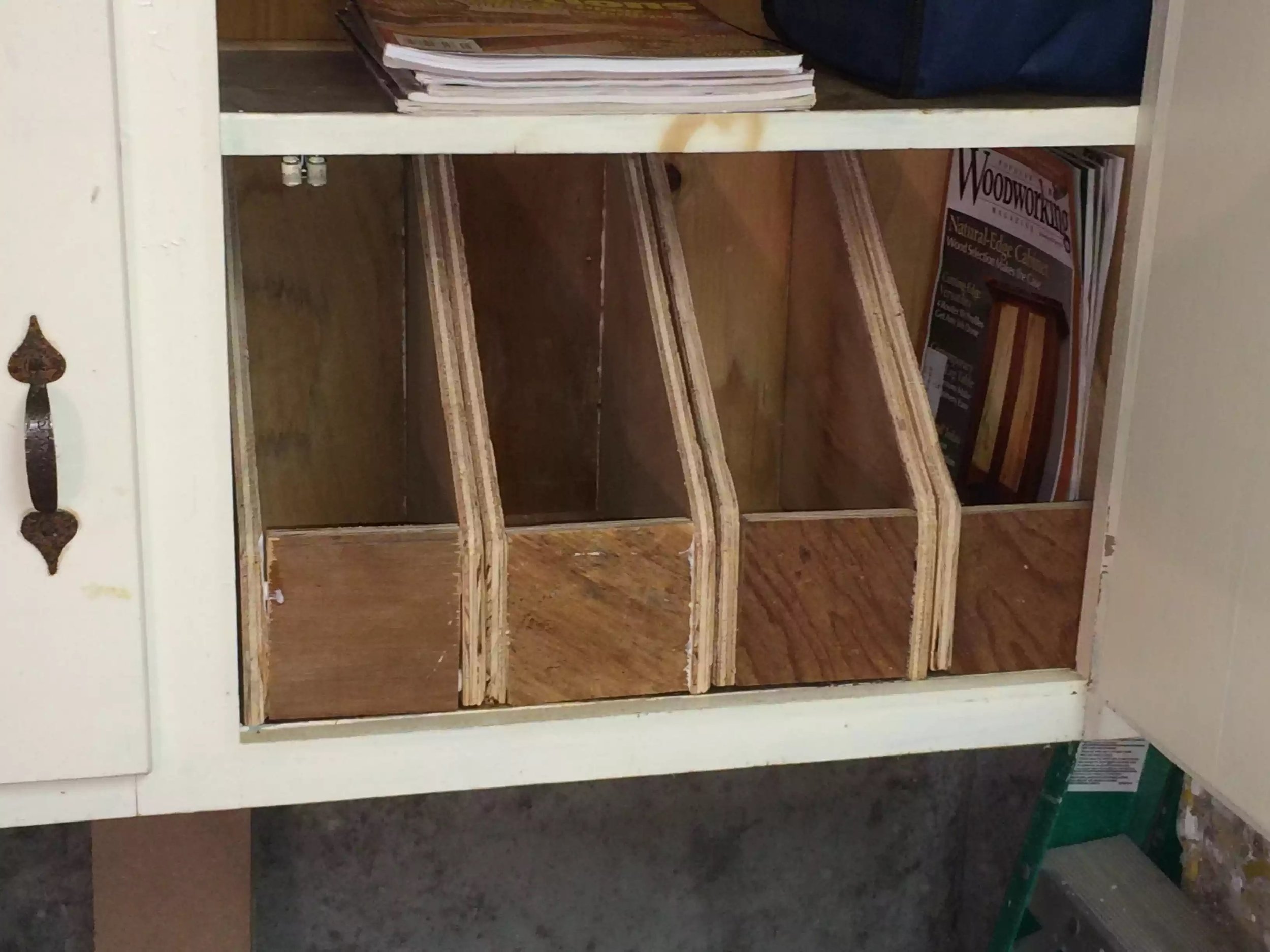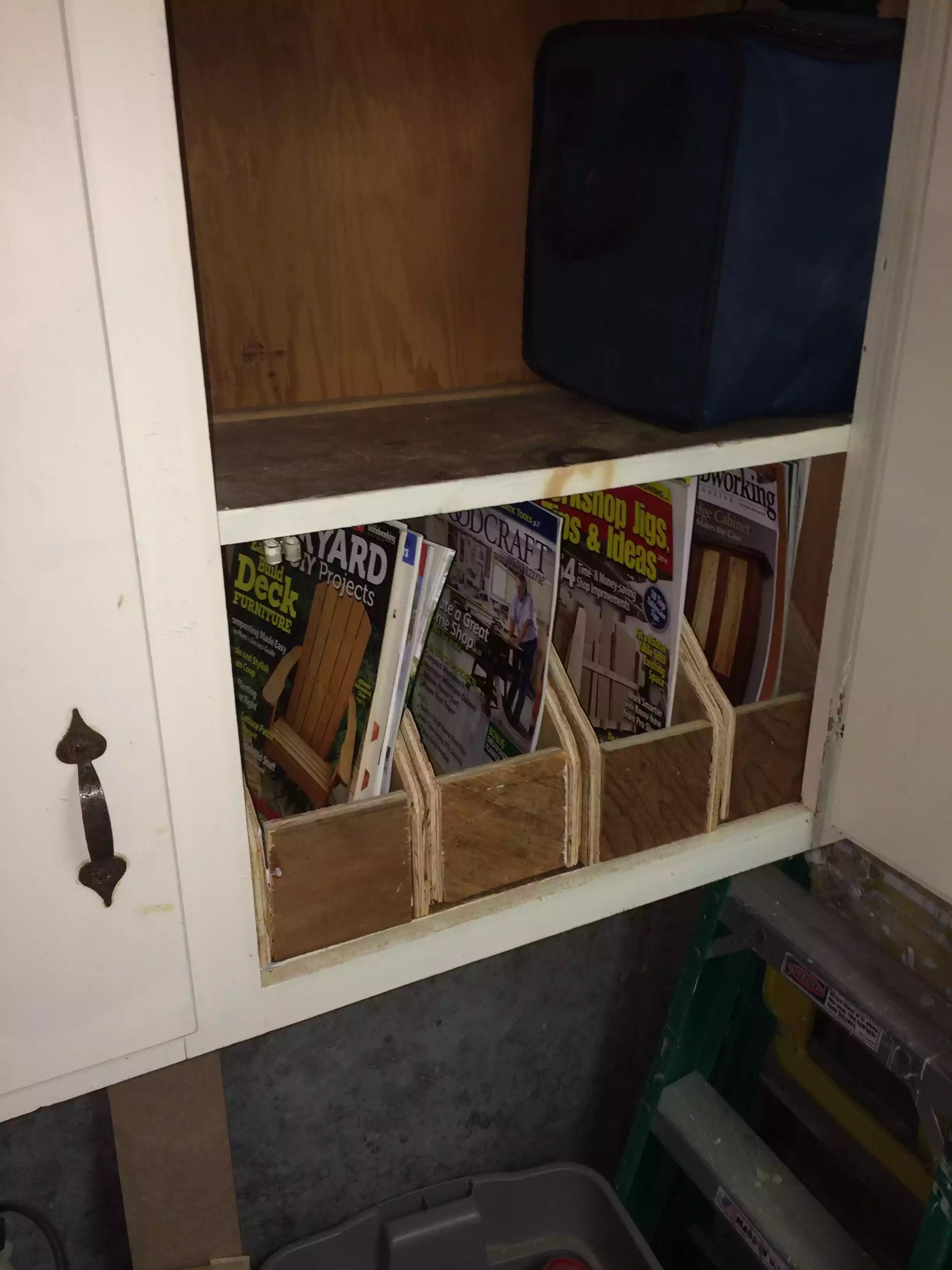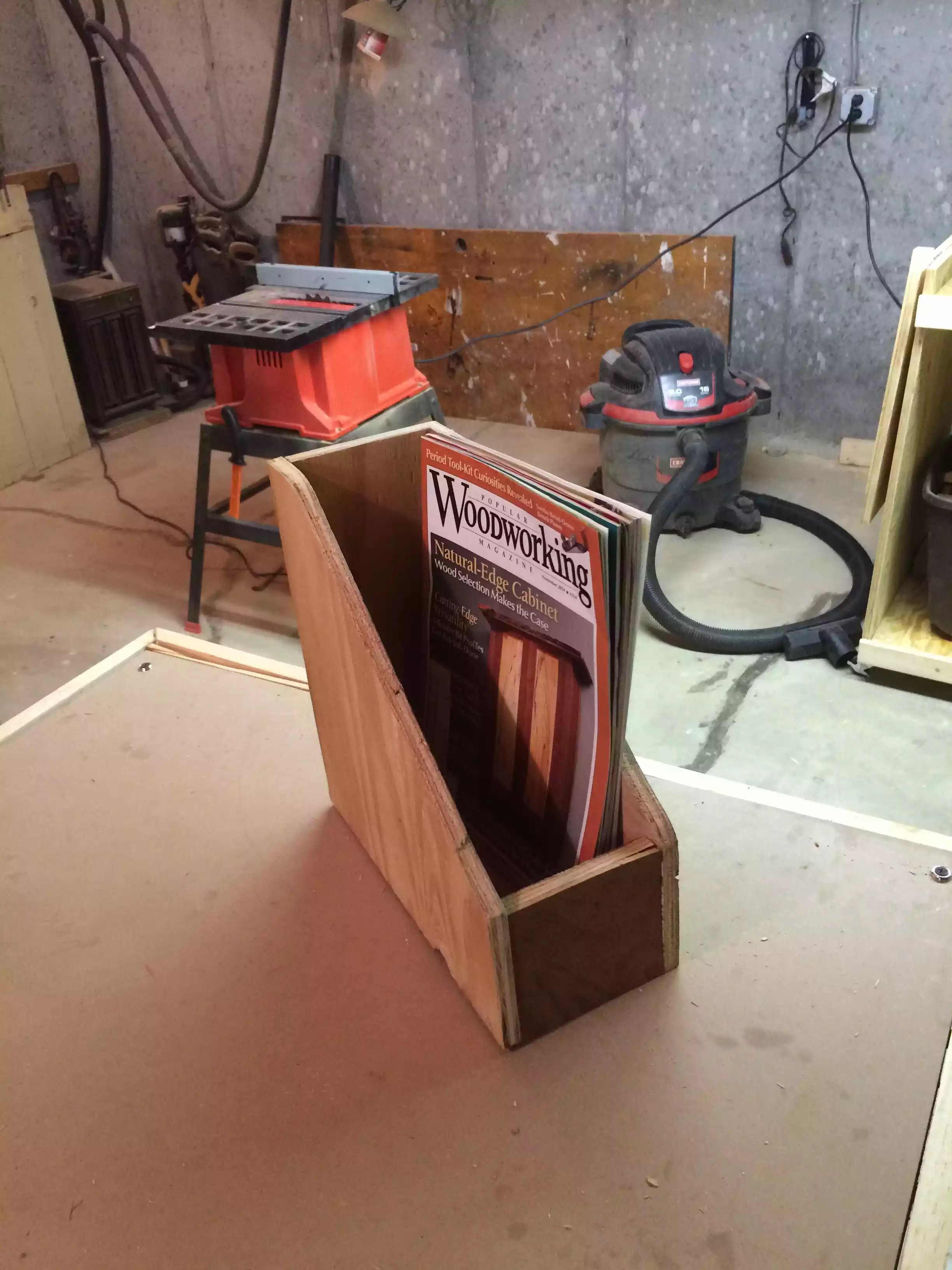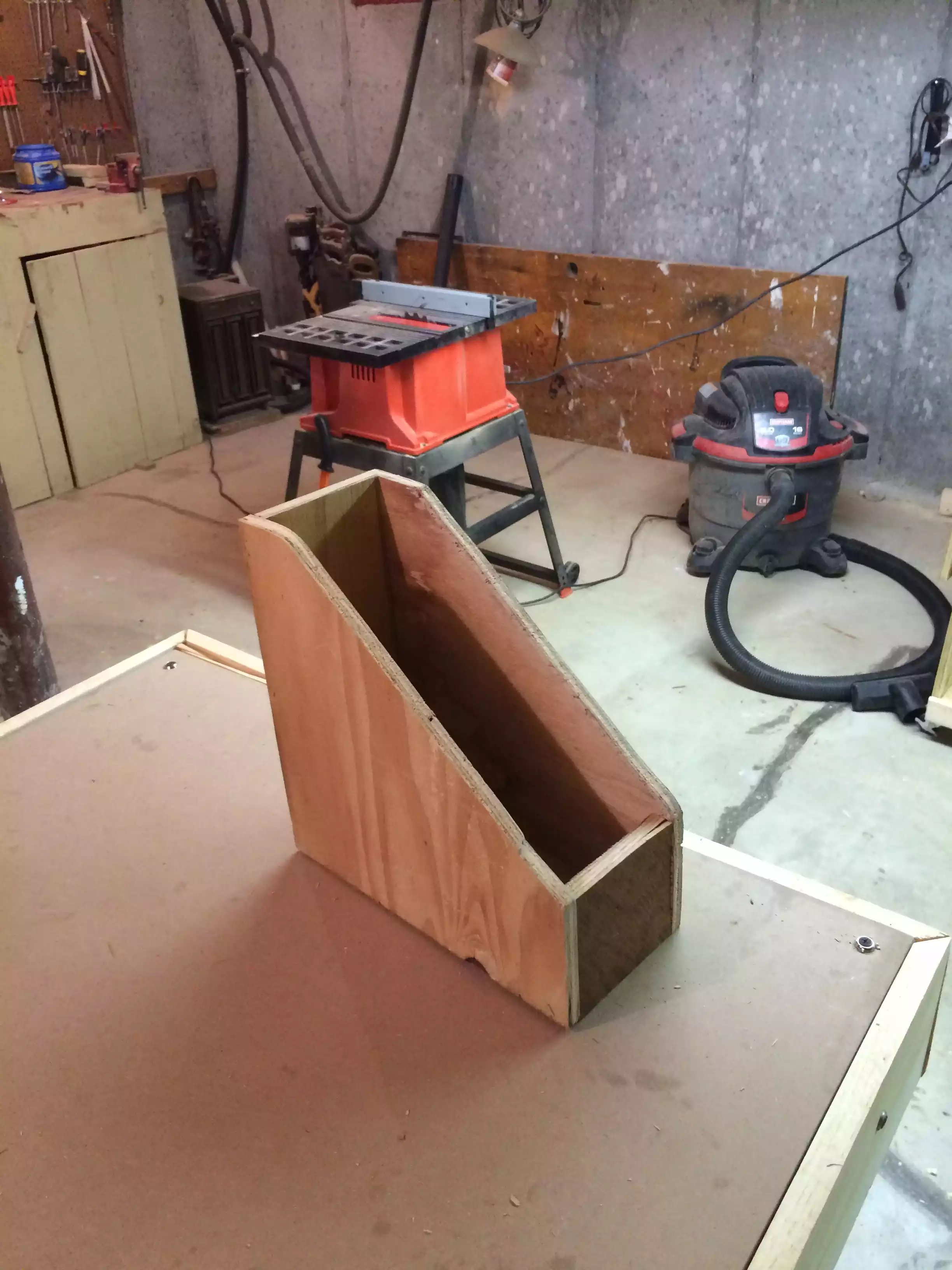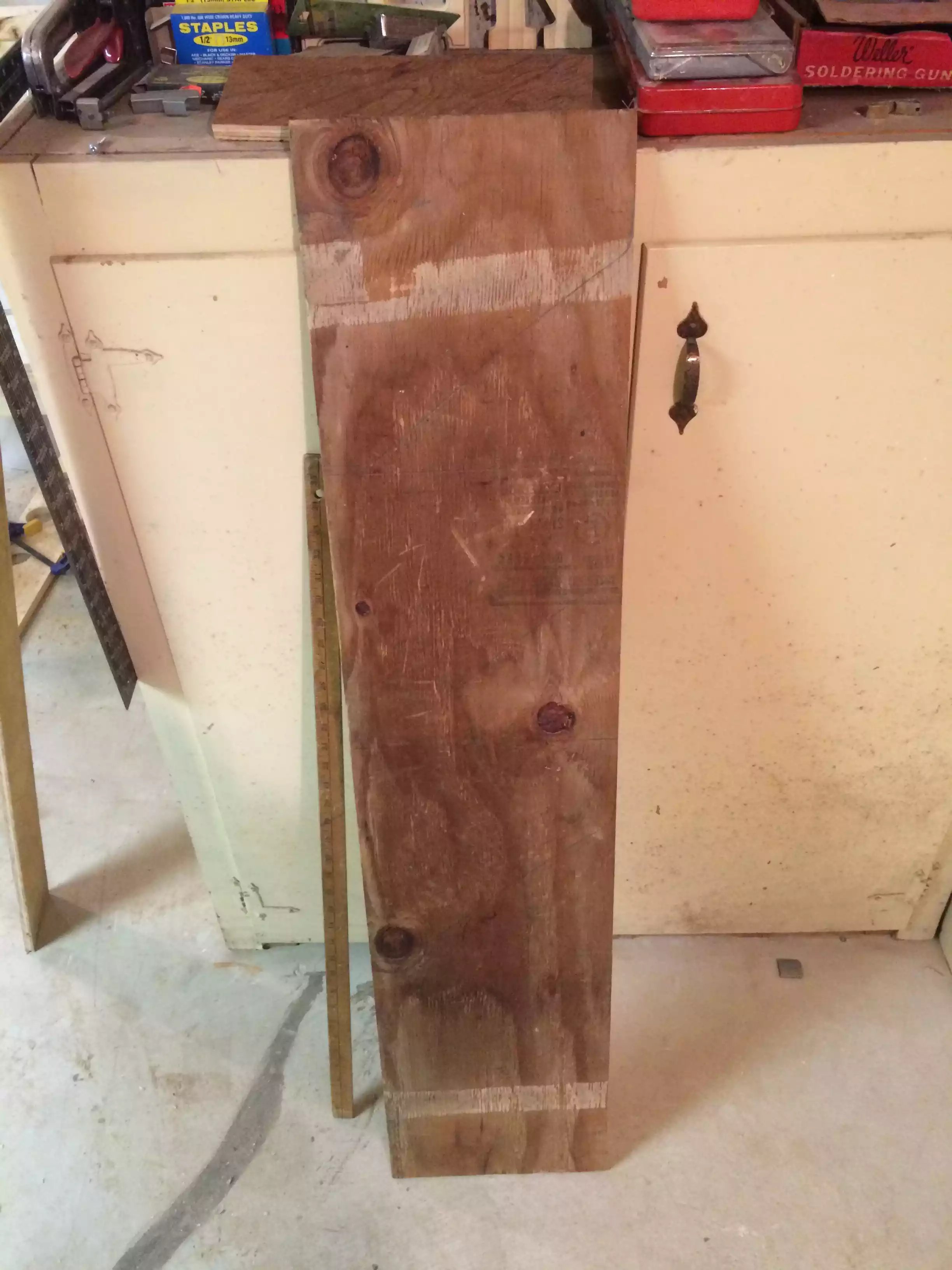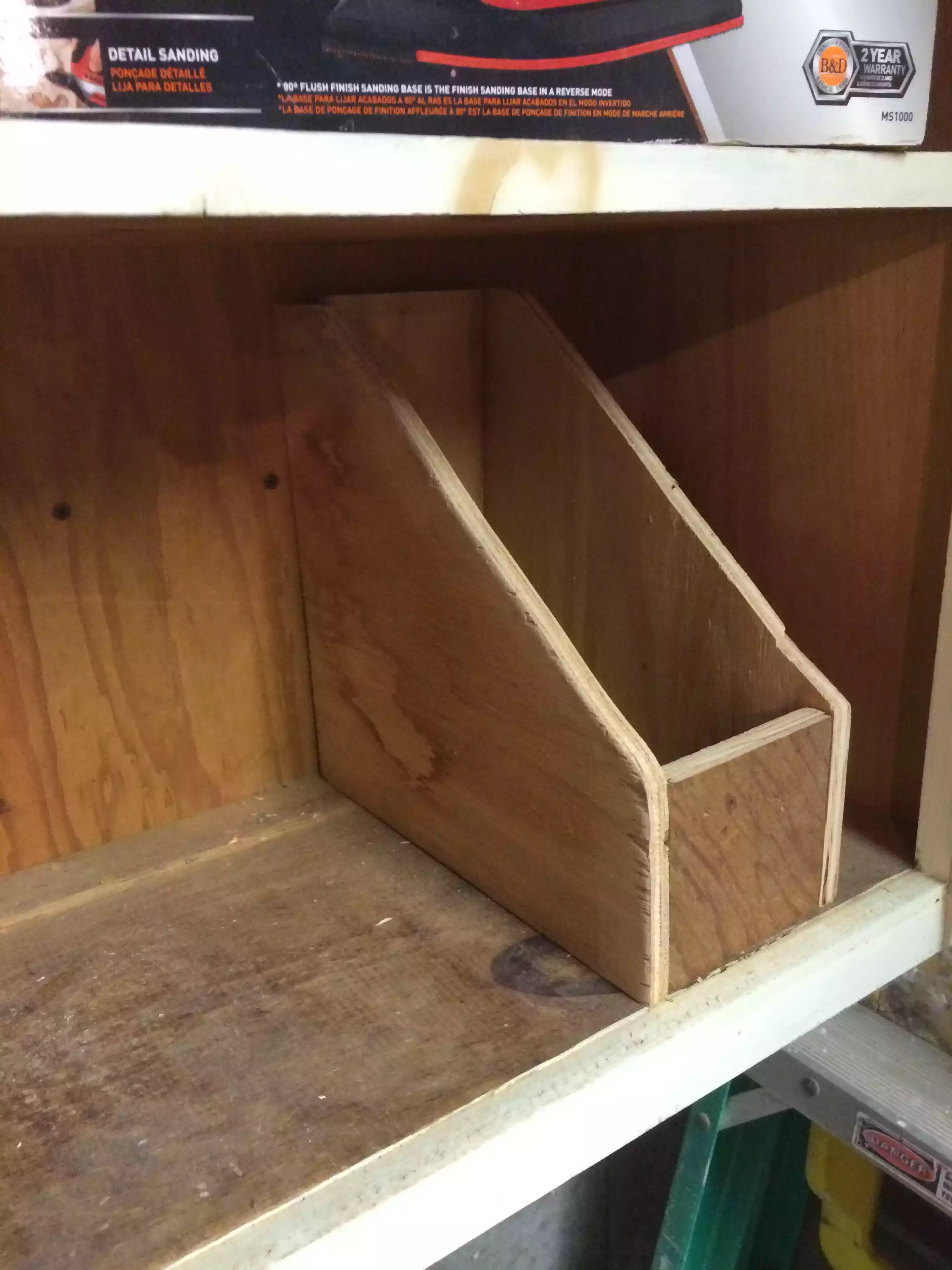 So I have been collecting a lot of magazines and even have a few periodical subscriptions. I came across this little bit of wood in my late father in laws shed and I was wondering what I could use it for;
I have seen paper or cardboard versions of this box but they were too big or not big enough to fit where I want them to go so I decided to build my own and thanks to my little wood discovery I can do it. (Thanks John)..
The white cabinet pictures in the slideshow shows the wall unit I will be putting the boxes in.. I think the bottom shelf will do.. and I plan on
making 4 of them.
The Box Dimensions are: Sides 11"x11" with a cut from top to bottom (see diagram) Back 11" Height 4"Wide Front 4"x4" Bottom 4" Wide x 9.5" Long
After making 1 so successfully I decided to build 4 and have them side by side on the bottom shelf of one of my shelving units..