MISCELANEOUS STORAGE
PROJECTS
SHELVING UNIT & BENCH
(04/2018)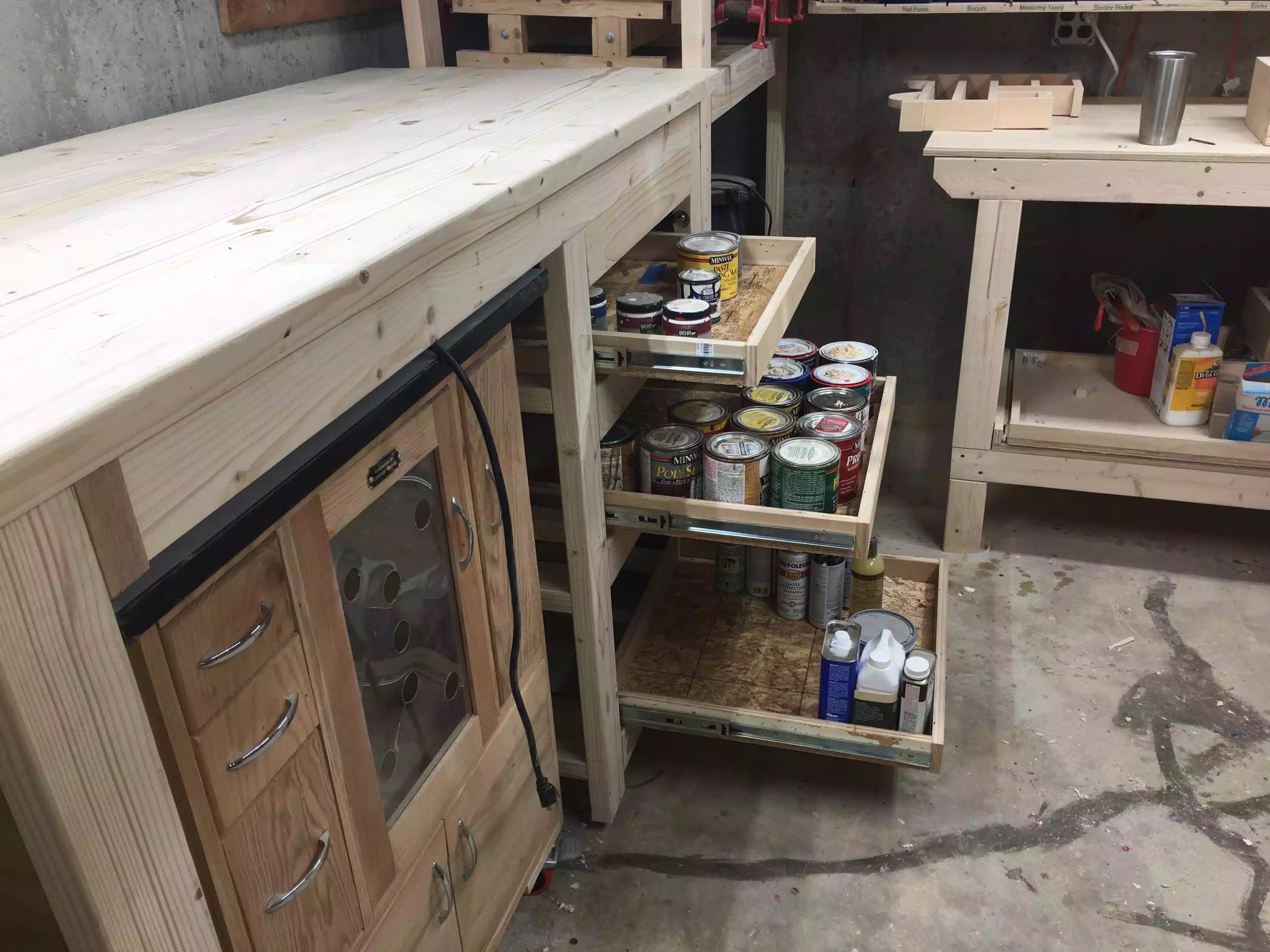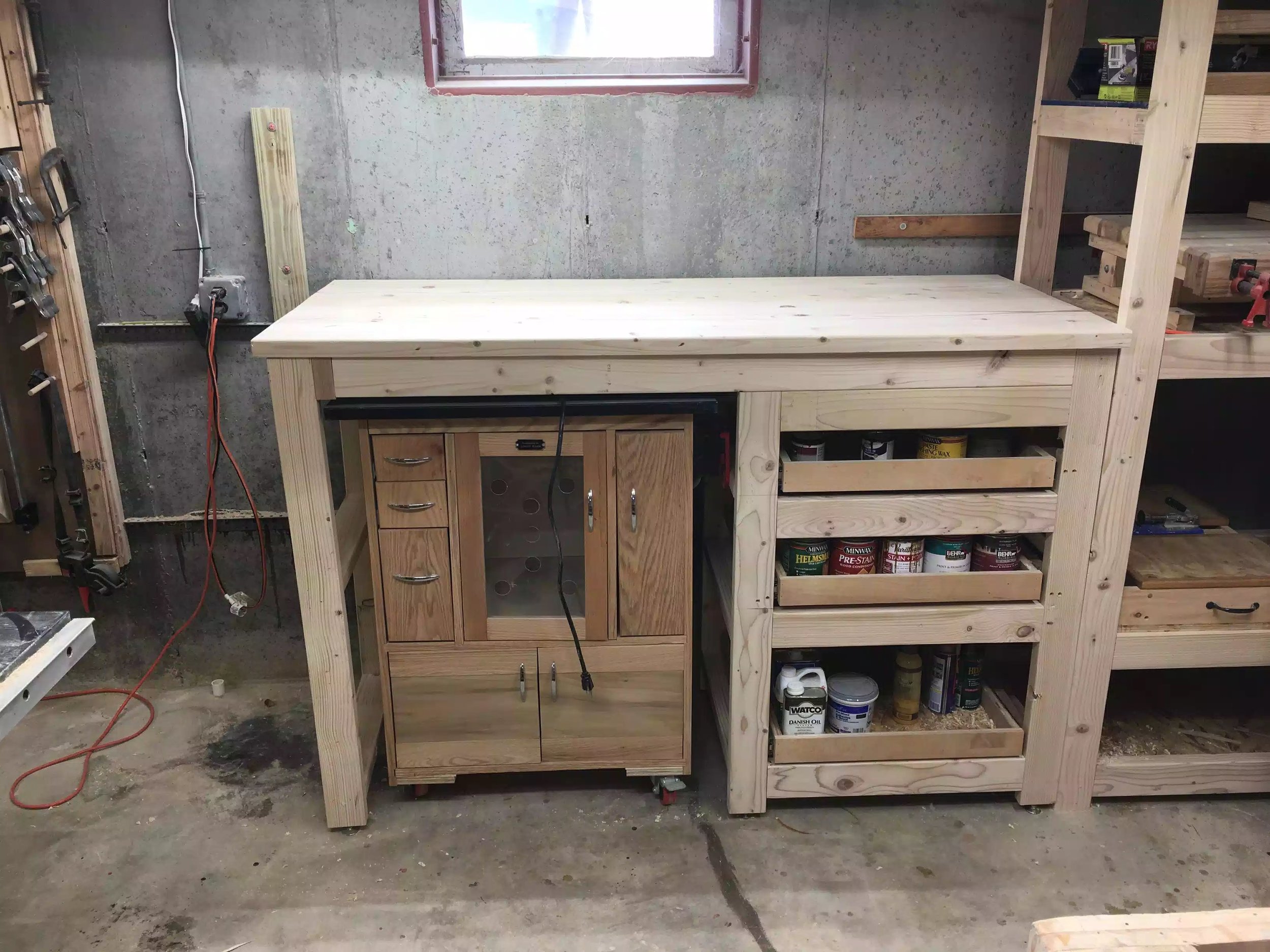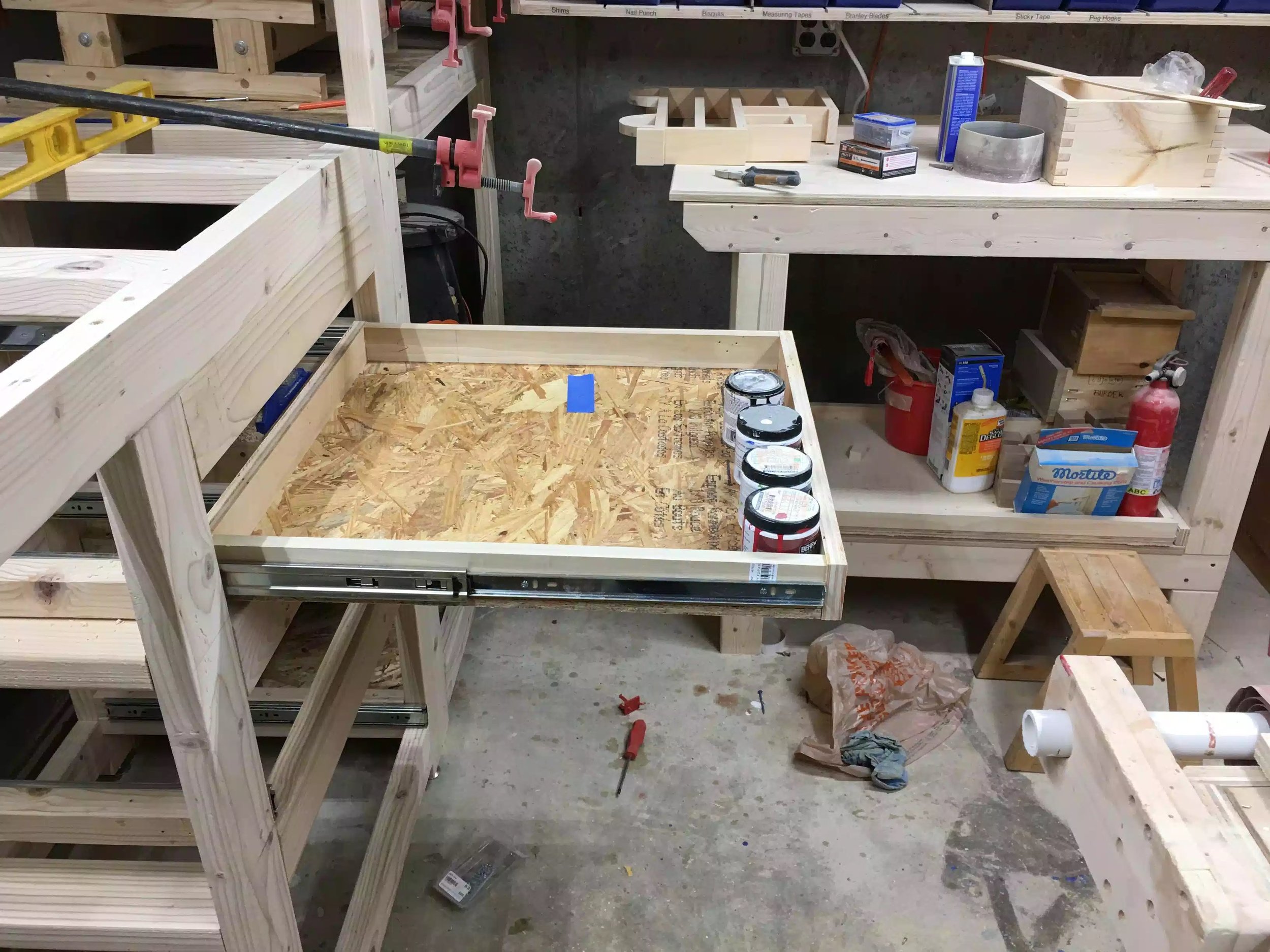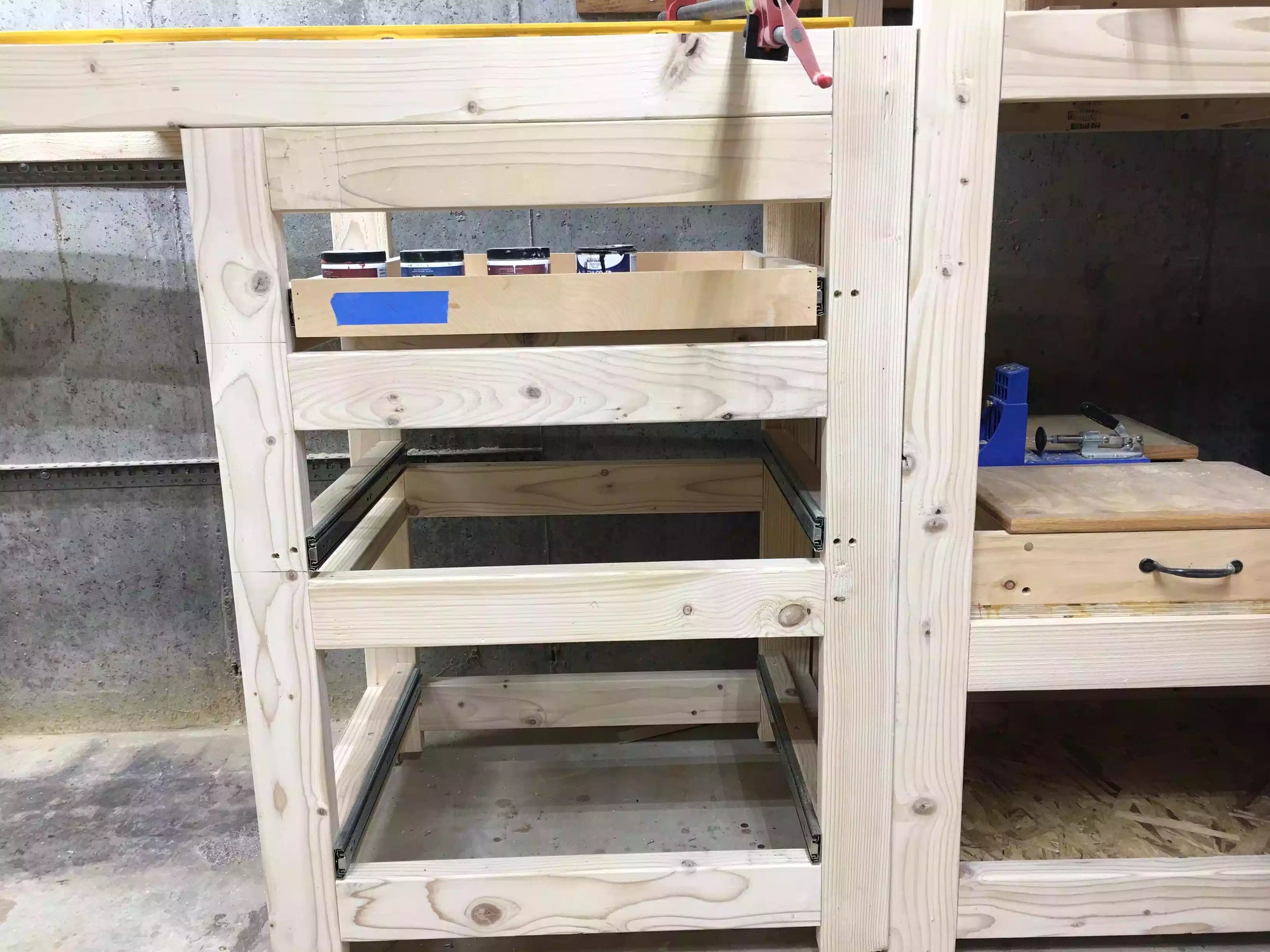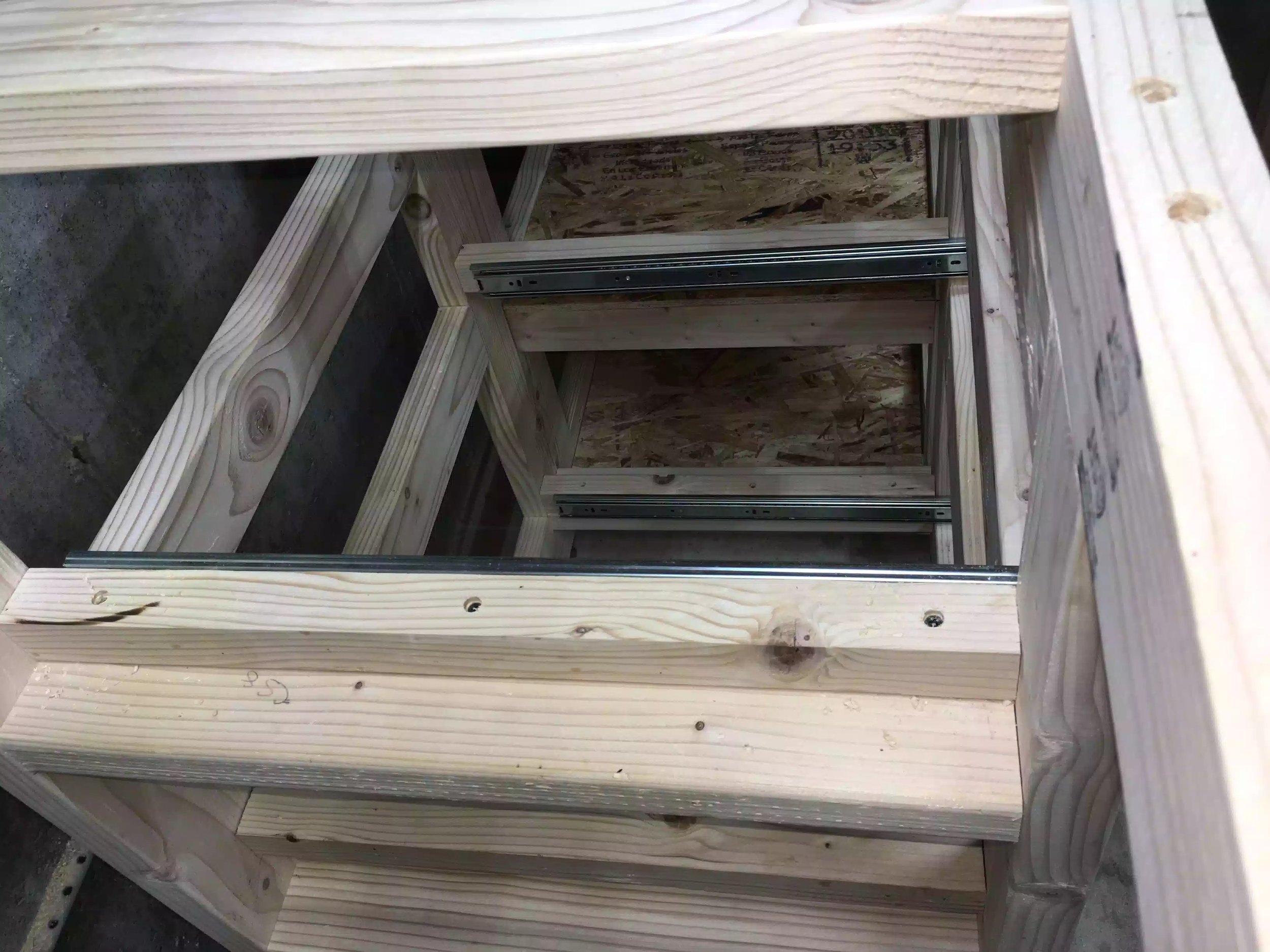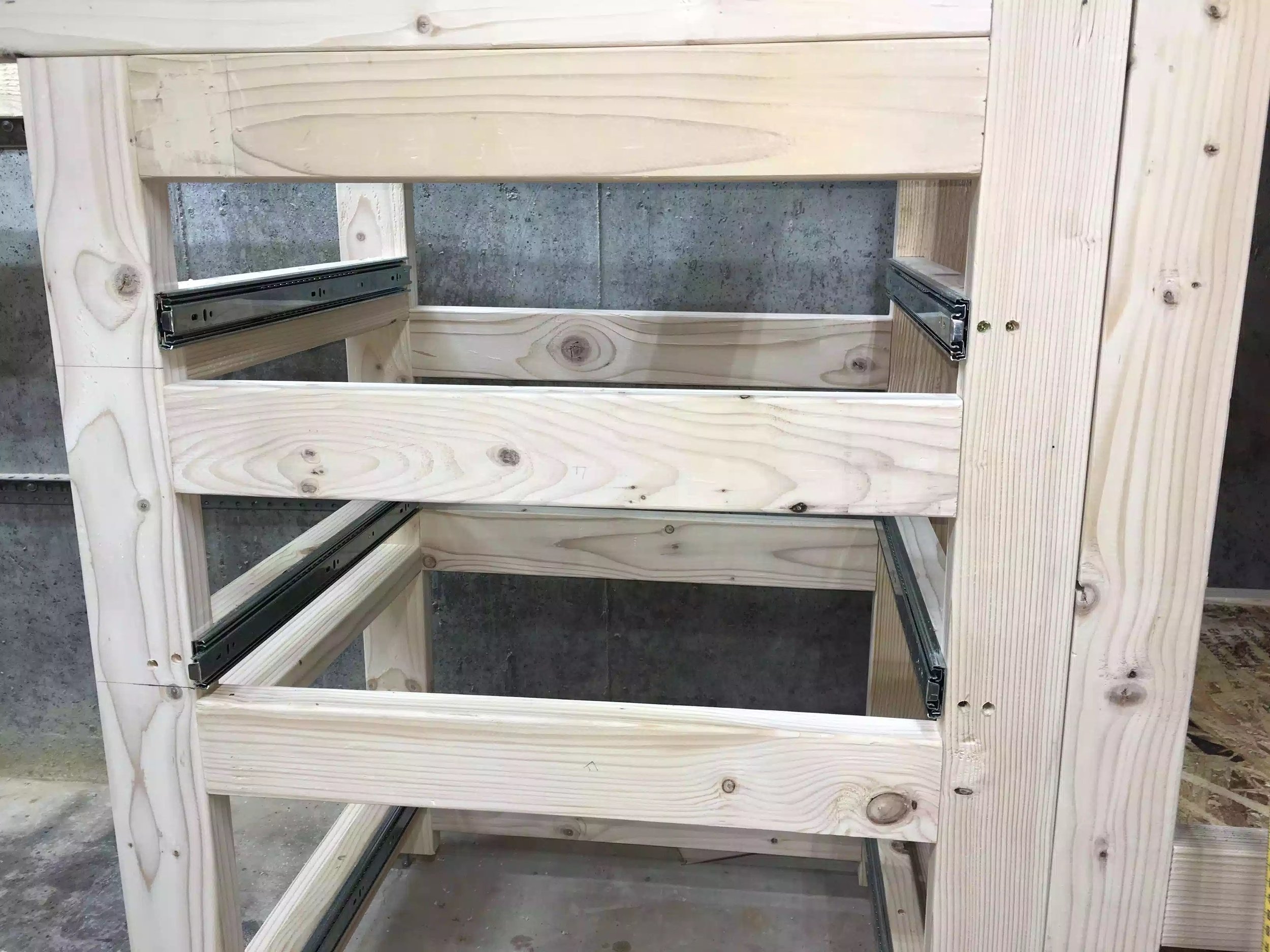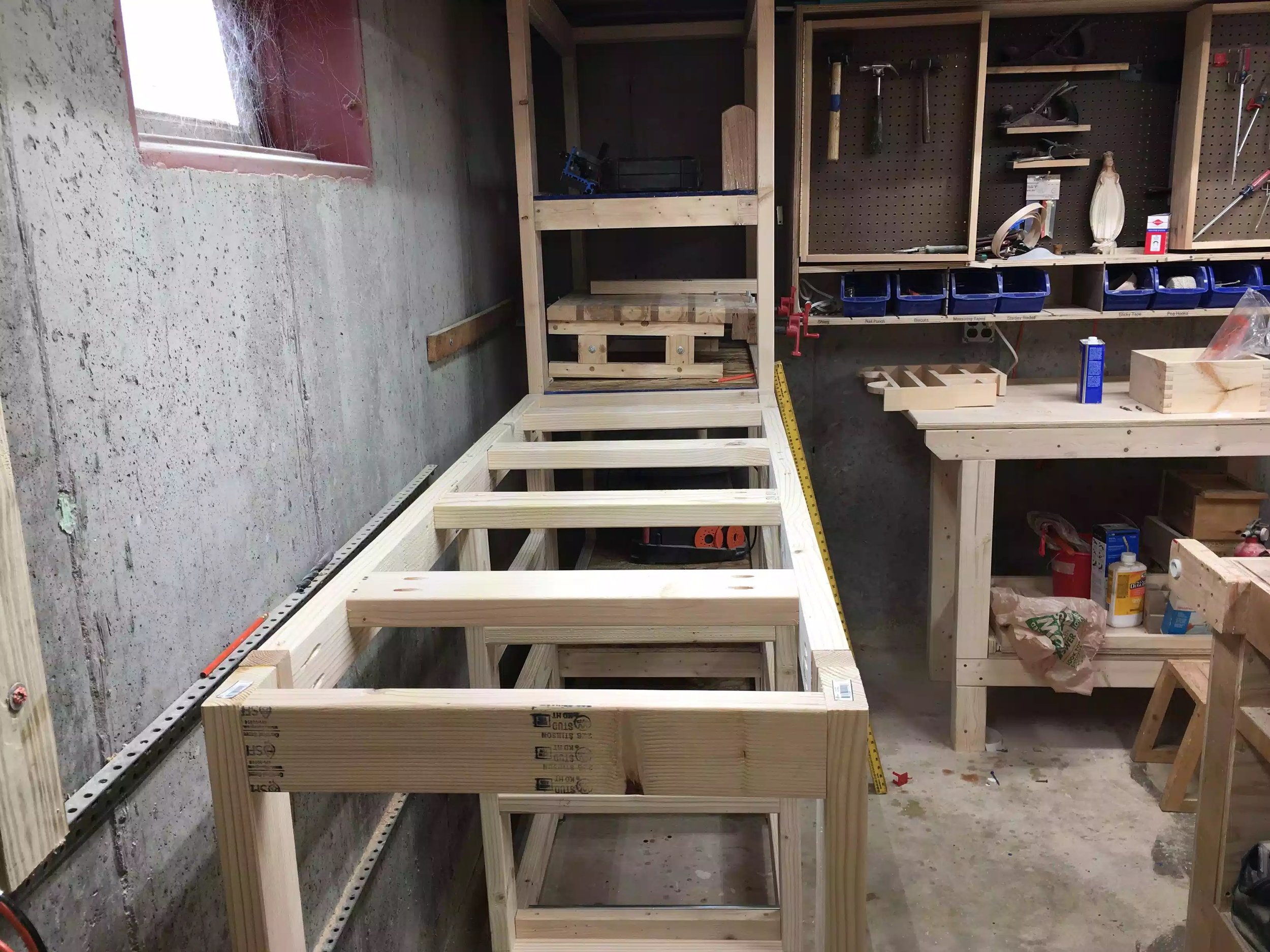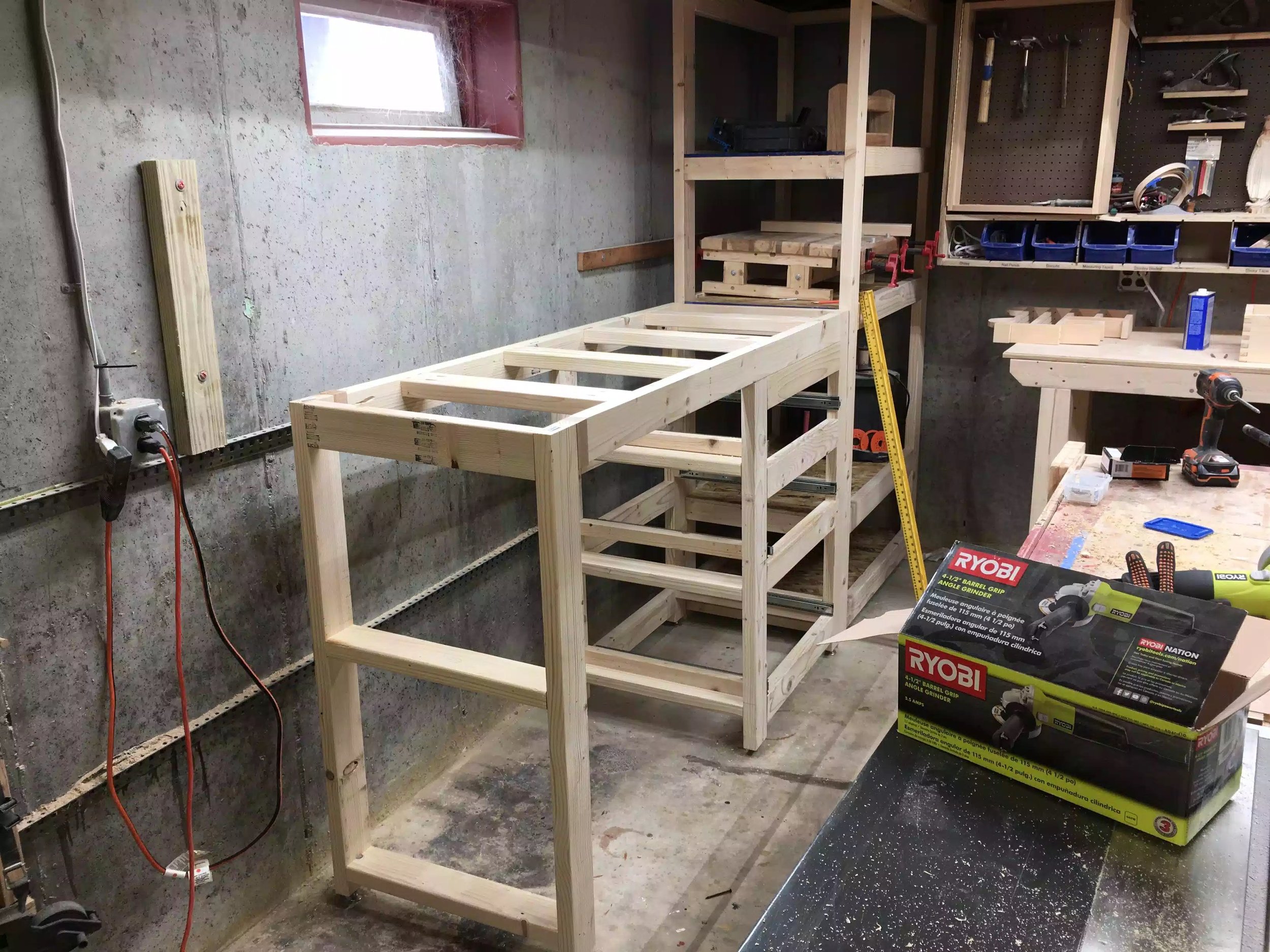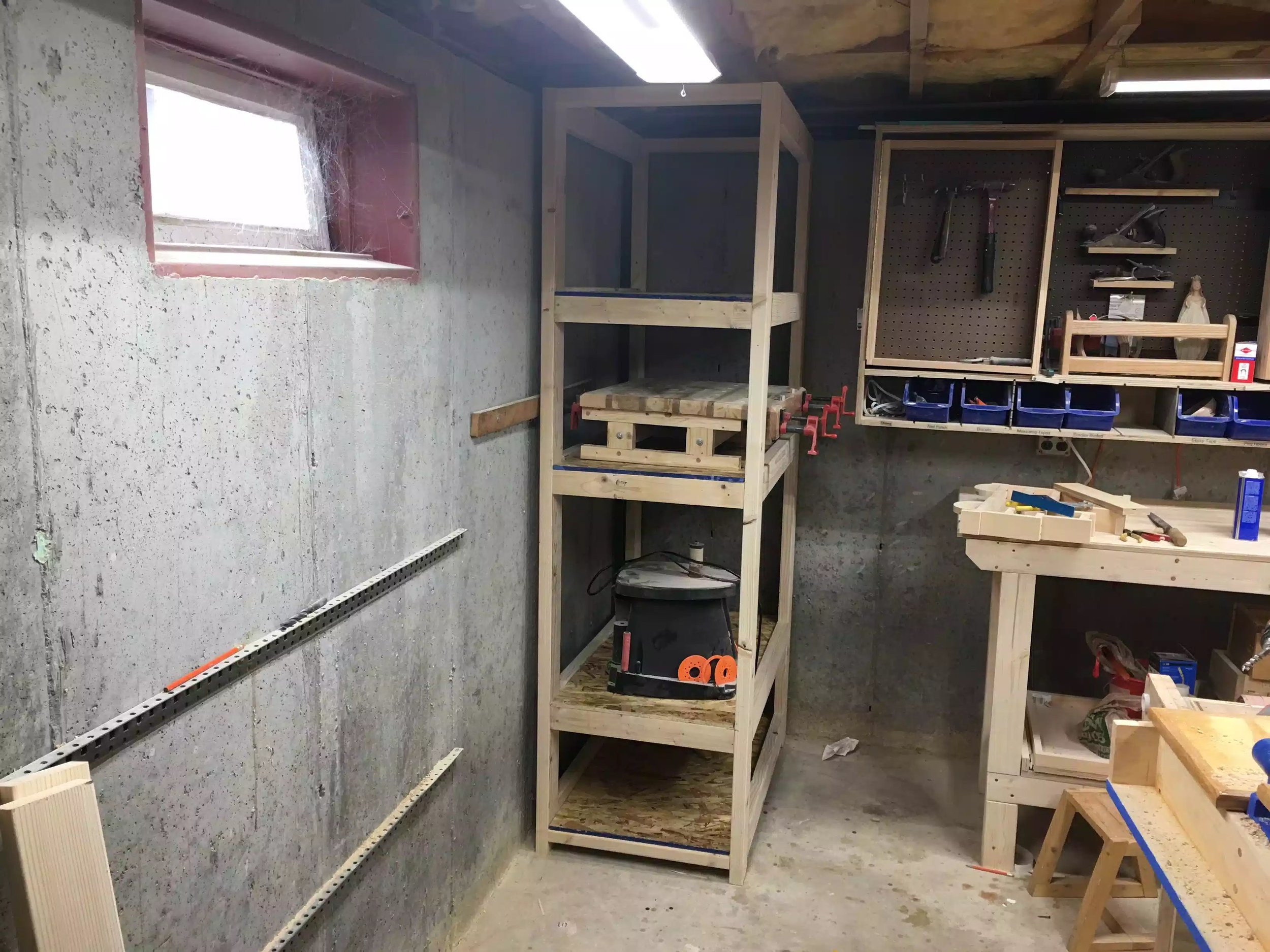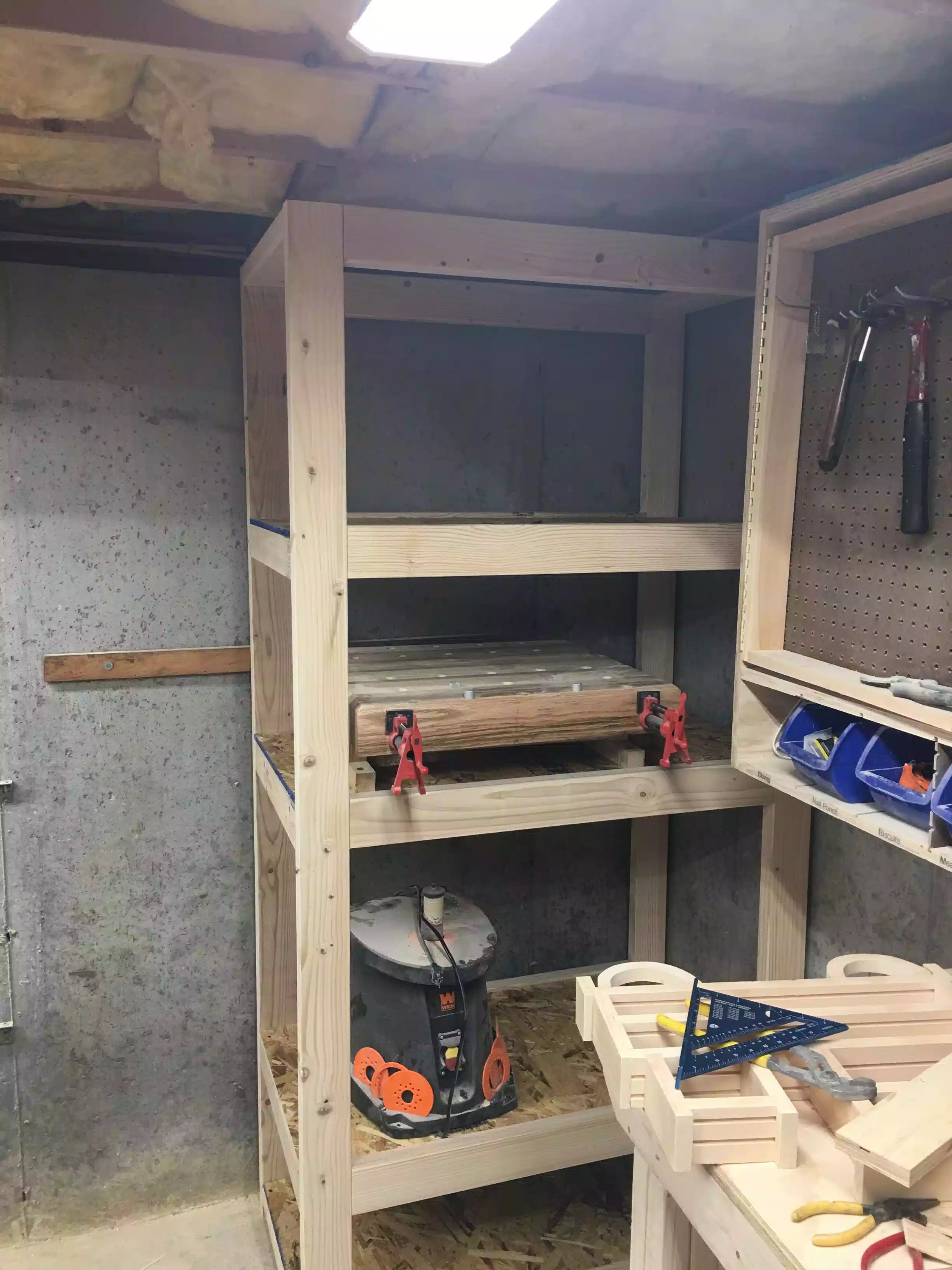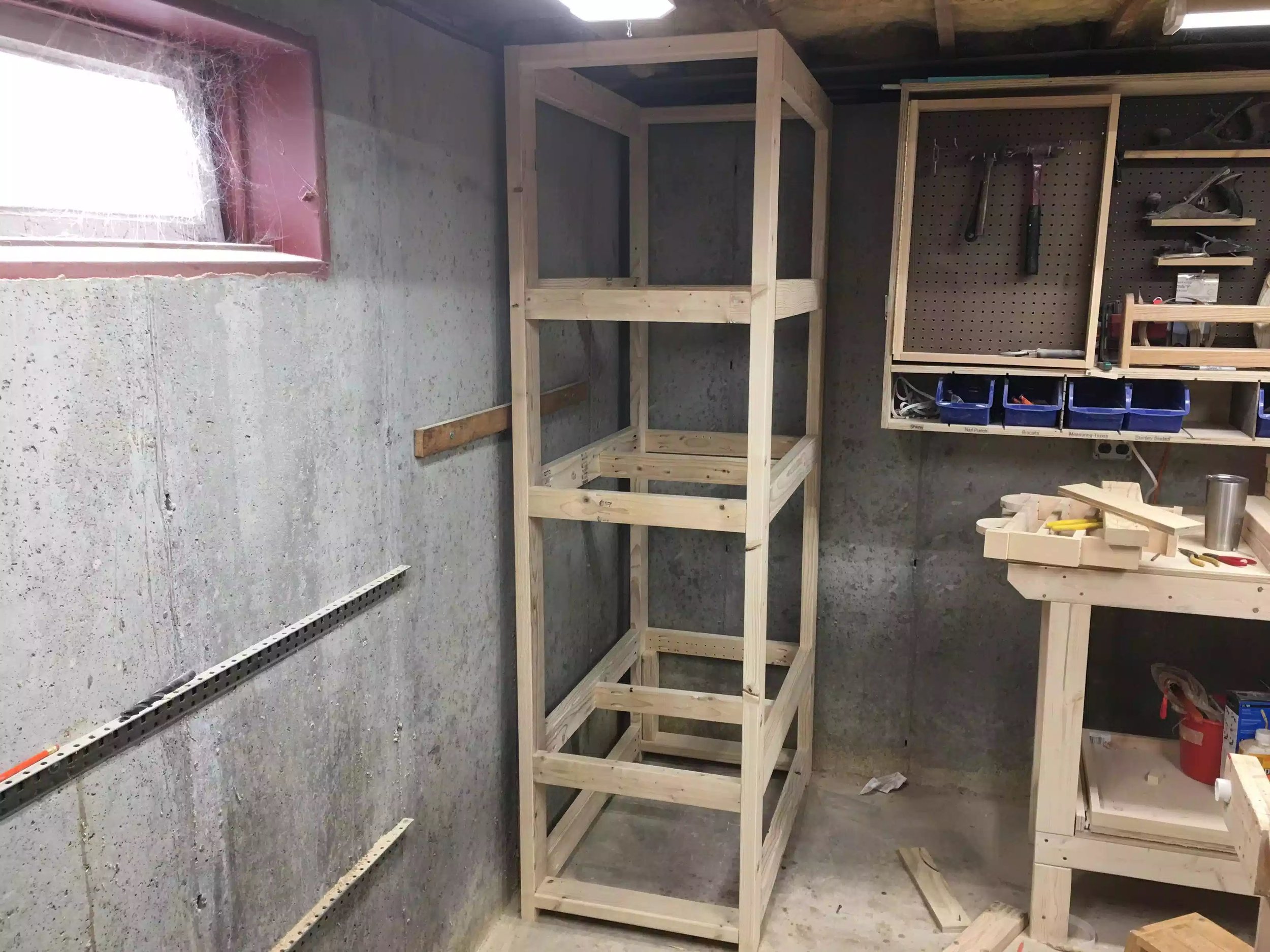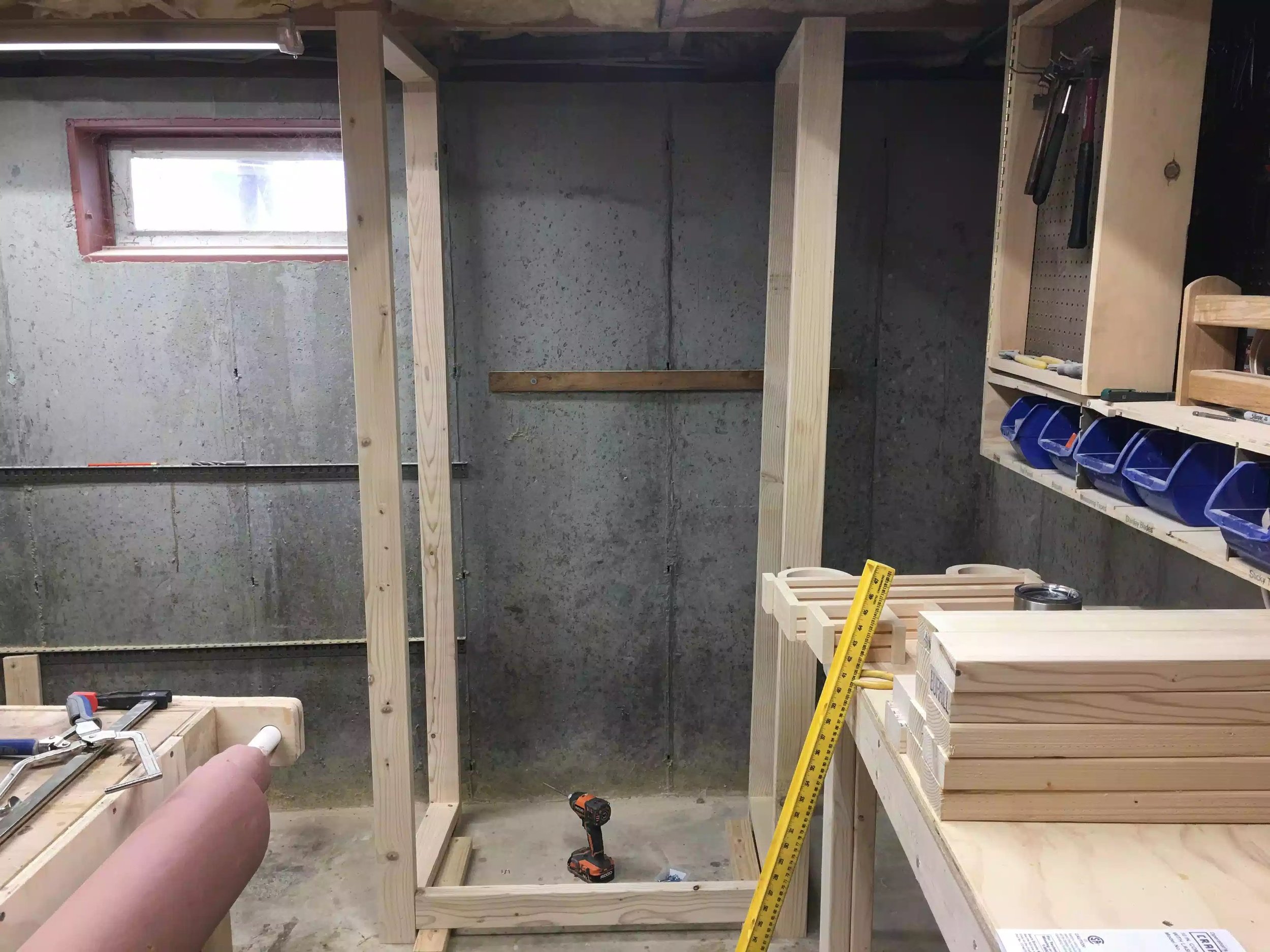 I am in a big reorganization mode in the shop for the past few weeks and I decided to take down an old wall cabinet and put a shelving unit in there instead.. you can see what it looked like before below
After deciding on what I want to achieve I set out some very basic plans and built the entire unit out of 2×4's and since I was going to re-use the benchtop I already had in the picture above I didn't need to make one.
I used Pocket Hole screw and glue to build it and I have to say its rock solid. The only thing that I wasn't mad about it the height of the bench because I needed to fit my Router table under it which is about 42" high.
I also put 3 drawers for all my paints and stains since that was all stored in the wall cabinet I took down.
One more thing I purchased 10 full extension drawers slides on EBay at a great deal $50.00 and they were awesome if I had purchased 10 at Home Depot that would have set me back $160
Anyway I hope you like it and thanks for looking.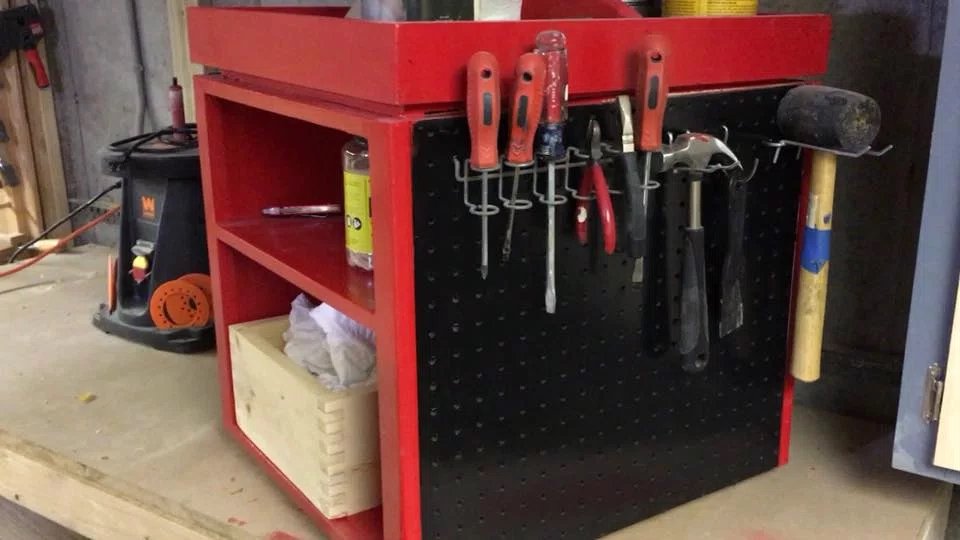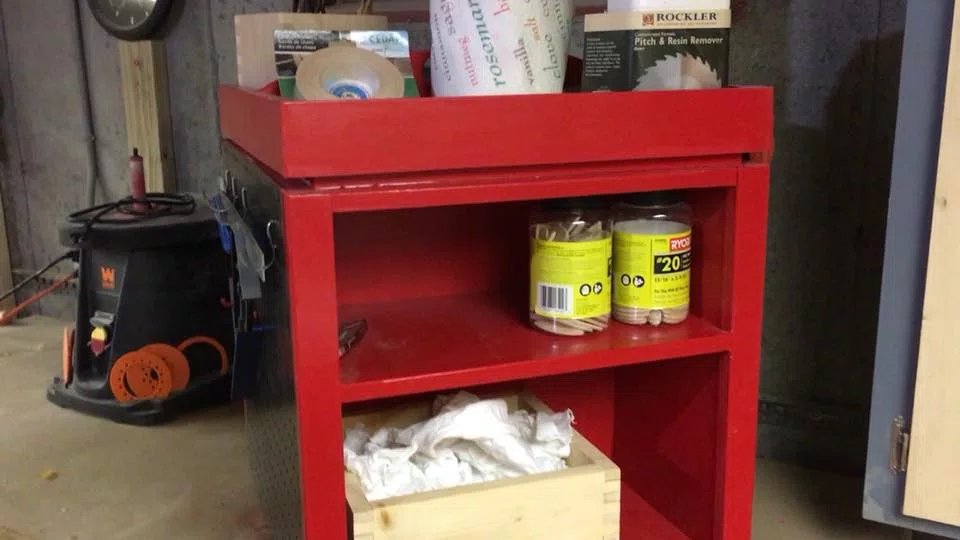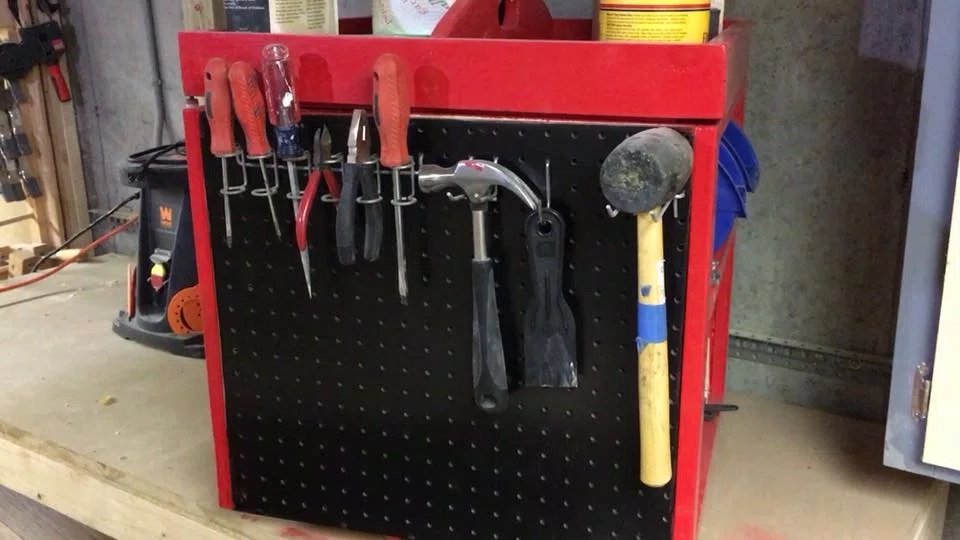 I have been slowly working on my workshop to-do list since I haven't had any paying projects in a little while and I'm looking forward to making some projects with some color the shop has been looking very drab lately .
The design I used came from Bob Clagett from I Like to Make Stuff
I really like some of his projects and you should check it out he also has an instruction video on how to make it, and I have put a link to the project here
One other thing since this project is a moving one I attached my own little YouTube video on the finished project … this isn't an instructional video just a little look at the final article
4 Drawer filing cabinet
(06/2017)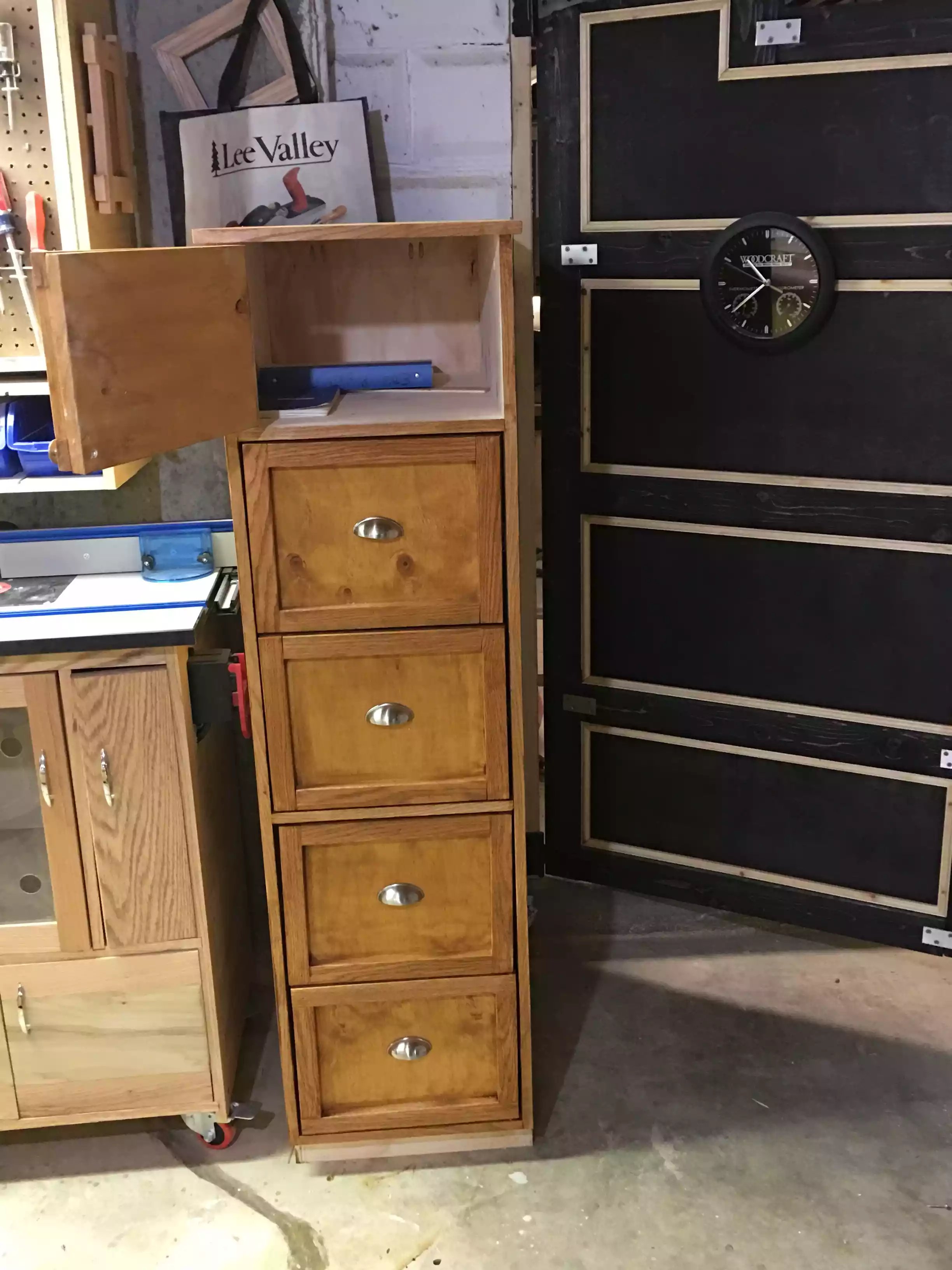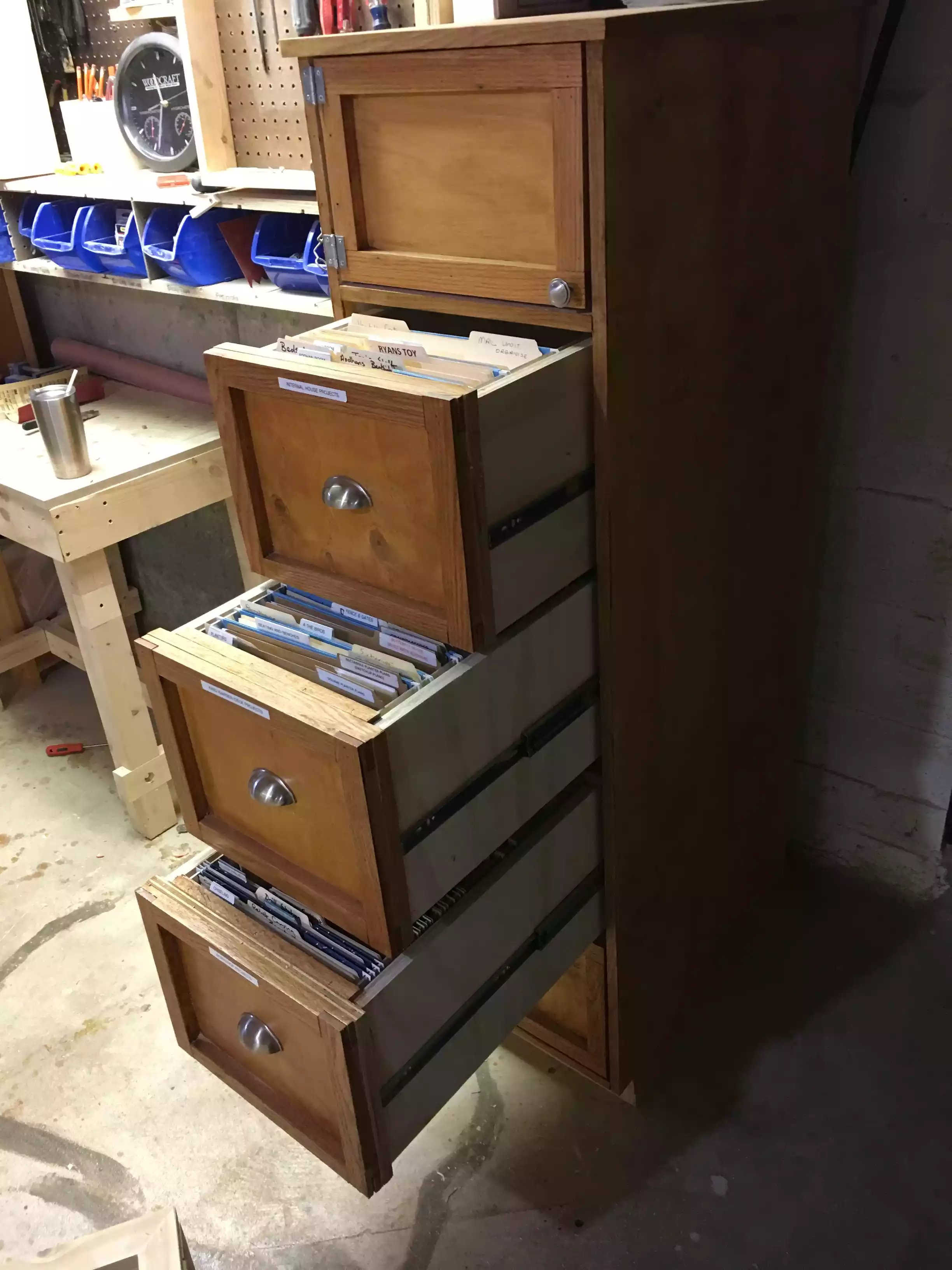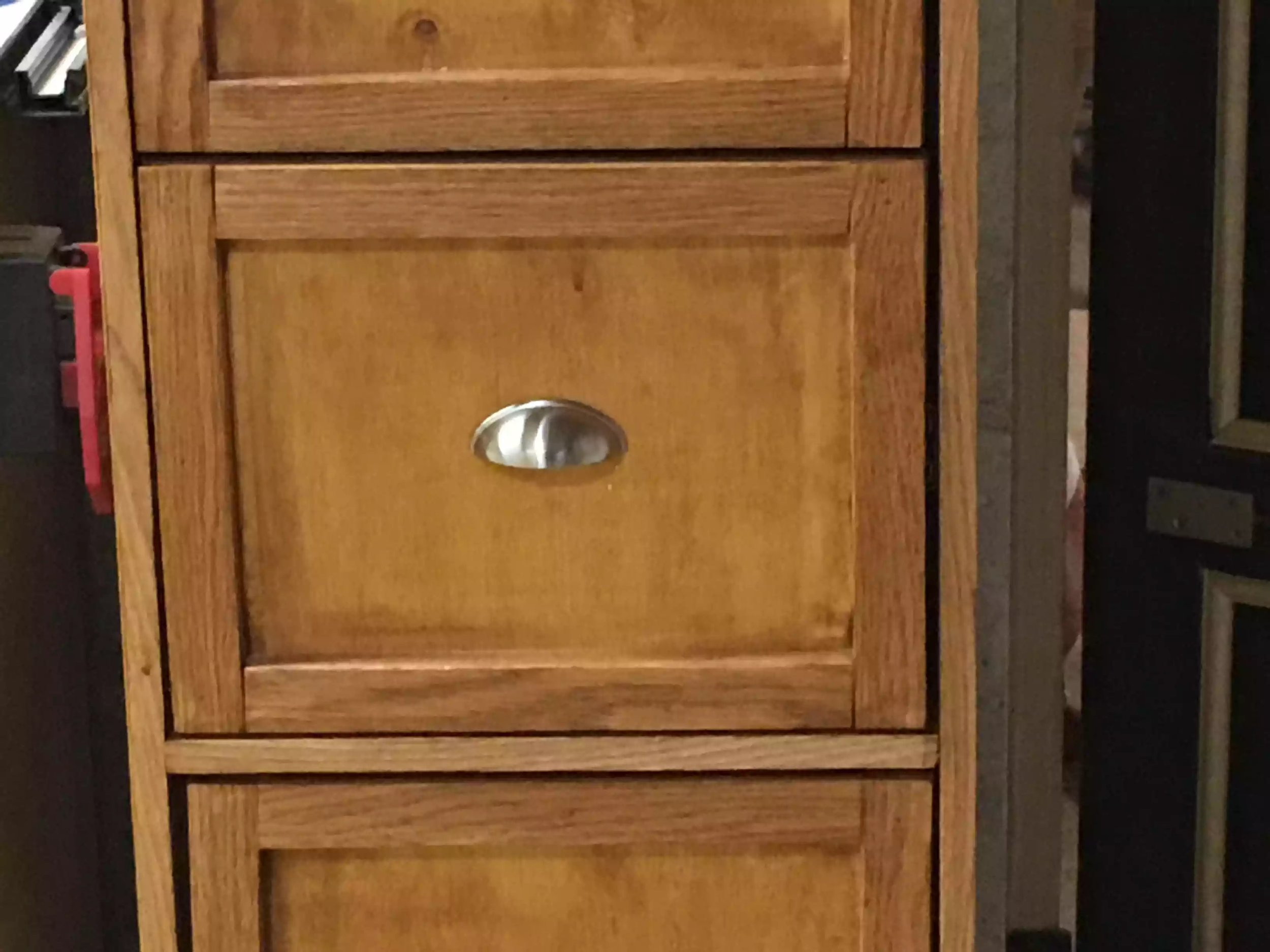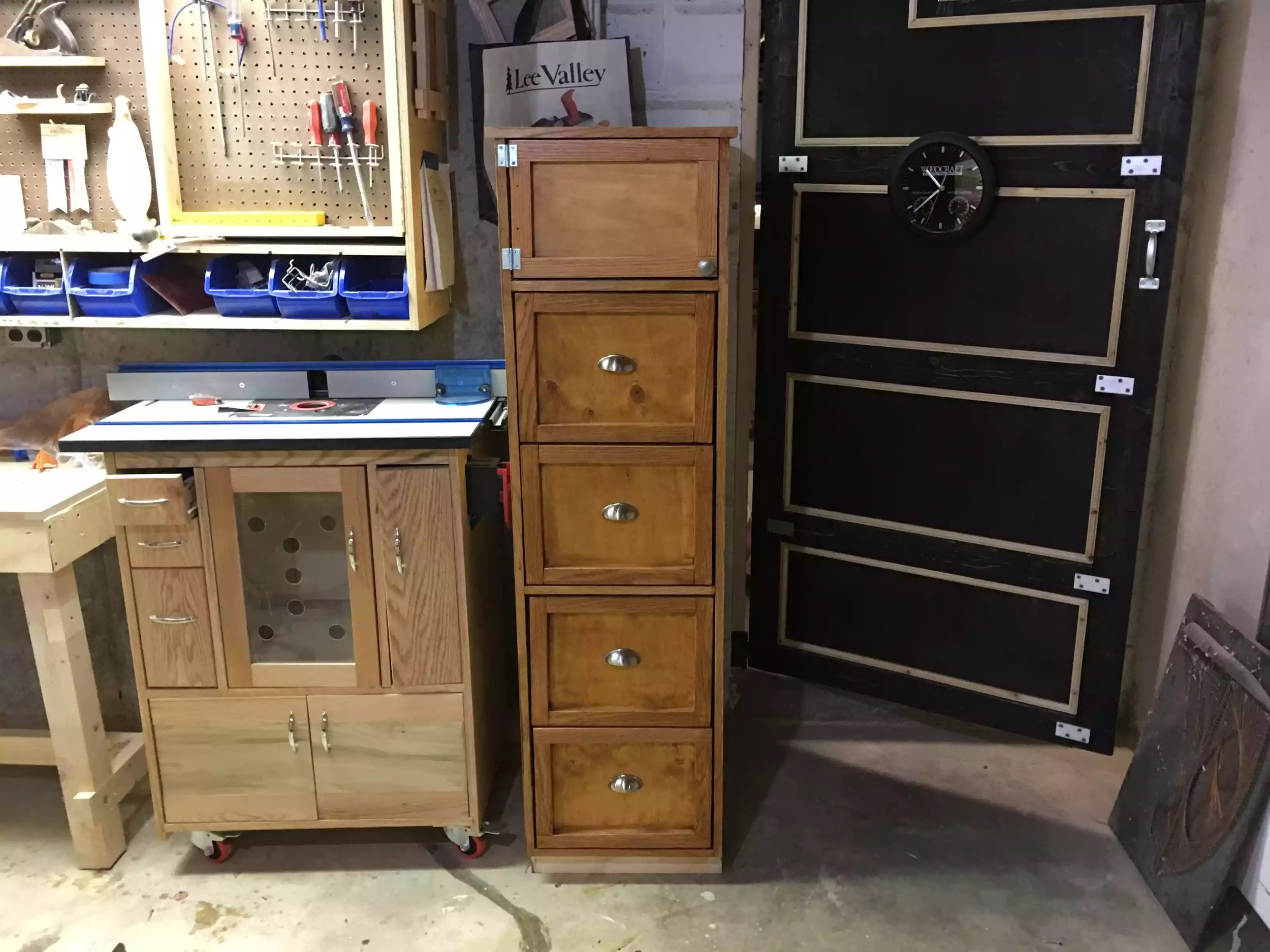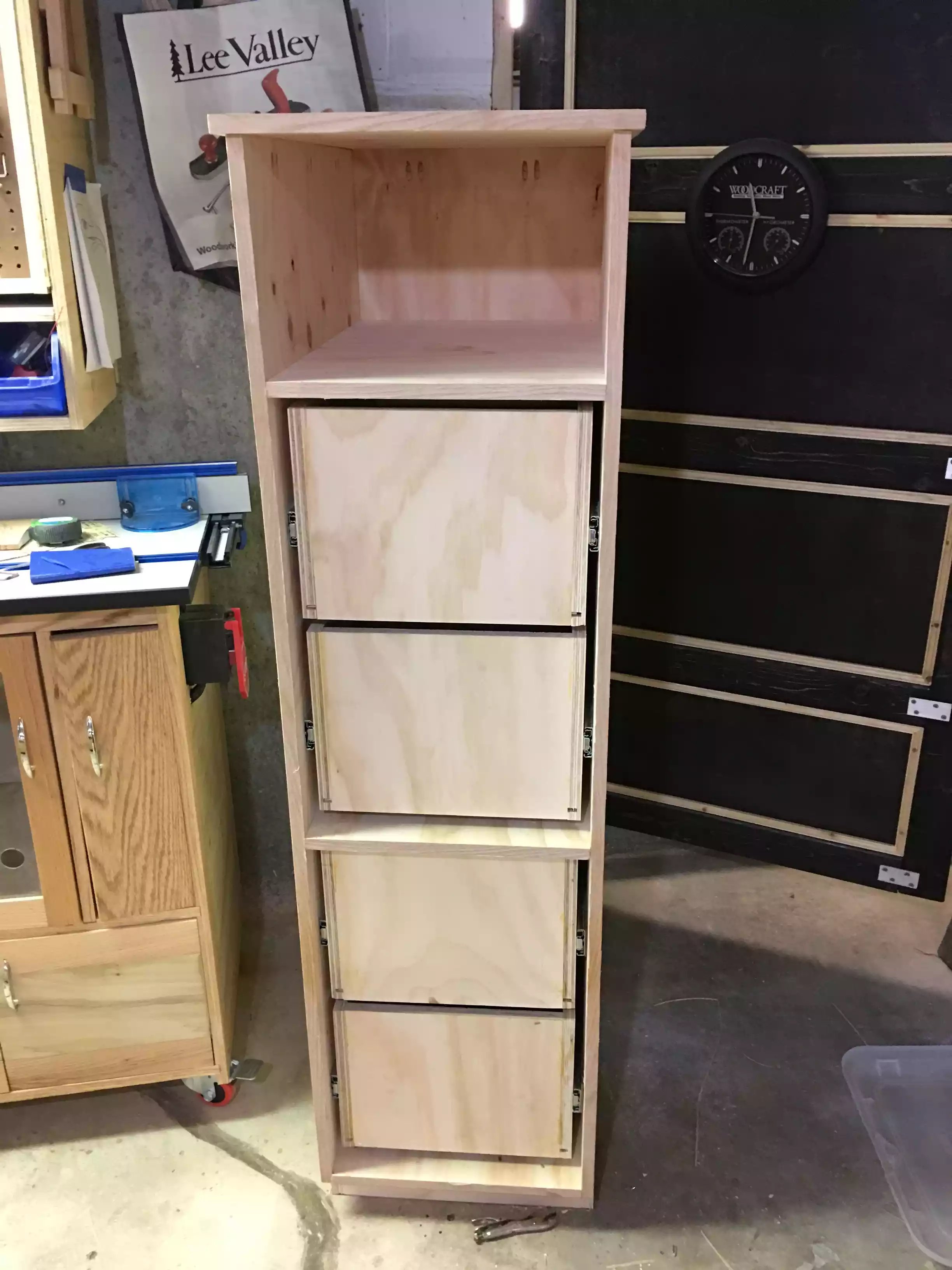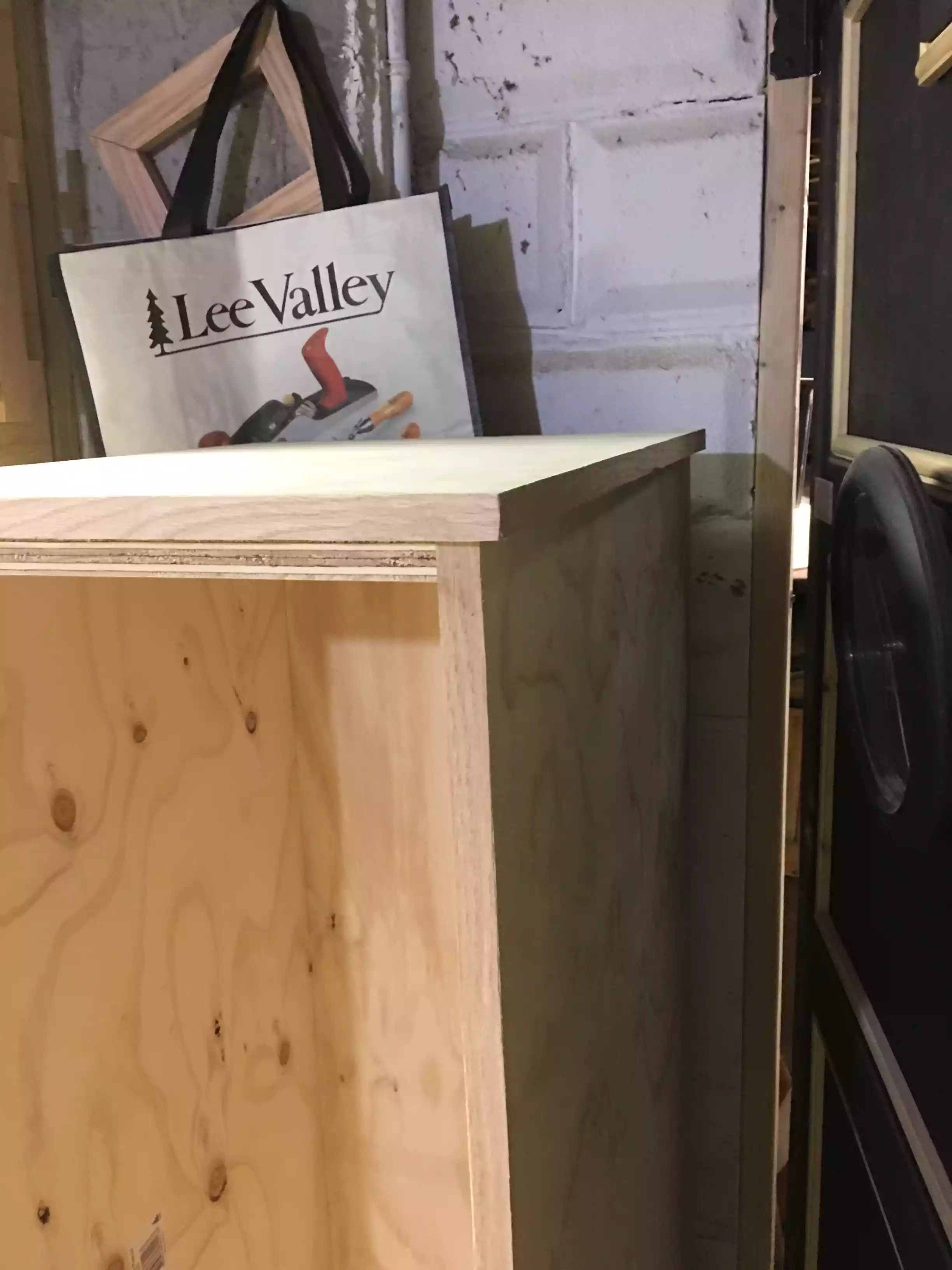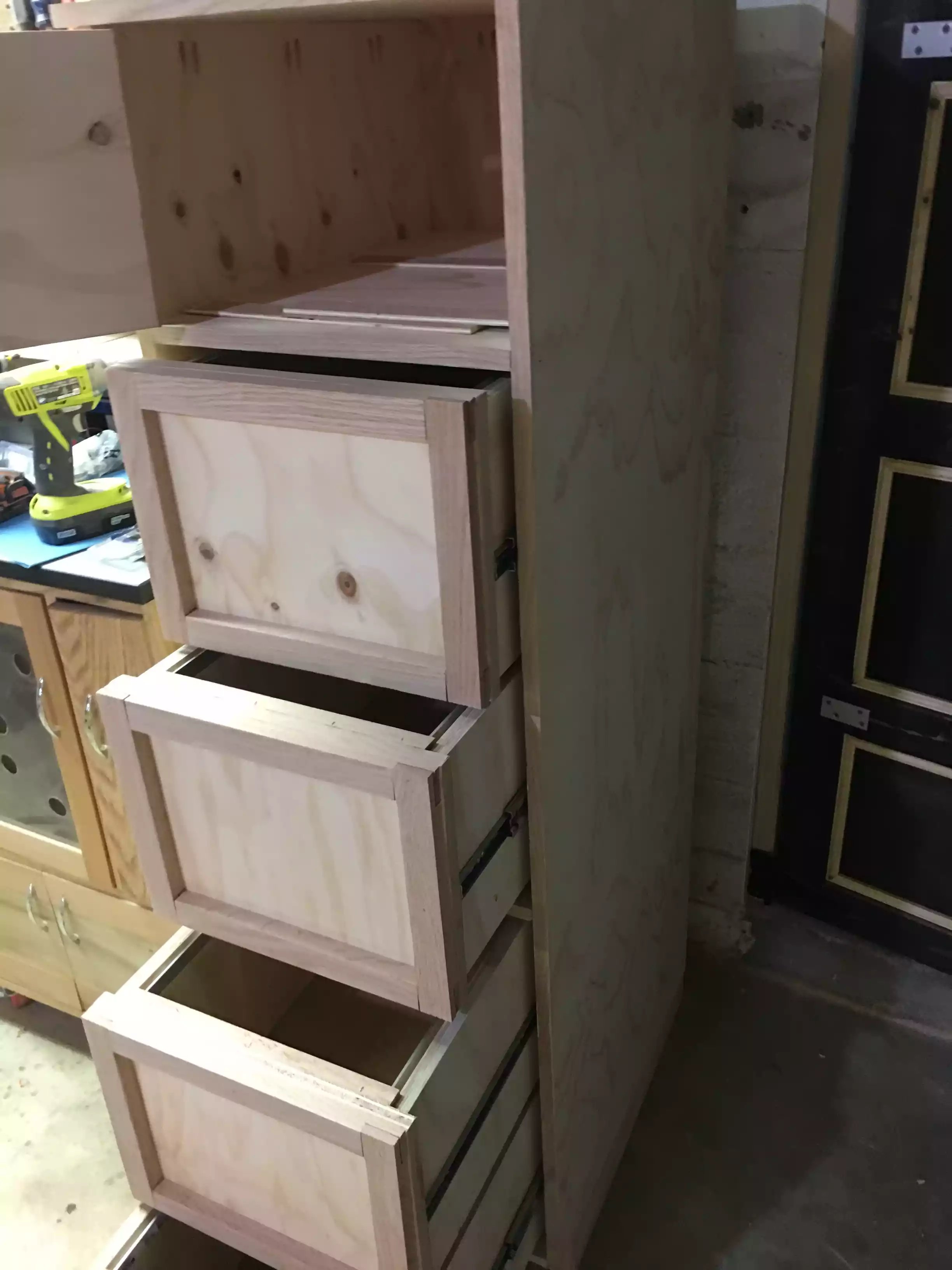 I know that it has been a little while since I have been on the site but its only because my computer was down and to be honest I needed a little break.
This project has been long over due and I was tired of tripping over my files and Sketchup plans so I decided to make myself this filing cabinet.
I thought that I would save myself some money and just use 3/4' sheet goods and stain it, I also a a few first in this project such as I never used iron on veneer before and it came out ok.. I think its a skill you get better at the more you use it…
Dimensions:
Height 60" x 17" Wide x 24" Deep
Drawer & Slides:
I used 21" full extension soft close drawer slides and I am glad I did.
Solid Wood Trim:
Since I was going for the shaker style I used 2×1 solid oak for the drawer fronts and over I think it came out great.. I also used oak veneer iron edging to cover up all them unsightly plywood edges.
One of the problems I encountered was how to hang the actual files and I scored the internet and came up with a very practical and inexpensive way of achieving that: I purchased some flat 1/8" x 1/2" flat aluminum bar and cut a 1/8' kerf in the front and back of the drawers and just slotted them home.
sandpaper storage built-in
(05/2016)
I was very tired of looking for sandpaper for various projects & machines and they seemed to be everywhere they shouldnt be.
So I found this idea on Pinterest and I tweeted the dimensions so as that it would fit in a misused wall cabinet that I have, I'll try and repurpose these 2 double wall cabinets that I have for better utilitization.
Anyway back to the unit, it's made of 1/2" MDF ( not my choice material but I was using scraps and need to clear out and make room for new material, the outer box is MDF but the divider pieces would be. Mix of 1/2" MDF and 3/4" plywood… Again what I had on hand.
The dimensions are about 12" high by 20" wide x 11" deep.
I set the organizer so as that it would accommodate all forms of sandpaper, full sheets, orbital sander discs, and belt sander belts.
The entire unit is made of a series of dados and rabbits and all the as paper rests on 1/4" plywood sheets that can be pulled out of the unit for easy access.
I know it's not pretty but it's extremely functional and I got a lot of experience using my dado stack..
Thanks for looking and if you need a organization idea for sandpaper feel free to use this one.
MAGAZINE STORAGE BOXES
(01/2016)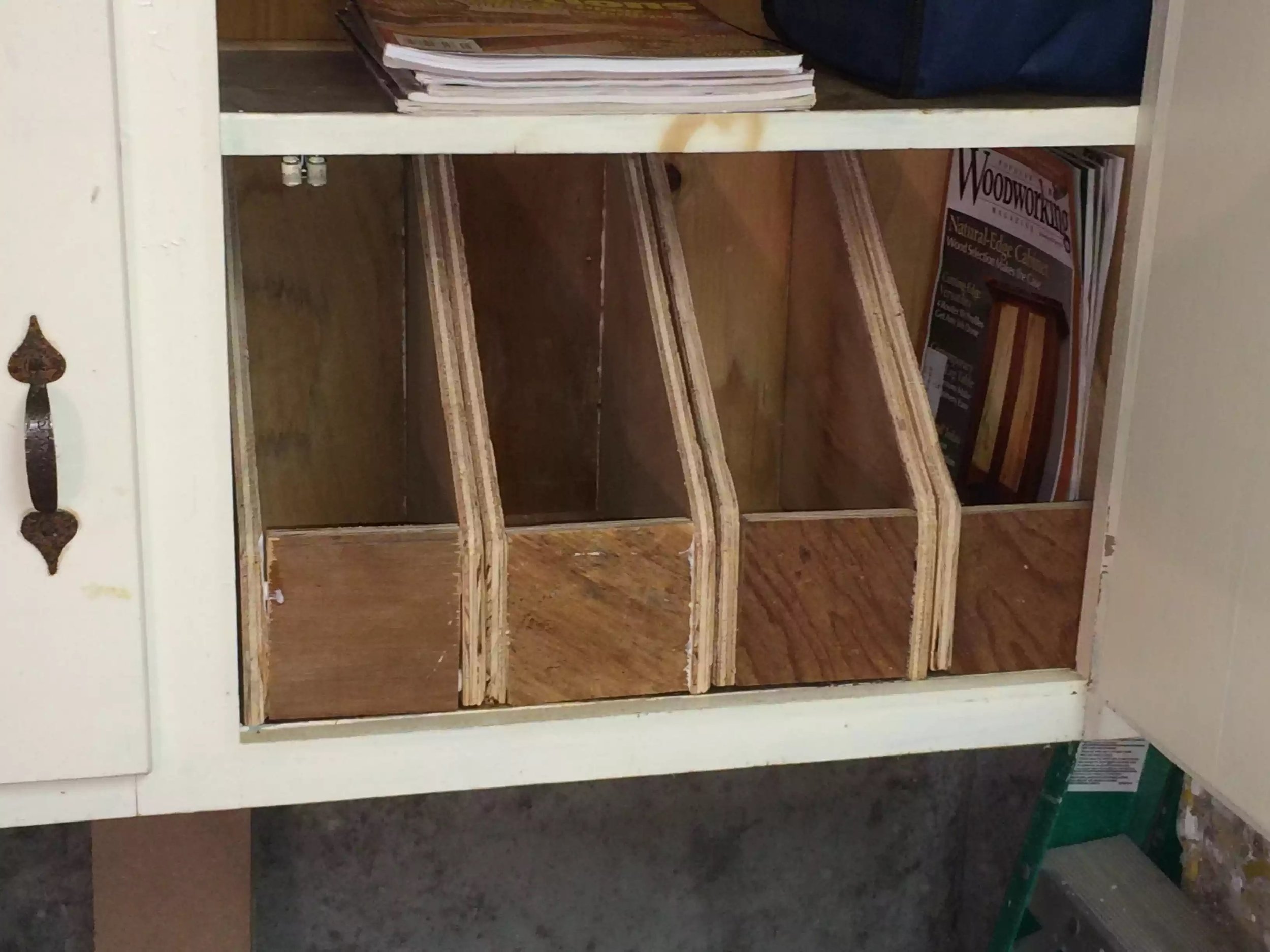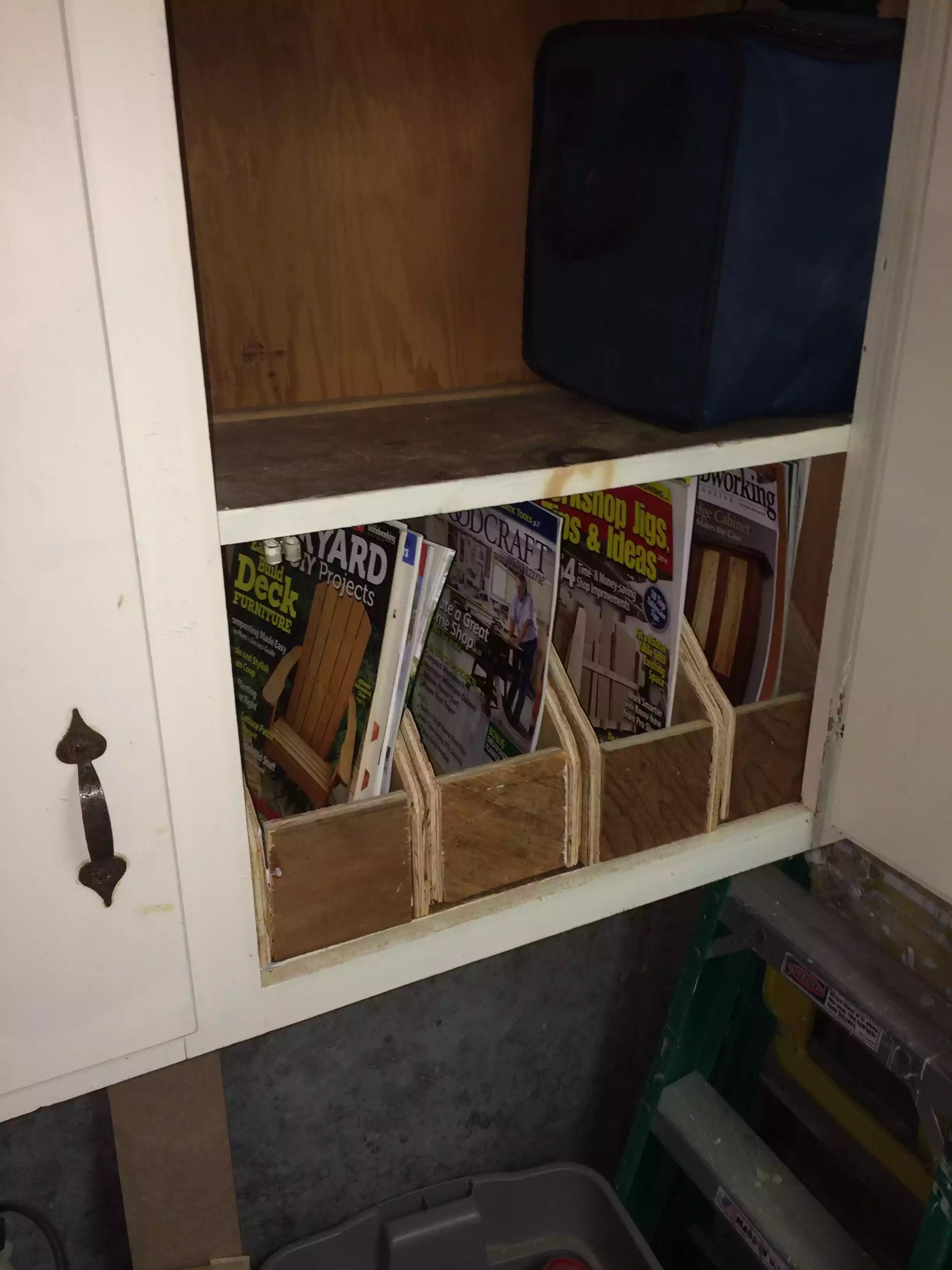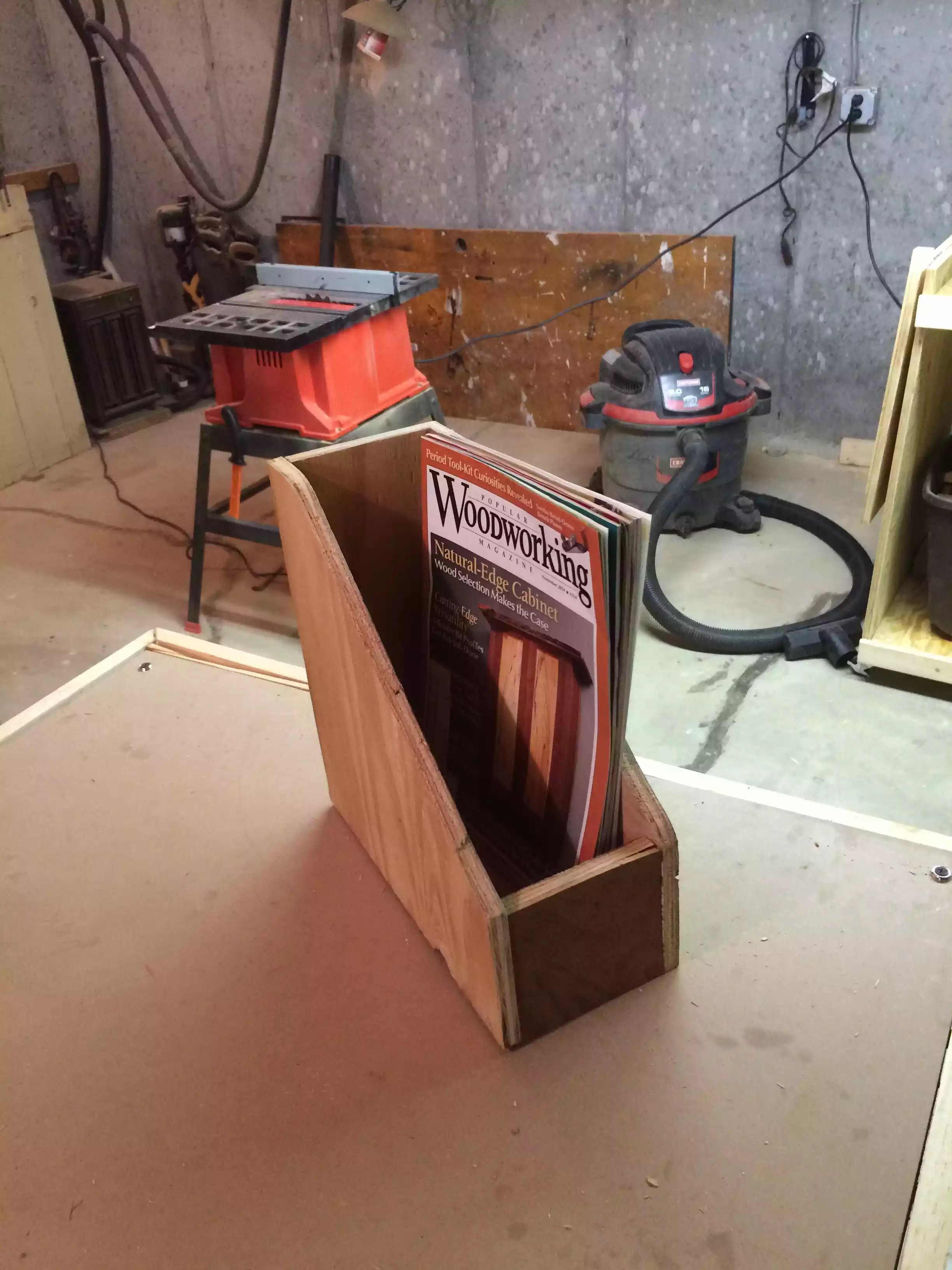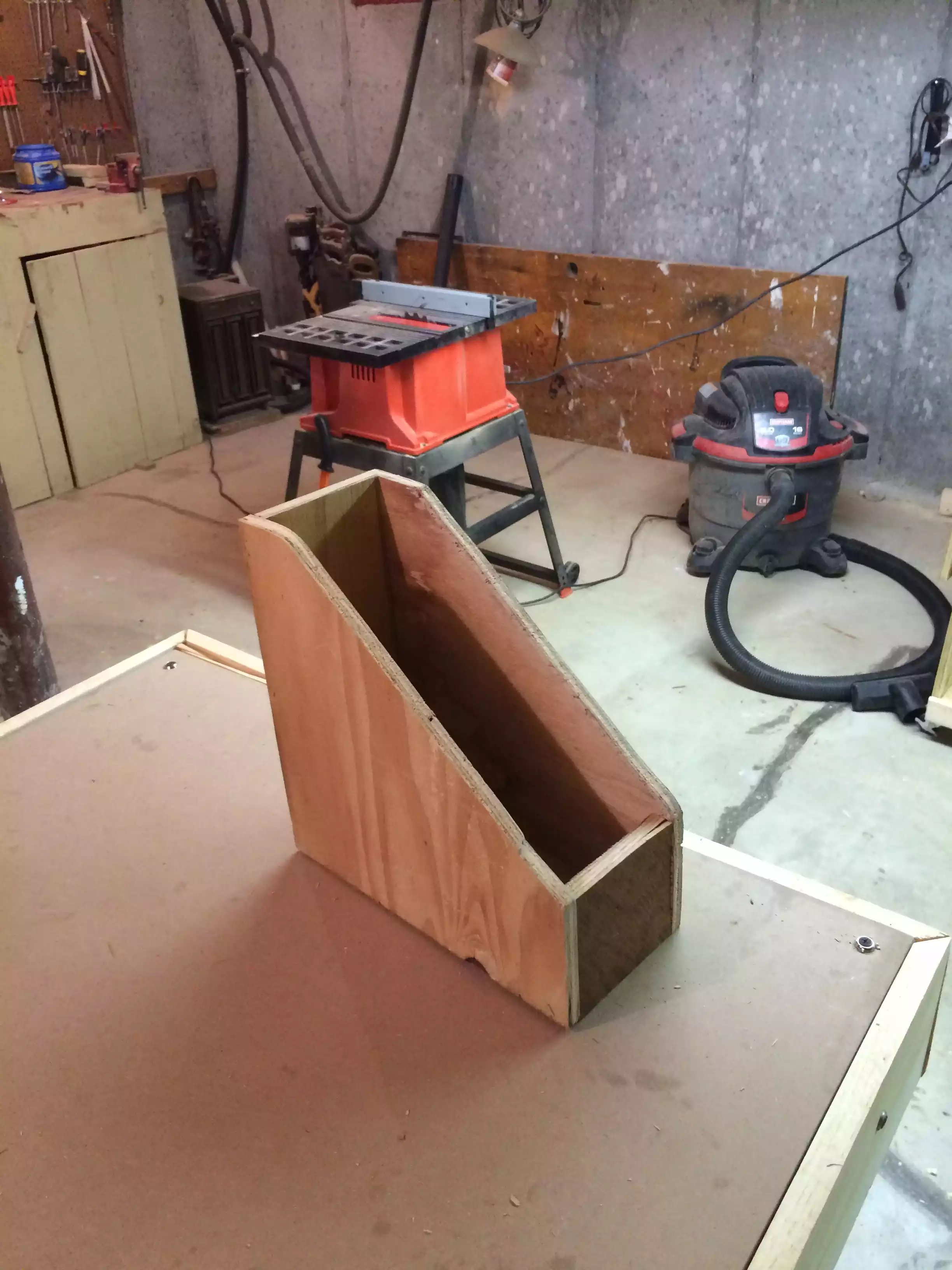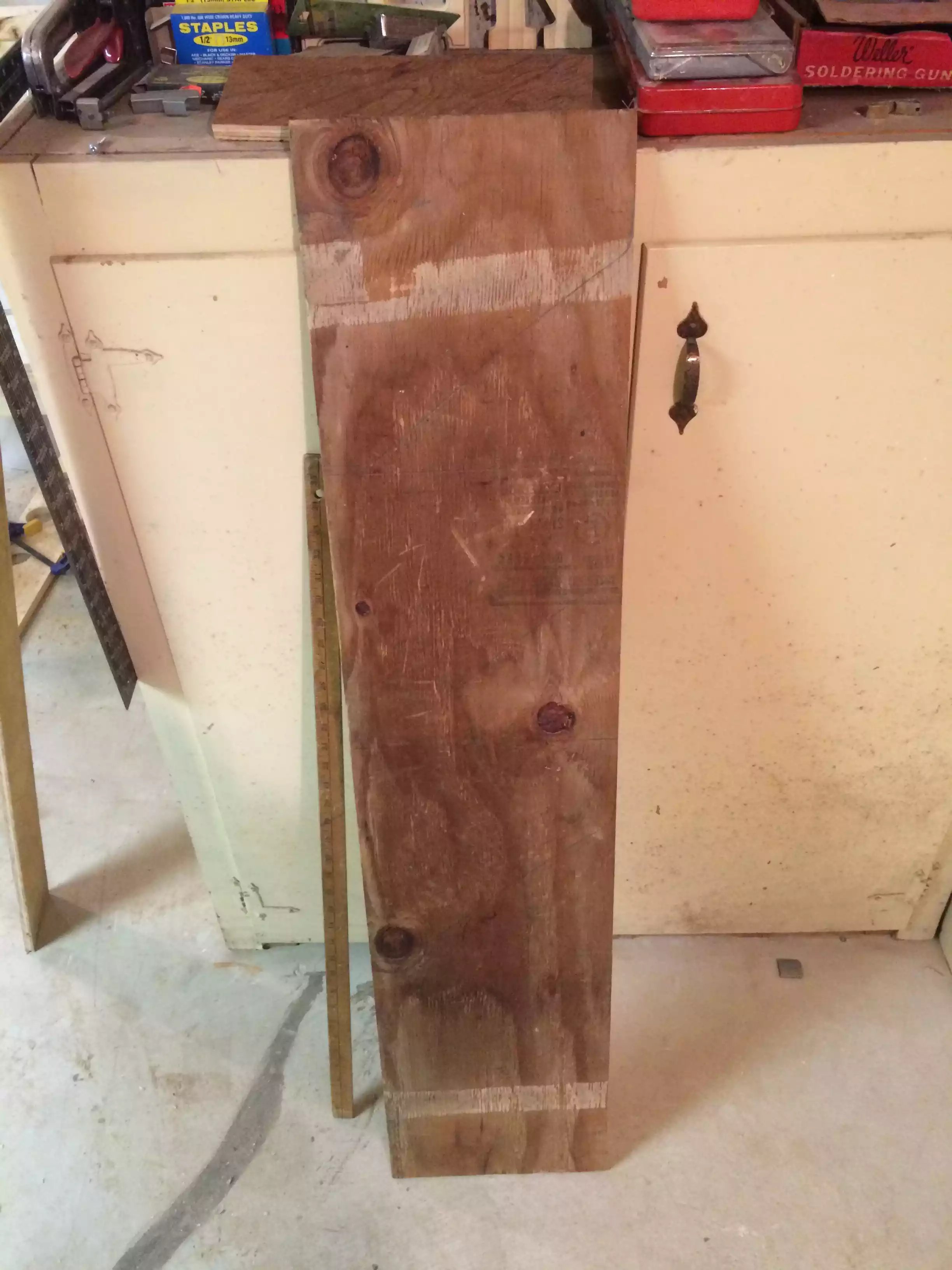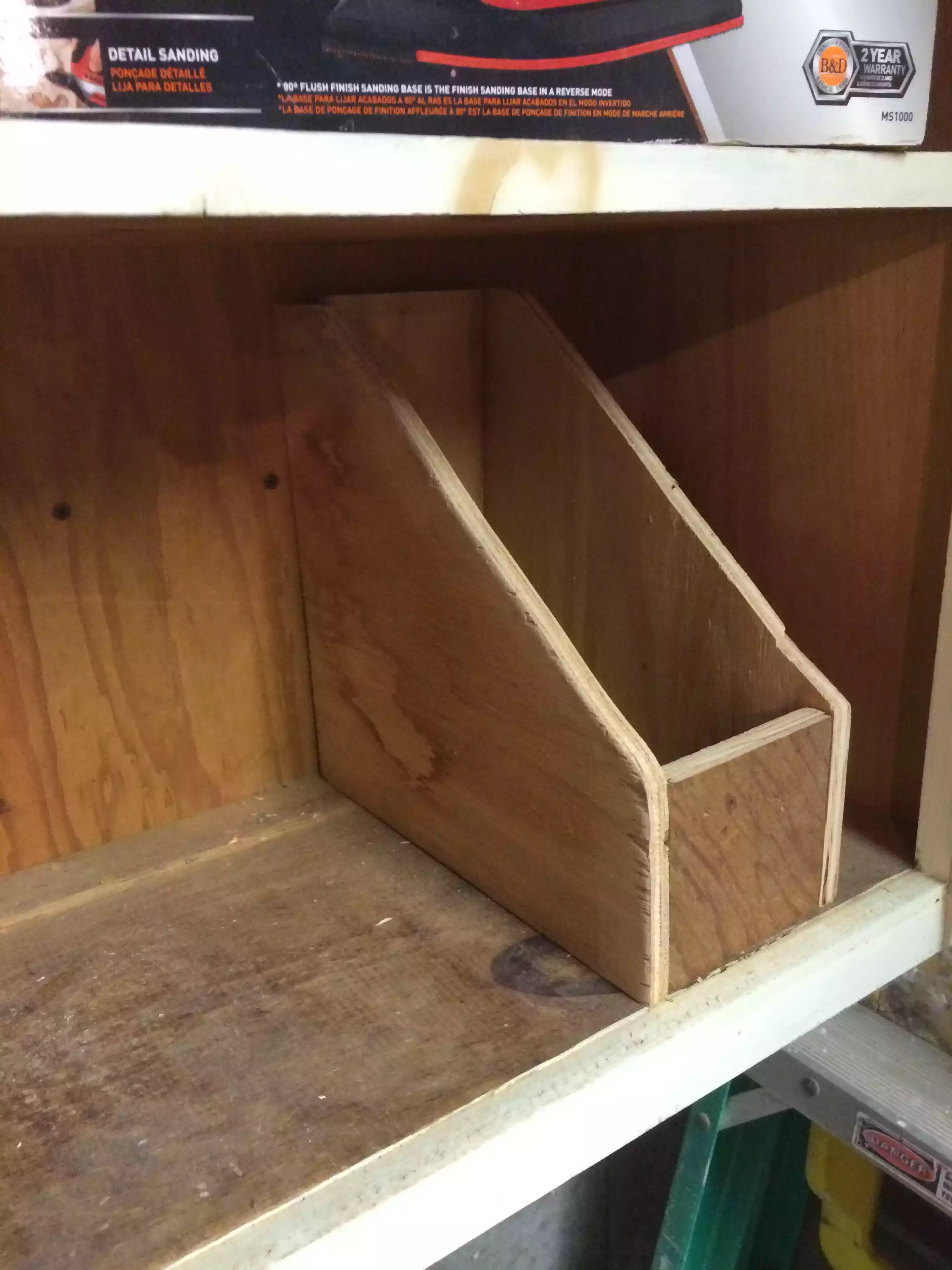 So I have been collecting a lot of magazines and even have a few periodical subscriptions. I came across this little bit of wood in my late father in laws shed and I was wondering what I could use it for;
I have seen paper or cardboard versions of this box but they were too big or not big enough to fit where I want them to go so I decided to build my own and thanks to my little wood discovery I can do it. (Thanks John)..
The white cabinet pictures in the slideshow shows the wall unit I will be putting the boxes in.. I think the bottom shelf will do.. and I plan on
making 4 of them.
The Box Dimensions are: Sides 11"x11" with a cut from top to bottom (see diagram) Back 11" Height 4"Wide Front 4"x4" Bottom 4" Wide x 9.5" Long
After making 1 so successfully I decided to build 4 and have them side by side on the bottom shelf of one of my shelving units..